Rams battle the Saints for a Super Bowl berth
Today the Los Angeles Rams play their biggest game since returning to the City of Angels in 2016. This is the NFC Championship game against the New Orleans Saints.
The teams share the same record, 13-3, and both average over 30 points per game this season. Both have excellent defenses to complement their high-flying offenses. But the Saints get the edge in this game, home field advantage, because they defeated the Rams back on November 4.
Rams quarterback Jared Goff has passed for almost 700 more yards than Saints quarterback Drew Brees, but both have thrown 32 touchdown passes. Brees has five interceptions on the season and Goff has 12. That gives a slight advantage to the Saints, but in a big game like the NFC championship, that probably won't count for much.
Before the Rams left Los Angeles for the Big Easy, head coach Sean McVay and some players spoke with the media. McVay was asked about the team's great road record (7-1) and he said, "…really, our team has consistently played well, whether we're playing at home or whether we're playing on the road. I think it's a credit to just their ability to be able to lock in, focus on the task at hand. When you go into some of these environments where the crowds are great, they've got a huge home field advantage, I think that's kind of that 'us against everybody else' mentality. The guy's kind of embrace that. Ultimately, it's about trying to win a football game whether we're at home or on the road. Certainly, you'd love to always be playing in the Coliseum if you could, but it's a great opportunity for us nonetheless."
One of the most recent highlights of the team is that they have two running backs who can achieve 100 yards rushing — in the same game: Todd Gurley II and C.J. Anderson. With both playing at such a high level they present a dual threat for the Saints defense. When one is taking a breather the other is pounding the defensive line with punishing runs. McVay said, "[Todd Gurley] is going to be a big focal point of what we're trying to get done, but C.J. (Anderson) can come in and play a nice role and I think that's kind of that perfect balance."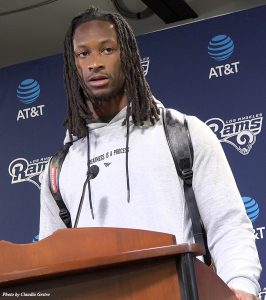 Quarterback Jared Goff echoed his coach's words. "… Just both of them being able to feed off each other and Todd (Gurley II) being the player he is and C.J. (Anderson) being such a good complement for him. Them each giving each other some time to rest, when the other is in, it's been huge. Just seeing, especially last game, seeing how fresh Todd can be when you get someone in there that can actually give him some rest and C.J. does a great job of that."
The key to the Rams offense is Jared Goff. With all the targets he can throw to, his passing with the running game of Gurley and Anderson, makes the Los Angeles offense the second best in the league. Kansas City is the top-ranked offense this season.
They key for Goff is the offensive line. They have been healthy all season and that has been a big lift for the quarterback. "Just having those guys healthy and having them available and jelling together. It seems like they're playing their best ball right now, which is what you want. They've been great."
On the other side of the field will be a record-setting, certain Hall of Fame inductee, Drew Brees. Of him, Goff had nothing but praise. "He's a guy that's done it. He's been there. He's done it and does it the right way, seems like every year. He seems like he's only getting better. Have so much respect for him and everything he's brought to the game. Admire how long he's done it for and what a high level he's done it for and the way he leads and the way he goes about his business and the way he works. Everything he does is so admirable. Yeah, you'd love to win this game to try to jump into that type of category with winning a couple more. But, he's a great player and a guy I have a lot of respect for."
The Rams may have a slightly better offense, but they will play in the Superdome, one of the most intimidating venues for visiting teams. Los Angeles had a taste of it in November, so the players and coaches feel like they are prepared for it this time. Goff said, "Yeah, it'll be loud. It'll be something we have to deal with. Definitely something that is an advantage for them if used correctly. But, something that we've dealt with, we've won in before — we've won in that type of atmosphere. Something that we're ready to deal with accordingly and have prepped for all week."
The question is: can the Los Angeles defense hold back the New Orleans offense. They feel the big challenge will be putting pressure on Saints QB Drew Brees. Rams DT Michael Brockers said, "I think that was the game plan last time. I think we just didn't execute as well as we wanted to. It's the same game plan. Brees doesn't do so well when he has people in front of his face. He's a shorter quarterback, so it's hard for him to see. So, if we could get the pressure inside and make him, like we said, uncomfortable, we feel like that's to our advantage. We didn't do that well last game, so we look forward to doing it this game."
And then there are the Saints's two game-changing running backs. Brockers said, "They have two different backs that can have two different games. (Saints RB Mark) Ingram (II) is a downhill runner, he can get those hard yards. (Saints RB Alvin) Kamara is an outside guy, he's fast. He's hard to bring down himself. So, it's a different game. We knew (Cowboys RB Ezekiel Elliott) 'Zeke' was going to get the ball and we knew what type of runner he was. But, we have to prepare for two different [Saints] running backs. Sean Payton (Saints Head Coach) is a master offensive mind. So, he'll find a way to get those guys the ball in the right situations."
By 3:30 PT we should know whether the Rams season is over or if they have one more game. The Saints are the only team to have beat the Rams outside of Los Angeles, and the Superdome is the only place outside of the L.A. Coliseum where Los Angeles suffered a loss. Today they have an opportunity to erase all of that and move on to the biggest game of the year.
If the Rams make it to the Super Bowl, the City of Angels will be Party City, the first time the Los Angeles Rams have been in the Super Bowl since the 1979 season. The team went twice while it was located in St. Louis, winning once. This is a big moment for the team and the city.
Game time is 12:05 p.m. PT and will be broadcast on your local Fox affiliate.
Photos by Claudia Gestro

We are not the typical news website – nor do we wish to be. We will be offering more than news and blogs, but an opportunity for fiction writers, poets, comedians and musicians to showcase their talent and skills. Much like when the Beatles formed Apple Corps Ltd, they opened the door to all kinds of inspiring talent that never really got a shot. From that came the likes of James Taylor and others. We hope by providing a similar approach we can shine the light on some tremendous undiscovered talent and at the same time offer some familiar voices who live in Los Angeles and beyond.