Rover, rover let's sit and roll over
For the folks with furry companions of the canine persuasion, taking a walk with that beloved friend is a special part of the day. Unfortunately for many people working a 9-5 that is more like an 8-8 — when you include the traffic getting to and from — getting in those walks feels like another chore. If the family lives in an apartment or condo with no yard, with maybe a patio or balcony the size of a nice walk-in closet, that beloved furry family member is stuck inside for the day with no way to relieve itself.
When I had my friend's lovely dog here I fretted leaving her alone for more than two hours. It's impossible to imagine leaving her alone all day. Besides, I loved her company and liked having her dragging me around the neighborhood on our walks.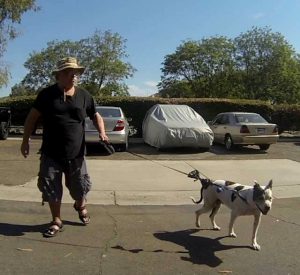 So, what's a person to do when they have to leave their pet alone for long periods, especially dogs that need to get outside a few times every day? Most people call up a family member, or a trusted neighbor or friend and then hope they will be available when needed.
Or, they can turn to a professional dog walker. We've seen them in TV shows and commercials, usually depicted with a half dozen dogs pulling in different directions. But what if the pet owner wants individual attention for their furry loved one? Well you can turn to your smart phone.
There are a number of companies out there providing services, but the biggest, fastest growing is Rover.com. Founded in Seattle in 2011, Rover.com has grown to more than 14,000 communities with more than 200,000 dog sitters and walkers. Roughly 92 percent of Americans can find a dog walker/sitter in their neighborhood.
For maybe $25 or $35 per day or night, a dog owner can hire someone to walk their dog, or sit either in the owner's home or not. The dog, or dogs, are well cared for, get outside for their walks or to play in the yard
To ensure safety applicants to Rover.com undergo background checks and have their submissions reviewed by the management before they are allowed to advertise their services on Rover. Photos are provided so you know who you might be hiring.
The sitters/walkers must be dog lovers, the kind of people that view pets to be family members, not just adornments. That's why the over 200,000 sitters/walkers will be everyone from college students to retirees, people with varying schedules and reasons for walking or sitting with pets. They will do it from their homes or the dog owners' homes.
Their website provides a wide range of services, that includes dog boarding and drop-in visits. Whatever a dog owner's needs, Rover.com provides the services. We never have to leave our furry loved ones alone for long periods again.
Photos by Tim Forkes

Tim Forkes started as a writer on a small alternative newspaper in Milwaukee called the Crazy Shepherd. Writing about entertainment, he had the opportunity to speak with many people in show business, from the very famous to the people struggling to find an audience. In 1992 Tim moved to San Diego, CA and pursued other interests, but remained a freelance writer. Upon arrival in Southern California he was struck by how the elected government officials and business were so intertwined, far more so than he had witnessed in Wisconsin. His interest in entertainment began to wane and the business of politics took its place. He had always been interested in politics, his mother had been a Democratic Party official in Milwaukee, WI, so he sat down to dinner with many of Wisconsin's greatest political names of the 20th Century: William Proxmire and Clem Zablocki chief among them. As a Marine Corps veteran, Tim has a great interest in veteran affairs, primarily as they relate to the men and women serving and their families. As far as Tim is concerned, the military-industrial complex has enough support. How the men and women who serve are treated is reprehensible, while in the military and especially once they become veterans. Tim would like to help change that.