Sister Mary gets in the act in Boyle Heights
I have been blessed with a very long history of viewing and enjoying theatre going all the way back to 1950 in Chicago. Later in life I had the immense pleasure of seeing Joel Grey and Jill Haworth in Cabaretat the Broadhurst Theatre on Broadway. Later I deeply enjoyed seeing and hearing the amazing Lea Salonga in Miss Saigonat Theatre Royal in London's West End.
For the last 20 years or so I have been blessed with the opportunity to see and review literally thousands of performances in Los Angeles, California — everything from tiny black box theatres to the mighty Pantages. In all of that experience not one show was richer in entertainment value than Sister Actnow playing at Casa 0101 in Boyle Heights, California.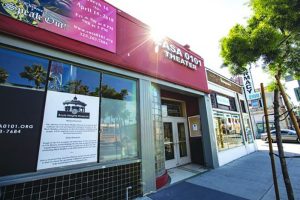 A flashy sassy young woman, Deloris Van Cartier — played with unrelenting perfection by Jacquelin Lorraine Schofield — unexpectedly finds herself in severe danger when she observes her evil boyfriend Curtis Jackson, played by 'Best Male Actor' award winning Marco Infanté, commit murder. While the police seek to arrest; try and convict Jackson they find shelter for Deloris in a convent. Now let the wild ride begin.
The Mother Superior, delivered magnificently by Beverly Crain, is far less than pleased having the somewhat wild  showboat Deloris Van Cartier now known as Sister Mary Clarence in her convent. Her displeasure grows when Sister Mary begins to teach the other nuns a far more dramatic way to perform their music. The problem is their church and convent are threatened with closure due too a lack of adequate financial support from their shrinking number of parishioners.
As the gap widens between Mother Superior and Sister Mary Clarence it becomes clear that Mother Superior wants Delores gone. But it seems that the music now being delivered by all of the Sisters is being thoroughly enjoyed by an ever-growing number of parishioners.And that fact explains Monsignor O'Hara, as played by Omar Mata, is bringing in considerable money to the church, so much so that it seems the church may very well stay up and running a reality that makes everyone happy.
Every moment in this amazing show presents a never-ending stream of hilarity laced with underlying but significant passion and love. It became very clear that everyone involved were committed and in fact did deliver superb performances in every aspect, making it a pure joy to watch and hear. And when it comes to hearing, the vocal performance of Jacqueline Lorraine Schofield is consistently sensational, beautiful, powerful and magical. And then there is something about the venue.
The Casa 0101 Theatre is largely the creation and passion of Artistic Director Josefina Lopez. It brings yet another element of joy and beauty to the unique area known as Boyle Heights in the City of Los Angeles. It is modest in size, about 99 seats I believe although I didn't count.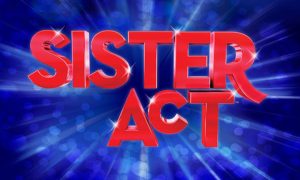 Also on display are several very intriguing pieces of graphic art, a pleasant ticket office and snack bar and an overall ambience that exudes pleasantness. In other words, it is a very nice place to visit and enjoy life and for most performances it even offers a truly super treat for us Angelenos — FREE PARKING.
Sister Actruns from now through May 19th2019 at Casa 0101, 2102 East First Street, Boyle Heights, California. Show times are Fridays at 8:00 p.m., Saturdays at 2:00 p.m. and 8:00 p.m. and Sundays at 4:00 p.m. Make your reservations and get your tickets here.
This is truly one of those all too rare "DO NOT MISS" shows.
•••• •••• ••••• •••• ••••
For a great read go here.
Top photo: Jacqueline Lorraine Schofield and cast on stage in "Sister Act"

Ron Irwin was born in Chicago, Illinois a long time ago. He served in the Marine Corps in Vietnam, became a trial lawyer, TV and radio host, CEO of a public company and once held an Emmy. He never won an Emmy he just held one. Ron has written and published twelve books. His most important book to date is "Live, Die, Live Again" in which Ron tells of his early life and his unexpected and very temporary death in 2012. That experience dramatically refocused his life and within the pages of that book Ron reveals how he achieved a much healthier life, ridding himself of Diabetes, Cancer and Heart Failure. Now Ron enjoys writing about many things including health topics, travel [he has circled the globe several times], adventure, culinary experiences and the world of performing art. Ron's motto is "Live better, live longer and live stronger because it feels great and annoys others." Contact the author.