Extra Points: The NFL Draft Edition
The Kickoff: First off, there will not be a mock draft from me. There have been enough already. I will be the first to admit I have no clue what any NFL team does this year because what they do hinges upon A) what teams in front of them end up doing; B) what teams behind them might try to pull off; and C) what their team's medical staff has to say about the players they are interested in and the players they have who are recovering from injuries. You can add in a D) for teams dealing with significant salary cap issues.
In this edition of Extra Points, I will pass on a few thoughts I have on the draft and some of the teams. However, remember, after the draft, there are still some decent free agents floating around out there who could influence what a team decides to do. Case in point, a player like Ndamkong Suh will get a few offers from teams who miss out on the interior line talent in this year's draft. He might be worth a one year deal as a bridge to next year's draft.
First Down: I want to explain why I think it is a mistake for the Cardinals to draft Kyler Murray with the first pick. He's gone from being a sure thing as the number one pick to now possibly falling out of the top ten in recent days.
Last year, the Cardinals drafted Josh Rosen with the tenth pick. The knock on Rosen was he was a bit fragile and prone to injury, aloof as a leader, and maybe lacking in the desire to be a pro because of the affluent upbringing he had. In other words, with a degree from UCLA and family connections, he didn't need the NFL to make a bunch of money.
Why, despite a change in head coach, who brings a different offensive style with him, would they draft a quarterback first whose knocks against him are questions about his durability and size, quiet demeanor, and his not needing the NFL to make money (he has $14 million waiting for him to play baseball for the Oakland A's)?
If Murray gets fed to the slaughter like Rosen did last year, he could easily say he has had a change of heart and leaves for a career in baseball and the Cardinals are right back to drafting another quarterback. The team has a ton of holes to fill and would be wise to either trade their number one pick for a boat load of picks to fill in their many needs while living with Rosen. He's on a rookie deal and if he does not work out, you end up building up your pool of talent and still set yourself up for the quarterback rich class of next year.
If I am Arizona, I look to trade out of the number one slot first. If I do not get an offer I like, I decide between pass rusher Nick Bosa or defensive tackle Quinnen Williams. If an offer comes in that lands them an extra first round selection this year and another high pick next year, I take it and build up my draft capital. It's a system that seems to have worked well in New England.
Second Down: Next, let's look at the second pick held by the San Francisco Forty-Niners. Both the Cardinals and Niners are trying to close the gap between them and the NFC champion Rams. With the second pick, the Niners have to wait and see what their division rival Cardinals do.
If the Cardinals select Kyler Murray, they need to scoop up Joey Bosa and feel pretty good they got the best pass rusher to come along in a while. However, if they lose Bosa to Arizona, they have to decide whether or not to trade their pick for more picks (you can never have too much talent), or stand pat.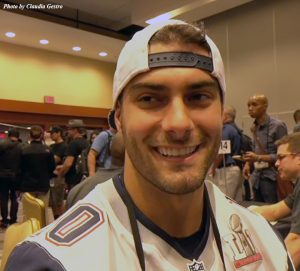 If they stand pat, Quinnen Williams is the next best sure thing in the draft. However, interior defensive linemen is one area the Niners are deep in. If they draft Williams, it has to be with the intention they trade one of their young established players to another team for additional draft picks. However, there is no guarantee they get the type of offer they would want for say DeForest Buckner.
S.F. needs a quality edge rusher. Their pass rush was terrible last year. If they keep the pick, they should draft Josh Allen out of Kentucky. It's amazing how much better a teams defensive backfield becomes when there is a quality pass rush up front. Not only do sacks increase, but interceptions increase from quarterbacks rushing to throw a pass before getting hit.
Third Down: Up next, another NFC west team, the L.A. Rams. As the defending NFC champs, they have the luxury of not needing to fill a bunch of holes. However, they need to see down the road to know where their needs will be in another year or two. In the NFL, it is always best to get rid of a player a year or two too early than to hang on to one for too long. If Jared Goff is their quarterback for the next ten years, he will be due a fat contract in another year which will have a huge impact on the team's salary cap.
If Goff has shown one thing, it is he can put up great numbers when the team can run the ball well and when he has time to throw the ball. That said, this is a good time to stock up on offensive linemen. Andrew Whitworth will not play forever and will need to be replaced. Todd Gurley is only a great runner if he has holes to run through. Receivers are more dangerous the more time a quarterback has to throw the ball. As long as the Rams remain a team that can score at a rate of forty or more points a game, they will always be a threat to anyone they play.
Given the lack of quality receivers and defensive backs in this year's draft, the Rams would be wise to load up on guys up front on offense. The only exception might be if for some reason one of the many interior defensive linemen fall their way, they might want to draft one to replace the loss of Ndamkong Suh.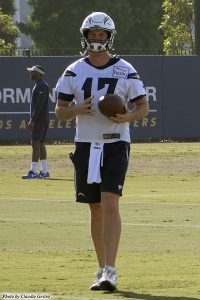 Fourth Down: Let's switch gears and look at the Los Angeles Chargers. Like the Rams, they are in a good position heading into the draft. If the Cardinals do draft Murray with the number one pick, the Chargers are believed to be one of the teams interested in Josh Rosen. Phillip Rivers is long in the tooth and this is one of the few NFL teams well suited to continue rolling along should he call it a career soon by selecting his replacement and giving him time to develop.
Look what drafting Aaron Rogers did for the Packers. Look further back and see what trading for Steve Young did for the Forty-Niners. Teams cannot grow too sentimental and keep a fan favorite so long that when he leaves, the team falls apart. This might be the time to see if they can grab a potential replacement for Rivers and then turn their focus on adding as much quality depth so they remain well suited to deal with salary cap decisions down the road.
Overtime: I also want to address the Baltimore Ravens. With the team moving on from Joe Flacco, they are going all in on Lamar Jackson as their quarterback. This is a huge mistake in my opinion. It is just a matter of time before the NFL figures this guy out. He cannot be counted on to rack up big yards running the ball and if last year was any indication, he has major accuracy issues throwing it. Given that he is on his rookie contract, now would be the time for the Ravens to invest in some quality insurance in the name of Colin Kaepernick.
Let's face it. Jackson is a smaller version of Kap. Who better to bring in to challenge Jackson to grow while being able to play the same game as him? The biggest challenge a team like Baltimore will have is finding a back up who allows them to continue playing the same offense when, not if, Jackson gets laid out.
Kaepernick is the perfect answer for Baltimore provided he can set aside his ego and sign a team friendly deal. Baltimore is the perfect team in terms of offense for Colin to showcase what he has to offer other teams. The city is also perfect in terms of the social make up and issues it faces to embrace him and his causes.
No matter what the Ravens decide to do in terms of the draft, I have to make signing Kaepernick my top priority after the draft if I am their GM. It tells the team you are going full in on their new offensive direction while being unafraid to go after the best talent out there who can help you win.
Song Dedication: What better way to celebrate the draft and having the top pick than dedicating this song to the Arizona Cardinals. It's lonely at the bottom.
Photos by Claudia Gestro
Top photo: Arizona Cardinals

Jim is a life long resident of California and retired school teacher with 30 years in public education. Jim earned his BA in History from CSU Chico in 1981 and his MA in Education from Azusa Pacific University in 1994. He is also the author of Teaching The Teacher: Lessons Learned From Teaching. Jim considers himself an equal opportunity pain in the ass to any political party, group, or individual who looks to profit off of hypocrisy. When he is not pointing out the conflicting words and actions of our leaders, the NFL commissioner, or humans in general, he can be found riding his bike for hours on end while pondering his next article. Jim recently moved to Camarillo, CA after being convinced to join the witness protection program.