South LA CicLAvia Preview
CicLAvias are great and I've thoroughly enjoyed every one I've been too, but none has me more excited than the South LA edition. Having worked here and even run the LA Marathon through part of this stretch, I'm very acquainted with a region that may be unfamiliar to some Angelenos.
Like most older Los Angeles neighborhoods, South LA has experienced a series of changes, but clearly is on the upswing. With Expo Rail nearby and the Crenshaw Line under construction, this area is well connected to the rest of the city.
Normally, I try to keep my suggestions on the route, but seeing how this edition runs only six miles, there is plenty of opportunity to wander off to explore nearby sights. How many times have you kicked yourself from missing something a block away? Here are my ten sites to see:
Lincoln Theater
2300 S Central Avenue
Landmarked in 2009, Lincoln Theater's history grew out of discrimination policies that kept African Americans from attending events along the Broadway district in the early part of the 20th century. Opened in 1927, the theater attracted a wide range of audiences and even brought in Hollywood's elite. It was called the West Coast Apollo during its heyday, with many of the same New York acts bringing their performances to Los Angeles as well. The theater's golden age ended quickly as the theater was sold to a church in 1962 and has served in that capacity ever since.
Dunbar Hotel
4233 S Central Avenue
The Dunbar Hotel was placed on the National Register of Historic Places as it used to house many of the musicians during the blossoming, yet segregated jazz era. For the early half of of the 20th century, this was the Jazz epicenter of the city as many of the greats, such as Louis Armstrong, Billy Holiday, Charlie Parker and Duke Ellington, would play here. Situated across from Central Avenue Jazz Park, you'll discover many painting and art references to this fantastic era that is still celebrated today.
Wrigley Field Site
Gilbert Lindsay Recreation Center
425 East 42nd Place
Just three blocks south of MLK on Avalon used to sit Wrigley Field, home to the original Los Angeles Angels. Built in 1925, Pacific Coast League baseball provided a viable alternative before the big leagues arrived, even seeing the likes of Joe DiMaggio and Ted Williams. With a capacity of 22,000, the stadium was a neighborhood centerpiece as the streetcar would shuttle patrons up Avalon into Downtown. When the Dodgers arrived in 1958, it was the beginning of the end as the Angels moved to Spokane, while the newly formed Major League Angels played their 1961 season in the park. Wrigley Field was demolished in 1965 and now is largely a park.
Exposition Park
700 Exposition Park Drive
I'm not taking too much of a leap in assuming that most have experienced some part of one of LA's landmark parks. The Coliseum itself is the very definition of what historic means. While you can spend the whole day at the museums, don't feel guilty to take a quick peek through the California Science Center as it's free. The Rose Garden is another place to take in the beauty and give yourself a rest before heading back across the city.
Manual Arts High School
4131 S Vermont Avenue
Just steps off of MLK, Manual Arts High School is Los Angeles' oldest existing at the same site. Established in 1910, the campus had to be rebuilt after the devastating Long Beach earthquake of 1933. Unfortunately, gone is the architecture as the original structures were designed by famed architects John and Donald Parkinson, responsible for such buildings as City Hall and the Coliseum. The current campus has a prevailing art deco style while the south end of the auditorium has a mural from famed street artist KOA. The school also boasts Frank Capra, Mark Ridley-Thomas and Jackson Pollock among its famous alumni.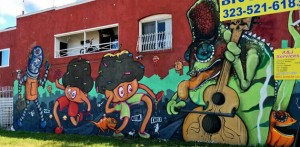 Vermont Square Library
1201 W 48th. Street
This is as far as I'm taking you off the route (¾ of a mile), but I always enjoy rolling by the Vermont Square Library when I'm in the vicinity. Built in 1913, it lays claim to being the oldest library in the LA system. It also has the distinction of being a Carnegie Library, one of six built in Los Angeles from the billionaire's grant. I make the trek because the windows, proportions and prairie architectural influence reminds me of Frank Lloyd Wright's earlier work.
Natural Soul Food
1444 W MLK Blvd.
At one time a storefront as a drug house, Natural Soul Food now serves among the best of its kind in the city. What makes this restaurant unique is that it operates as a non-profit, so the price of your meal is actually a donation. The staff is caring and they preach healthy eating. Fortunately, their food is up to the high standards they set. Come by because this is what CicLAvia is all about.
World Wide Tacos
2419 W MLK Blvd.
Keeping on that theme, the good thing about CicLAvias is that you want to eat. World Wide Tacos should be a stop unless you're in a hurry. Why? Because they have over one hundred tacos and burritos to choose from. Bring your reading glasses. From Raspberry Chipotle Chicken to Curry Duck to Chili Cheese Beef, almost every combination is available. I'm sure they'll add chocolate if you ask!
Leimert Park Hub
Trying to single out one thing to see is a tad pointless. Basically, what you see here is a community of many unique small businesses. I also urge you to walk over to Crenshaw Blvd., which borders the western side of the park. Of course, the can't miss feature is the centerpiece Vision (nee Leimert) Theater built in 1932. This art deco masterpiece is worth a peek inside for it's murals and interiors as well. Wander around. I'm sure you'll be impressed.
Phillips Bar-B-Cue
4307 S Leimert Blvd
Sorry, I lied. I couldn't go through Leimert Park without mentioning one of my favorite BBQ spots in the city. I'll save you the trouble of going through the menu, either the Beef or Pork Ribs, but also consider the Rib Tips. C'mon, you don't normally go to a BBQ place the first time for chicken. Their sauce is good, but try their meat as it comes because the taste doesn't rely on additive flavoring. You may have to do the route a few times to work these calories off.

Zachary Rynew has touched Los Angeles in many ways. For years he helped visualize many of the city's major projects (LA Live, Hollywood Blvd., Metro Rail, UCLA) and had his work featured at the Getty. He was a winner at the LA Improv Comedy Festival and ran in five LA Marathons. Now, he travels the city by bike and couples his local knowledge with his sports writing experience to bring you a different look at the blurs we normally pass by.