Taking Note of a Few Things: August 2021
Top photo by Tim Forkes
Since getting hearing aids a few years ago, listening to music has never been so enjoyable. Now, I no longer disturb my neighbors with my musical choices when I work out in my garage. With the Bluetooth connection to my phone, I am enjoying listening to artists I hadn't heard much from in decades. Cream takes me back to my fourth-grade classroom where Miss Thompson used to play their music regularly during lunch.
I am continually amazed by how much great music Creedence Clearwater Revival produced in such a short time. Not only do they have a ton of hits that received a lot of airplay on radio, but they also display a tremendous depth of music when you explore their deeper cuts. They were much more than a band that churned out songs in the two-to-three-minute range. It's a shame the band fell apart so fast.
Joe Cocker is another artist I love more than ever. His interpretations of songs that were previous hits for other artists make him the greatest cover artist ever. We need to cherish the music from our generation. It might end up being around far longer than the artists who produced it, but to appreciate the times it came out and just how far they pushed the envelope makes it all the better.
To think a generation before Joe Cocker, our parents thought guys like Frank, Dean, and Bing were the greatest. They might have been talented singers, but they came nowhere close to my generation of musicians when it came to exploring all the possibilities of making records.
Speaking of records, the Olympics showed us just how fast people can run when you rely on technological advances in running shoes. Carbon plated shoes are a game changer in track and distance running. I've tested out a couple pairs and was blown away at just how much easier it was to run fast in them. I'd rather see athletes using technology for better shoes than better pharmaceuticals. However, I am not naive enough to think shoes have put an end to PEDs.
It used to be cool to watch athletes hold a small flag in their hand and wave to the crowd after winning a gold medal. This Olympiad, it seems they all struck the same pose with their arms holding a large flag stretched out behind them while cameras snapped away. I guess this is all we get when they compete inside an empty stadium. In that sense, it was a good time for the men's track team to perform so poorly as far as flag photos go.
If female gymnasts like Simone Biles, who have been outspoken over the abuses within their sport, want to make an impression that lasts a lifetime, they might want to consider becoming coaches. Let's face it, there are way too many men who are creeps involved in women's athletics, taking advantage of female athletes in sports that cater to the younger athlete.
Parents also need to reclaim their children and stop trusting the person who coaches their kid. Predators rely on the trust of adults. Stick around through practice, don't tell yourself your kid is okay alone with the coach, and be willing to be the bad parent when your kid complains about your constant presence.
The Delta variant is not going away anytime soon. The most recent CDC models indicate it won't peak until sometime between late October and Thanksgiving. Given its ability to strike those of us who have been vaccinated, it might not be such a good idea to plan on holiday reunions with family. I know if I had family in Florida or Texas, I sure wouldn't invite them out to my place. Then again, if I had family that lived in those states, I might disown them, especially if they told me they thought their governors were great leaders.
Since the previous two paragraphs talk about creeps and government leaders, this is a good time to talk about Andrew Cuomo. *The fact he refuses to resign should not surprise anyone. He rose to the top by believing he was above others, a female magnet, and thinking he can get away with being a bully. His politics might be different than our 45th president, but he sure comes across as having more in common with Trump than he has with the Democratic Party he dreams of leading.
I am not a fan of shaving. I'd be fine sporting a ZZ Top beard if I thought I could get away with it. However, I know my wife likes a clean-shaven face, so I try to oblige her by shaving every day. I go back and forth between using a disposable razor and an electric one. The last few years I have relied on disposable razors which I find to be messy if I shave at the bathroom sink. Instead, I lather up in the shower and shave there which ends up wasting water and me missing a few spots. Now, I'm thinking of going to a rechargeable cordless razor, but good ones are not cheap. All this inevitably results in my going to a place like Marshall's and buying an electric razor that is both cheap and requires me to dry shave with a disposable one when I finish. I guess women are not the only ones with shaving issues.
For the life of me, I do not know why Shayne Smith is not a household name. Whenever I need a good laugh, I just watch this show of his.
I hope this guy becomes a major name in standup comedy.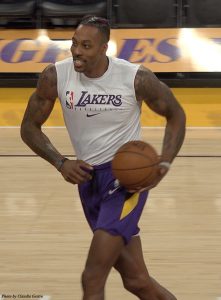 The Los Angeles Lakers have decided to rob NBA nursing homes this off season. How else do you explain their signing of so many geriatrics? They'll be lucky if they last an entire season with the bunch they signed. Yes, guys like Westbrook, Anthony, and Howard were big name signings but considering their combined age along with Lebron's is over 120 years, I'll bet on Father Time bringing that bunch to their knees. That's a lot of egos for one basketball and if they think they can lean on Anthony Davis, he hasn't exactly been the healthiest player in the league.
Marvel Studios knows how to make comic book superhero films. I have no idea how much money they rake in every year, but I am guessing it is close to the GNP of most third world countries. What I do know is they don't make films that interest me. Then again, I never read comic books as a kid. I might, however, be interested in a film adaptation of Touchdown for Tommy should it ever be made.
I have a suggestion for Jeff Bezos. Instead of conquering space tourism, why not use some of your riches and build separate highways for all your transit vans? Maybe then we can get back to commuting to places and cussing at all the drivers in cars instead of wondering whether there is a car in front of the delivery van we can't see around. While stuck behind them, I notice they do not sport bumper stickers that ask how they are driving with a number to call. Bezos doesn't care how annoying they are as long as they pay for his space travel.
Ezekiel Elliott might want to consider not being a dog owner.
It's important that Americans think they are winners. Our previous president loved labeling people he did not like "losers." He can't admit defeat, so he calls himself the winner and claims the election results were fraudulent despite no credible evidence. This attitude of us having to be winners results in two things; Americans pushing the limits to get the results they want and foreigners looking at us as braggarts who lack humility and appreciation for the greatness of others.
This brings me to the Olympic medal count and how it is spun by our media. During much of the Olympics, China was kicking our butts in the gold medal count and yet the media emphasized our lead in the total medals won. Maybe this is what we get when we raise kids to think everyone deserves a medal and we are all winners. In the end, we go to great lengths to spin things to feel we came out on top. In the real world, where no one likes a loser, all that matters is coming out on top. A silver medalist is often referred to as the first loser, that is, until we get to the international sporting stage. Lucky for us, we kicked China's butt by one gold medal.
Why are we unable to appreciate the greatness of athletes from other nations who beat ours in the Olympic games? Let's face it, we underperformed at this year's games. No matter how the media spins it, the women underperformed in gymnastics and soccer, two areas we were supposed to dominate. Fortunately, they rose to the occasion in other sports.
Our men flat out stunk in track and field. They didn't even make it to the finals in the 4×100 relay after finishing in sixth place in the semis. In Soviet Russia, a result like that would have resulted in coaches and athletes never being seen again. In America, it results in quickly turning to another event. This is only the second time the men failed to ever win an individual medal in any track race. The other time was 1980 when we boycotted the games.
At least our women's soccer team made it to the games. Our men never got past qualifying for the tournament. Our men did well in wrestling, but I doubt most people who watched the games can name any gold medal winning wrestler now that they have ended.
I realize one reason I have stopped watching the Olympics is because they remind me of our national political conventions: nothing more than a one-sided view of a much larger spectacle. To me, the Olympics have become an event where we go in search of new athletes to pitch products made by corporations that do a lot to not pay taxes. I have a feeling most of you disagree.
Now that the games are completed, we can finally get back to the one sport that is truly American. It is time for football, the game that winning is all that matters, it's far more brutal than we have any idea of, turns a massive profit at the expense of fans, and gets away with business practices that most others can't consider.
RIP Bobby Bowden. They don't make coaches like you anymore.
•••• •••• ••••• •••• ••••
*Editor's note: Just hours after this was posted New York Governor Andrew Cuomo announced he will reign as if Aust 24, 2021.

Jim is a life long resident of California and retired school teacher with 30 years in public education. Jim earned his BA in History from CSU Chico in 1981 and his MA in Education from Azusa Pacific University in 1994. He is also the author of Teaching The Teacher: Lessons Learned From Teaching. Jim considers himself an equal opportunity pain in the ass to any political party, group, or individual who looks to profit off of hypocrisy. When he is not pointing out the conflicting words and actions of our leaders, the NFL commissioner, or humans in general, he can be found riding his bike for hours on end while pondering his next article. Jim recently moved to Camarillo, CA after being convinced to join the witness protection program.