The Brand Beside The Brand: Multi-Hyphenate Actress and Entertainment Executive LaRita Shelby Speaks on Show Business and Making it in Hollywood
You are your brand.
Whether you are just starting out in the entertainment business or are a seasoned pro, one thing you will learn is that you can not separate yourself from your brand.  Your worthinthiness in the industry will be based on the brand you create for yourself.
Industry veteran LaRita Shelby knows all too well about branding and how to engage an audience.  For more than 30 years, she has blazed trails and broken barriers in the media and entertainment industries.  Shelby started her broadcasting career as a teenager at Memphis' WDIA, the nation's first Black-owned radio station where she was one of several pioneering female broadcasters who broke the gender line in radio.  She was a teen radio radio host back in the time when Black radio was evolving women journalists.  During her career, she has worked alongside many famed disc jockeys, including notable Black radio personality Tom Joyner.
Over the years, Shelby has gone on to voice many radio commercials and programs, including work on the classic Radioscope, Entertainment Magazine of the Air.  Shelby also wrote and co-produced special programming and documentaries for Lee Bailey's company, EURweb.com, formerly known as The Electronic Urban Report.  She has also provided voiceover work for many companies and individuals, including for Tavis Smiley's The Smiley Group and OneUnited Bank.
Looking at her resume you can tell that Shelby wears quite a few hats.  The media executive, actress, writer, host and renowned jazz singer sat down with veteran Los Angeles based journalist Germany Kent to discuss her philosophies on branding, staying positive, and her ever-evolving career.
"What most people don't understand is that news and content, networking, media, and communications are all related," said Shelby, who holds a master's degree in media and communications psychology.
For decades, Shelby has contributed editorial content and managed the sales department for Lee Bailey's EURweb, a premiere Black-owned media company.  Shelby enjoys the art of storytelling and creating engaging content for diverse audiences and platforms.  "I try to apply my passion, creativity and commitment to every job that I partake in."  Even though Shelby currently serves as the Vice President of Business Development at EURweb, she has not been removed from her passion of writing as a journalist.
During her tenure with the company, she has been instrumental in directing the publication of stories that inform, educate, and evoke emotion, as well as contributing and facilitating the distribution of entertaining content.  "Throughout the years, I have covered a wide range of topics, and my career spans the worlds of entertainment, performing arts, music, education, faith-based, non-profit, brand development, public affairs, and community relations," she said.
The media maven has also been instrumental in overseeing journalistic works featuring in-depth profiles of publicists, communications professionals, and content creators.  "Journalism is not my main focus, it's just one of the things that I've been blessed to do."
Shelby is passionate about blending her work in music, media and marketing, and her societal contributions outside her job at EURweb are just as impressive as her professional achievements.  She also serves simultaneously as a leader within other organizations in the media and entertainment industry.  She is known for fostering grassroots and diversity communications and takes pride in aiding undiscovered talent and aspiring journalists to get a foot in the door.  "It makes my heart happy to contribute in some way, mentor where possible, and help to advance people's careers."
Her dedication has not gone unnoticed.  For her distinguished career, Shelby has received numerous awards.  Notably, Shelby was recognized in 2020 by the Multi-Cultural International Motion Picture Association (MIMPA) as a recipient of the prestigious Lady in Red Diamond Rose Award.  Shelby has also been recognized for her community service work by Black Hollywood Education and Resource Center (BHERC), by non-profit organization Sigma Gamma Rho, Inc., amongst others.
Though she has blazed many trails in her storied career, Shelby is still making an extraordinary contribution to the enrichment, understanding and advancement of Black life and culture.  "I support Black films and entertainment features," Shelby said.  "Wherever my people are, I am there."
An alumnus of Loyola Marymount University, Shelby is a member of the Screen Actors Guild-American Federation of Television and Radio Artists (SAG-AFTRA).  According to the International Movie Database (IMDB), Shelby is credited as an actress, writer and producer, and has also enjoyed success from acting roles on hit TV shows The Fresh Prince of Bel Air, Seinfeld, Babylon 5, JAG, Martin, What's Happening Now, and A Different World, to name a few.
According to IMDB, Shelby also hosted and served as a producer for entertainment lifestyle show, Your Hollywood Local, which aired for 1 season on the Fox networks and involved Executive Producer Logan H. Westbooks and co-hosted by Jay Styles.  The entertainer and media professional served as a host on The LaRita Shelby Show from 1990-1997 for the Department of Defense's Armed Forces Radio and TV Services.  It was on that show, which could be heard in 57 countries, where Shelby was credited by CNN, according to the news site.
Shelby said, "I have been fortunate to host media and community events for more than twenty years in Hollywood and across the country."  She recognizes the calling on her life, as well as her diverse career.  "I am proud of all facets of my career," she said.
Shelby's historic journey proves that she has staying power in show business.  She has demonstrated that through hard-work and perseverance, success is entirely possible.
Shelby also offered some tips for those who may need a little branding boost.  "When it comes to pitching yourself, start with Linkedin," said the multifaceted media executive.  "Don't be afraid to send a short sweet note to a business contact in your field.  Send your picture, reel and bio with any online links to a person at the company where you want to work.  The worst they can say is no."
"I have met people on Linkedin and fostered great relationships and brokered deals that way."
She stressed the importance of entertaining diversified opportunities when it comes to your career.  "Take a look at various opportunities.  Go for it.  Don't give up.  Follow your passion, most of all.  Just go for it all.  Try again if you are not selected."
Shelby said she does not subscribe to drama.  She also advised that people not sign her up if they are going to be throwing a pity party.  "One thing I have is chronic optimism," she said.
"Unbeknownst to most people, I have worked at a youth psychiatric facility for almost ten years. I must invest in positive energy in order to disseminate optimism despite the odds."
Regarding some of the latest news cycles that have proven to be controversial, Shelby said she has to deal with the world's negativity in doses.  "I can't feed off that right now.  I have to feed my happy.  I have to feed what keeps me going," she said.  "You will breed what you feed."
The multi-hyphenate Shelby had these words of empowerment for those who may not be seeing results, yet.  "Keep your head up.  You are amazing.  More blessings will be yours," she said.
"Keep depositing positive thoughts.  Your body is your temple."
Shelby is the author of The Brand Beside The Brand and On My Father's Side.  Both books are available on Amazon.com.  One is a story of personal branding and empowerment and the other is a story of a father and daughter reunion filled with love, hope and the blind faith of which miracles are made.  For more on Miss Shelby or Jazzy Rita, visit www.LaRitaShelby.com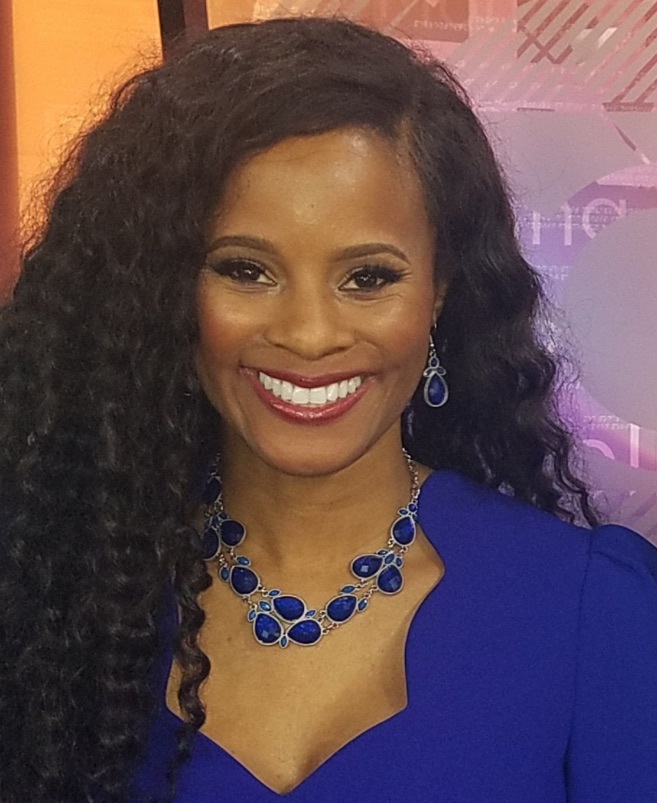 Germany Kent is a nationally syndicated journalist. The award-winning former FOX News anchor, media personality, entrepreneur, and content creator writes for various digital platforms. Kent's work has been featured in Forbes, Inc., Fast Company, Parade, Yahoo, HuffPost, MSN, Cosmopolitan, and countless other national media outlets.