Tommy Castro and the Painkillers Come to Town
Top photo by Kathleen Garrison for Alligator Records
Alligator Records artists Tommy Castro and the Painkillers are back on the road and will play a string of California shows, beginning at the Mystic Theatre in Petaluma December 11 and finishing at the State Theatre in Modesto January 15. For the tour dates click here.
On January 6 the band will be at the Belly Up in Solana Beach with special guest multi-instrumentalist Deanna Bogart.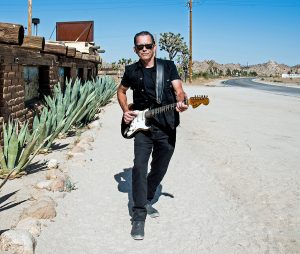 The Painkillers include bassist Randy McDonald, drummer Bowen Brown and keyboardist Michael Emerson. What makes them such a great experience live is that they do a lot of touring — Tommy Castro and the Painkillers are a touring band. They have studio recordings, but like so many blues bands over the past 70 years, Tommy Castro and the Painkillers make their mark on the road.
Their latest album is Tommy Castro Presents A Bluesman Came To Town, an album that Alligator Records describes as "… a roots music odyssey. This special project was composed by Castro along with Grammy Award-winning producer and songwriter Tom Hambridge." The 13 songs tell the story of Tommy Castro — the story of many blues artists — as they search for fame and fortune in the music world.
Castro said, "I've made seven albums for Alligator and I've never made the same record twice. I will always try to be my most authentic self. I give it all I've got every time we hit the stage!"
If you're going to the show at the Belly Up in Solana Beach, here is the info:
Date: Thursday, January 6, 2022
Venue: Belly Up Tavern
Address: 143 S. Cedros Ave.
City: Solana Beach, CA
Phone: 858-481-8140
Showtime: 7:30pm
Ticket price: $25-$28
Website: www.bellyup.com
*See website for complete performance information
Click here to see their 2015 performance at the Montreux Jazz Festival.

We are not the typical news website – nor do we wish to be. We will be offering more than news and blogs, but an opportunity for fiction writers, poets, comedians and musicians to showcase their talent and skills. Much like when the Beatles formed Apple Corps Ltd, they opened the door to all kinds of inspiring talent that never really got a shot. From that came the likes of James Taylor and others. We hope by providing a similar approach we can shine the light on some tremendous undiscovered talent and at the same time offer some familiar voices who live in Los Angeles and beyond.