Trump is Indicted and Will Appear in Court
There was the funniest thing on the internet last week. Jack Dorsey, the co-founder and CEO of Twitter, announced he was supporting and endorsing anti-vaxxer Robert F. Kennedy Jr. for president. Over Joe Biden. Seriously. Dorsey said Kennedy could and would defeat Republicans like Donald Trump and Ron DeSantis.
That may not sound too funny, because frankly it isn't, but the humor came after Dorsey's announcement, like this tweet from Bill Madden.
Just when you thought no billionaire tech bro could possibly surpass Elon Musk's blithering idiocy, Jack Dorsey says "Hold my beer."

— Bill Madden (he/him/él) 🇺🇦 (@maddenifico) June 4, 2023
Another search phrase on Twitter: "Rest In Hell." That's in reference to the death of televangelist and one-time candidate for president, Pat Robertson. Crutnacker posted this retweet of the AP tweet:
When I think of all the decent people who died young while this piece of shit almost made to the century mark, it seems pretty clear there is no God. But just in case, rest in Hell, Pat Robertson. https://t.co/WHuw56Qgnt

— Crutnacker (@Crutnacker) June 8, 2023
"… Just in case, Rest In Hell."
Robertson once said gays cause hurricanes and deserved getting AIDS and that gay marriage was worse than murder. He really hated homosexuals.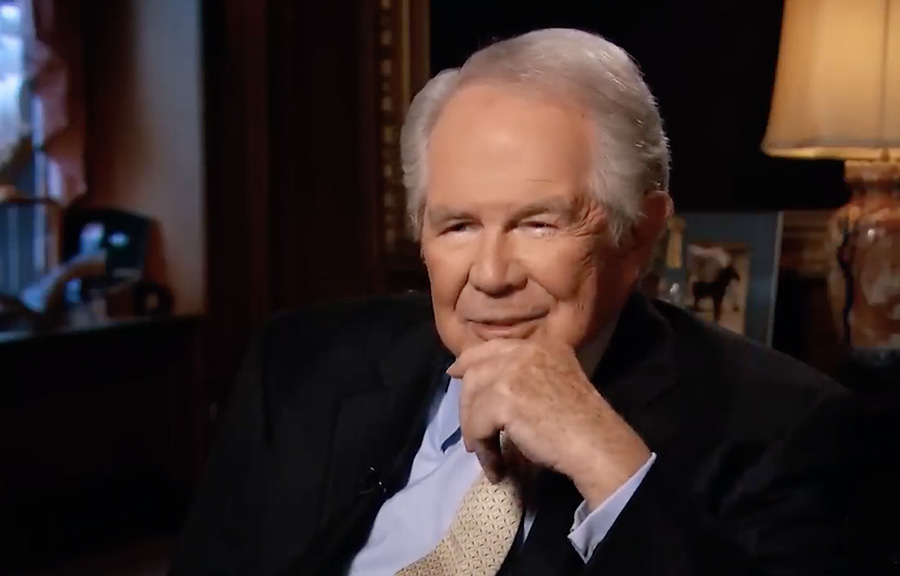 This interesting note about the old gas bag: He served in the U.S. Marine Corps during the Korean War. Not every Marine is/was an exemplary citizen. Not like me.
Today the news is wall-to-wall coverage of the latest from the slowly burning Trump World. In the words of too many TV talking heads, the heat under Trump is getting hotter. Plus, some of his now former attorneys have become informants, turning on Trump for the Feds to avoid losing their law license forever, at the least, and going to prison. Michael Cohen, formerly Trump's fixer, can tell a tale about what that feels like.
Cohen spent 13 and a half months behind bars and then, because of COVID-19, he was released for 18 months of home confinement. He got some time off due to good behavior and now walks the streets of the city that never sleeps, a free man. To quote John 8:32, "… and you will know the truth, and the truth will set you free."
It's notable that in John 8:31, Jesus Christ was directing his comments to his fellow Jews, "If you abide in my word, you are truly my disciples." I make note of it because Michael Cohen is Jewish, Ashkenazi to be exact. Some revisionists want to take God's Chosen People out of the New Testament, as if Christians popped out of the ground like winter wheat, and that Jesus Christ was, somehow, a man of Anglo-Saxon descent who just happened to be born in Palestine …
That's not even the beginning of this fiction, but it is a little far afield from this topic — which just got elevated to "HOLY SHEET!" status.
It's been just announced that former President Donald J. Trump is being indicted on seven counts, one of which is for violating the Espionage Act and another for a criminal conspiracy and the others, who knows? Well, Jack Smith and his team know. So, Donald J. Trump has to report to the federal courthouse in Miami, FL  on Tuesday, June 13, 2023. Make that a legitimate calendar reference because this is the most earth-shattering event since the Civil War. Not the cold civil war that is brewing now, the one that began April 12, 1861.
Donald J. Trump, getting booked into the federal judicial system. Think about that. The first president, or former president, to be indicted on federal felony charges on acts the began after he left office. Then there are the likely charges in Washington, D.C. that are related to the insurrection of January 6, 2021 and the charges in the state of Georgia for trying to commit election fraud.
Hold my (diet root) beer.
Special Prosecutor Jack Smith held a press conference today (June 9, 2023) after having the indictments unsealed. It isn't seven counts, it's 37 counts … once again, HOLY SHEET!!
Before he stepped up to the podium with its microphones and cameras Smith had the indictments unsealed so everyone at that press conference — and the millions of us watching it — could read it. We can download and read the 49 page document. Wow. Thirty-one counts of violating the Espionage Act.
From the indictment:
Trump to Kid Rock: "How should I handle North Korea?"
Good to know Kid Rock has seen classified documents. Then again, by now Trump has shown them to dozens, if not hundreds of randos… & sold the rest.
Seriously, #VoteBlueToSaveAmerica #GOPBetrayedAmericapic.twitter.com/vm8RxP77ZL

— BigBlueWaveUSA® 🇺🇸🌊🇺🇦 (@BigBlueWaveUSA) June 10, 2023
"The classified documents TRUMP stored in his boxes included information regarding defense and weapons capabilities of both the United States and foreign countries; United States nuclear programs, potential vulnerabilities of the United States and its allies to military attack; and plans for possible retaliation in response to a foreign attack. The unauthorized disclosure of these classified documents could put at risk the national security of the United States, foreign relations, the safety of the United States military, and human resources and the continued viability of sensitive intelligence collection methods."
Further down in the indictment:
"The Mar-a-Lago Club was an active social club, which, between January 2021 and August 2022, hosted events for tens of thousands of members and guests. After TRUMP's presidency, The Mar-a-Lago Club was not authorized location for the possession, review, display, or discussion of classified documents. Nevertheless, TRUMP stored his boxes containing classified documents in various locations at The Mar-a-Lago Club — including in a ballroom, a bathroom and shower, an office space, his bedroom, and a storage room."
We say "WOW" once again.
If you look at the screenshot of the face page of the document you'll see Trump has a co-defendant: Waltine Nauta. When Trump was president Nauta was in the U.S. Navy serving as a valet in the White House. Beginning in August 2021 Nauta became an executive assistant to Trump; a personal aide, or "body man." Nauta did what Trump told him to do.
On September 30, 2021 Nauta retired from the U.S. Navy as a senior chief petty officer, which is the second highest enlisted rank one can reach in the Navy. When the prosecutors made him a co-defendant his military pension was put at risk. If he is convicted Nauta can lose his Navy pension.
On his unpopular social media platform Trump posted this: "I have just learned that the 'Thugs from the Department of Injustice will be Indicting a wonderful man, Walt Nauta, a member of the U.S. Navy, who served proudly with me in the White House, retired as Senior Chief, and then transitioned into private life as a personal aide. He has done a fantastic job! They are trying to destroy his life, like the lives of so many others, hoping that he will say bad things about 'Trump.' He is strong, brave, and a Great Patriot. The FBI and DOJ are CORRUPT!"
Since news of the indictments have been made public — initially by Trump — the GOP in the House of Representatives has solidly lined up behind the ex-president. Jim Jordan (R-OH)was on CNN with Dana Bash claiming all sorts of B.S. Bash is visibly taken aback. Truly, if someone looked at this indictment with an open mind
A couple of them have tweeted threats for the nut bar MAGA crowd to use violence. Louisiana Congressman Clay Higgins flat out called for a war against anyone who isn't pro-Trump.
Trump Cult nut bar Kari Lake has quite possibly broken the law in a big way. She was at the Georgia Republican Party Convention and had this to say for the roaring crowd, "I have a message for Joe Biden, Merrick Garland, and Jack Smith, and the guys back there in the fake news media, you should listen up as well, this one's for you: If you wanna get to President Trump, you're gonna have to go through me, and you're gonna have to go through 75 million Americans just like me, and I'm gonna tell you, most of us are card-carrying members of the NRA."
The weakest Speaker of the House, Kevin McCarthy (R-CA) went on Faux News and said, "This is going to disrupt this nation because it goes to the core of equal justice for all, which is not being seen today. And we're not going to stand for it."
The over-used phrase of this fully MAGA Republican Party is, "weaponized Department of Justice," or some variation on that theme. "Weaponized FBI," or some variation.
The other thing Trump's MAGA ass-kissers try to do is a false equivalency, asking why Joe Biden — and sometimes Mike Pence — why they weren't charged with any crimes because they had classified documents in their homes or other facilities. The one big difference is that when Biden and Pence found out they had documents that belonged with the National Archives, they fully cooperated with the government to get them returned.
They didn't have underlings move boxes around, from one room to the next. Nor did they delete footage from surveillance videos. Pence and Biden didn't try to get their lawyers to lie for them to conceal the documents from the National Archives and FBI
Trump acted like a criminal because he is a criminal. Many talking heads on the various news channels want to remind us that Trump is presumed innocent until proven guilty.  But that's in a court of law. In my public opinion Trump is a criminal.
OJ Simpson is giving Trump advice — and then he talks about football and where running backs are going to land. I didn't know Ezekiel Elliott is looking for a team. One of the people in the sports news business that I respect, ESPN's Adam Schefter, said the Dallas Cowboys are mulling over whether to bring the 27-year-old back. If they do offer him a contract, it might be for one year with a substantial pay cut.
Anyway, this isn't about pro football, this is about blood sports: politics and justice, about whether Donald J. Trump is going to trial and prison. He promises he will run for president from behind bars of need be.
The best legal advice I ever received pic.twitter.com/bSa2OiZSRy

— O.J. Simpson (@TheRealOJ32) June 9, 2023
Trump is a bad joke that no one is laughing at anymore. Yet he has a large following of gullible idiots who could get violent, again, if Trump gets frightened about his prospects he can (and probably will) lash out in a way that convinces a segment of his followers to get into violent action. That isn't hyperbole. It happened on January 6, 2021.
Some Republicans have read the 49 page indictment and look at the charges realistically. Like Senator Mitt Romney who issued a scathing rebuke of the ex-president. Part of his statement says, "Mr. Trump brought these charges upon himself by not only taking classified documents, but by refusing to simply return them when given numerous opportunities to do so."
Former New Jersey Governor Chris Christie has put his name into the GOP hat, going right after Trump. He was talking with Jake Tapper of CNN when he said, "… these facts are devastating. "He added, "The bigger issue for our country is, is this the type of conduct that we want from someone who wants to be president of the United States?"
Trump's former Attorney General Bill Barr told Shannon Bream on Fox News, "I was shocked by the degree of sensitivity of these documents and how many there were, frankly. If even half of it is true, he's toast."
He also said, "Those documents are among the most sensitive secrets that the country has. They have to be in the custody of the archivist. He had no right to maintain them and retain them. And he kept them in a way at Mar-a-Lago that anyone who really cares about national security, their stomach would churn at it,"
Former Director of the CIA John Brennan called Senator Lindsey Graham (R-SC)  a "spineless coward" for defending Trump.
On Tuesday Trump will have to appear before a magistrate in Miami to be arraigned for the 37 charges in the 69 page indictment. Trump plans to plead not guilty, but his legal team, as of the time of this writing, his legal team is still unclear. Two of his attorneys, James Trusty and John Rowley, either quit or were fired last week, a day after the indictment was unsealed.
Lucky for Trump, his case will be going to the court of a judge he appointed, Aileen Cannon, who took Trump's side when she appointed a special master to oversee the documents in the case. Cannon was repudiated by the court of appeals for that decision.
The gravity of this moment cannot be measured at this time. It will be explained and judged by future historians who will weigh the indictments with Trump's words and behavior and that of his enablers in Congress.

Tim Forkes started as a writer on a small alternative newspaper in Milwaukee called the Crazy Shepherd. Writing about entertainment, he had the opportunity to speak with many people in show business, from the very famous to the people struggling to find an audience. In 1992 Tim moved to San Diego, CA and pursued other interests, but remained a freelance writer. Upon arrival in Southern California he was struck by how the elected government officials and business were so intertwined, far more so than he had witnessed in Wisconsin. His interest in entertainment began to wane and the business of politics took its place. He had always been interested in politics, his mother had been a Democratic Party official in Milwaukee, WI, so he sat down to dinner with many of Wisconsin's greatest political names of the 20th Century: William Proxmire and Clem Zablocki chief among them. As a Marine Corps veteran, Tim has a great interest in veteran affairs, primarily as they relate to the men and women serving and their families. As far as Tim is concerned, the military-industrial complex has enough support. How the men and women who serve are treated is reprehensible, while in the military and especially once they become veterans. Tim would like to help change that.