World Series: The Astros now hold the advantage
The 2019 World Series has now moved back to Houston, Texas. Those of us who were convinced the Washington Nationals had this in the bag after games 1 and 2 have been dealt a painful lesson by the gods of baseball — and more importantly, by the Houston Astros.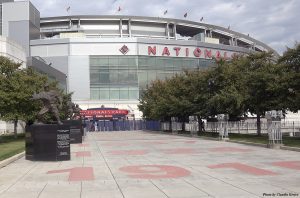 Yeah, Astros manager A.J. Hinch looked positively shocked his team lost the first two games in their barn and for the first time in his career American League MVP candidate Alex Bregman hung his head in defeat after his fly-out — flame out — in the bottom of the eighth inning of Game 2. Alex Bregman, with 41 homeruns and a batting average of .296 for the season.
That alone would convince anyone, including the announcers calling the game, Joe Buck and Hall-of-Fame pitcher John Smoltz of Fox Sports, the Astros' collective goose was cooked. Nobody comes back and wins the World Series after losing the first two games at home. That would require winning at least two of three games in the opposing team's barn. Not gonna happen to the Nationals. The odds were against the Astros. The stats support it.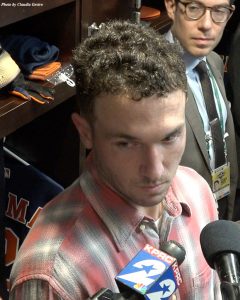 The Astros are a good enough team that they could win a game at Nationals Park, but the idea of the Nationals folding — collapsing — in their own ballpark, well it just bends credulity a bit. But, well, they are the Astros and Alex Bregman, who looked so defeated in the eighth inning, had already put the game behind him by the time he met the microphones in the post-game presser, "Lot of baseball left in this series. We're going to go to Washington with our heads held high. Ready to go and get after it. We've lost two games before. I remember when we lost three in New York and next thing you know we're in the World Series in '17. We've been here before."
Dammit! There's also that precedent.
So, the Nats beat the Stros two aces in Houston, in Washington, D.C. the tables would be turned, almost identically. Houston beat two of Washington's aces, Aníbal Sánchez and Patrick Corbin and Game 4 was a blow out, as was Game 2 in Texas. C'mon man! What happened to that killer batting order that tore up the Brewers, Dodgers and Cardinals in the National League and then the Astros pitching staff in the first two games?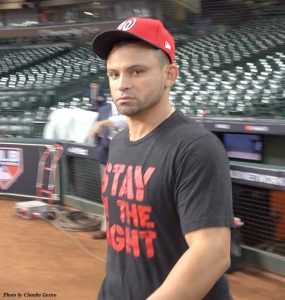 The Nats went 0-10 with runners in scoring position, stranding a total of 12 runners on base. That's not a game plan for winning. It could be said that the Washington starter Aníbal Sánchez was off his game. He gave up 10 hits and all of the Astros' four runs in 5.1 innings, but the Nationals pen kept their team in the game.
Even in that 8-1 loss in Game 4 the Nationals pitching staff kept the team in the game through six innings. Yeah, starter Patrick Corbin gave up seven hits and four of the Astros' runs, but still, the Nationals' bats could have should have, put some runs across the plate and change the narrative of the game and series. Sure, Corbin made some mistakes in the first, giving up four straight singles that scored two runs and then a more consequential mistake in the fourth when Robinson Chirinos hit a 2-run homer off the Nationals starter. After the game Corbin said, "You make mistakes, you're gonna pay. So we .tried to do what we thought was the best in those situations. Like I said, they got on me early." He added, "We just have to get over this and get ready to go for tomorrow."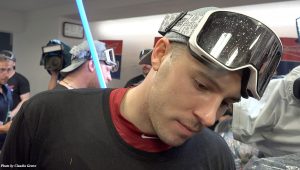 But did he make a lot of bad pitches? After all, he was facing the best team in all of baseball, a team with an All-Star list of hitters starting with George Springer and José Altuve. There's a reason A.J. Hinch has them at the top of their batting order and Alex Bregman is the clean-up hitter (fourth if you don't know baseball lingo).
The Nats top catcher, Kurt Suzuki, was scratched for Game 4 so Yan Gomes took his place behind the plate. After Game 4 he said, "I thought we made some decent pitches. Those are good hitters out there so you have to give them some credit too. They did a tremendous job today against Pat."
Yep, Bregman, the guy with all those regular season homeruns, found his swing in the Nation's capital.
And that vaunted line up of Washington's, starting with National League. MVP candidate Anthony Rendon, plus Adam Eaton, Ryan Zimmerman — Mr. Nationals — Howie Kendrick, Trea Turner and young firebrand Juan Soto, what happened to them?
Watching Game 5 was shear misery — except for when the president, Donald J. Trump was introduced and the crowd booed him in unison and began to chant, "Lock Him Up! Lock Him Up!" Ahh, sweet revenge for all the lefties (politically) in the stadium and around the world watching the game. If there were MAGA hats in the stands that night, they stayed silent, maybe even removed those hats, replaced with either a Nationals or Astros cap.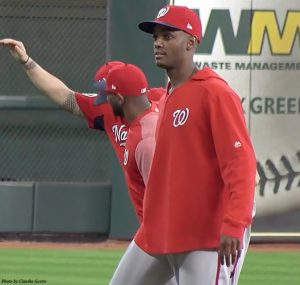 Oh, and let's not forget the two women banned from MLB parks indefinitely for flashing their boobs at Houston starter Gerrit Cole in Game 5. He actually stepped off the rubber for a time out when that happened. Maybe it was for something else, but baseball fanatics would like to think two pairs of bare female breasts took his mind off the next pitch. If you're rooting for the Nationals you have to take whatever bit of positivity you can away from the three home games.
Let's not forget starter Max Scherzer was scratched for Game 5, due to spasms in his neck and back. Joe Ross took his place, going five innings, giving up five runs and four hits. Take away the fact that two of those hits were 2-run homers and Ross didn't really pitch that badly, against a team like the Astros.
Many of us watching at home switched over to Sunday Night Football to see the Green Bay Packers extend their winning streak to four games and their record to 7-1. Rising NFL superstar Patrick Mahomes didn't play for the Kansas City Chiefs due to injury, but his stand-in, Matt Moore, didn't do badly. He threw for 267 yard and two touchdowns, but they were facing Aaron Rodgers and the Packers. Rodgers was making big plays as he was being tackled. Oops. Instead of a sack this slippery old man just threw for a first down. Rodgers is 35 and shows no signs of slowing down. For a while his GF was actor and former Daily Show correspondent Olivia Munn. Now its health enthusiast and former race car driver Danica Patrick.
He's killing it on the field and in his social life … Rodgers has it all, including a Super Bowl ring. The 2010 season and he was the Super Bowl MVP. And they won it in Cowboys Stadium.
As a lifelong Packer fan Sunday Night Football was a better viewing option than Game 5 of the World Series. With all due respect to the players and coaches of the Houston Astros, I wanted to see the Nationals pull of the ultimate sports fairy tale and win it all, against a team that actually told reporters earlier in the postseason they wanted to build a dynasty. That's pretty big talk for any team, unless you can pull it off. It ain't bragging if you can do it.
But then there was the whole Brandon Taubman incident. After winning the American League pennant Taubman shouted at a gaggle of female reporters, including Stephanie Apstein of Sports Illustrated, "Thank God we got Osuna! I'm so fucking glad we got Osuna!"
Well, that was bad, very bad especially because one of the three women was wearing a purple Domestic Violence Survivors bracelet. And just bad because Roberto Osuna had been on a 75-game suspension for beating the mother of his child when he was with the Toronto Blue Jays. The woman fled to her home in Mexico so no charges were brought against Osuna. He got away with it.
It was also puzzling to hear that from Taubman because in that league-clinching game Osuna, the Astros' closer, blew a two-run lead in the ninth. Springer and Altuve had to bail him out in the bottom of the inning. Springer got on base and Altuve hit a walk off homerun.
You know we all wanted the Yankees to win. The Astros were beginning to sound … well a little less than humble. Of course, they have the best record in baseball for the season, 107 wins, so they are a special team. But a lot of people root for the underdogs, even if they are the Yankees.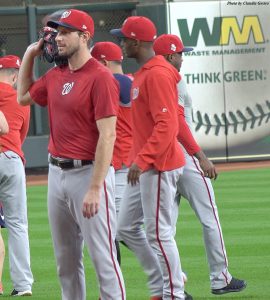 Anyway, right after Sports Illustrated published Stephanie Apstein's story about the Taubman rant, the Astros replied, saying Apstein was trying to make a story where none existed. Bad move. Other reporters, including men, went on the record to support Apstein's report.
Eventually the Astros management, including Taubman, did the right thing and apologized for the entire incident and the initial response. Taubman was fired as the World Series was getting started.
"Screw the Astros!" Was heard outside of Texas. Or words to that effect. Some people used an F-bomb in the phrase. Then along came the Washington Nationals, vanquishing the two best pitchers in the American League, shutting down their MVP candidate slugger.
Man, baseball fans across America were fired up. Those who were Packer fans figured the World Series wouldn't go to five games and interrupt our viewing of Sunday Night Football. In other words, the Nats would sweep the Stros.  You had to have watched the first two games to understand why people thought Washington was about to get their second sweep of the postseason.
This is the big but in the room, but the Nationals were not playing your garden variety MLB postseason team. As Carlos Correa said after game two, "Not a lot of teams win 107 games a year, so this is a special team. This is not just some random team, so if there's a team out there that can do it, it's us."
So the Astros have done it, winning three games in Washington. Washington couldn't beat Houston starter Gerrit Cole a second time. Now the Astros have a 3-2 lead to go with their home field advantage. This doesn't look good for the Nationals and their fans. Sure, their team won the first two games at Minute Maid Park, but the idea of the Stros dropping two more at home, in this series? That's a heavy lift.
On the other hand, if there's a team that can defeat the Astros at Minute Maid Park, it's the Washington Nationals and that ain't bragging because they have done it before.
Go Nats! Please!
Below are the video reports from this World Series, by LAPX and BPE sports reporter Claudia Gestro. She spoke with Astros bench coach Joe Espada who might be the next manager of the San Francisco Giants. She also interviewed Michael Taylor and Gerardo Parra.
Previous World Series coverage.
Update: The Nationals won Game 6 in spectacular fashion, 7-2. Juan Soto, Adam Eaton and Anthony Rendon knocked in homeruns, for a total of four runs.
Photos by Claudia Gestro
Top photo: Astros pitcher Gerrit Cole and Catcher Robinson Chirinos at Nationals Park

Tim Forkes started as a writer on a small alternative newspaper in Milwaukee called the Crazy Shepherd. Writing about entertainment, he had the opportunity to speak with many people in show business, from the very famous to the people struggling to find an audience. In 1992 Tim moved to San Diego, CA and pursued other interests, but remained a freelance writer. Upon arrival in Southern California he was struck by how the elected government officials and business were so intertwined, far more so than he had witnessed in Wisconsin. His interest in entertainment began to wane and the business of politics took its place. He had always been interested in politics, his mother had been a Democratic Party official in Milwaukee, WI, so he sat down to dinner with many of Wisconsin's greatest political names of the 20th Century: William Proxmire and Clem Zablocki chief among them. As a Marine Corps veteran, Tim has a great interest in veteran affairs, primarily as they relate to the men and women serving and their families. As far as Tim is concerned, the military-industrial complex has enough support. How the men and women who serve are treated is reprehensible, while in the military and especially once they become veterans. Tim would like to help change that.