Anne Baldwin finds inspiration in self-quarantine
I interviewed Anne Baldwin, an artist who has overcome traumatic injury, homelessness and during self-isolation quarantine due to the COVID-19 Pandemic became a self-taught portrait artist with no formal training. Here is what she had to say:
Cat Doss: Where are you located?
Anne Baldwin: I'm in England in Kent.
Cat: Tell us about your background. What is your profession? How did you get into art?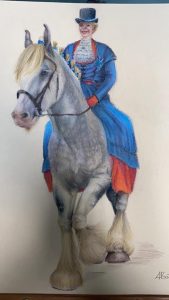 Anne: Ok my background is actually hairdressing. I worked as an apprentice while at school. As soon as I finished I went full times. I left, then went into sales. I was quite gregarious and worked well with people. I did really well for about 14 years when I decided to go into the police. I had no qualifications so took two years out first to understand how to deal with anger in the emotional spectrum as a bailiff.
Then the following year to understand grief as a funeral arranger these two emotions and communication were the basis for me getting in. I passed my entrance and have been in the force for 15 years now.
I sketched a bit in my youth; my dad was very artistic a qualified sign writer. He did calligraphies and heraldry painting on glass. I got an o and a level at school but went straight to work.
In the lockdown I had no work and was going a little stir crazy so started writing poems.
I loved that and posted on Facebook that I'd just opened. I got some lovely responses so I started doing them daily, then I was doodling trying to get the words. When I looked I'd done a little sketch, I carried on and before I knew it I was drawing. I got such a thrill I decided I'd try colour.
I always try to push myself to the best I can be in any endeavour so I researched and found pastels were a good start point. I'd never used them before and was nervous, it was weird it felt right. I painted my first portrait, which was my best friend's daughter and she loved it. Spurred on I did more. My other friend said I should set up a website; they did it for me and then they encouraged me to post and get an Instagram and now 2-1/2 months later I have commissions and people actually following me.
Cat: That's amazing! How do you think quarantine has affected your decision to start making art?
Anne: I think it has focused my mind to see emotion in the eyes of the pieces I do, almost like a window to the outside. As I'm painting I feel so drawn into the piece I'm doing I lose all track of time, sometimes all night, I look up from my easel and daylight is coming through.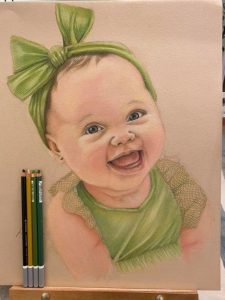 Quarantine has a way of making you self actualise and understand your strengths and limits. I began to think of self-isolation as a very strange silver lining for me. Instead of looking at what I wasn't getting or doing I looked at what I felt I could. I have a mantra I use every day which is, " Bad things happen for good reasons"
This has helped me a lot and helped me to help others
I sent a box of Derwent pencils to an artist in Zambia who was struggling to get tools and have made some lovely online friends in which we help each other with advice and tips.
Cat: That's awesome! Other than sketching during your youth, you actually started making art during quarantine, correct? With no formal training?
Anne: That's right I dabbled a bit when I had my car accident five years ago but I was in a lot of pain and had life changing injuries. I never focused on it, poetry was the thing I concentrated on then it helped me to get through a very bad time. I was left with a dodgy back and a crippled left hand, I was really lucky to be alive I was on a pushbike on the way home at the time the car hit me.
I haven't had any training, no college or university just the o and a level I got at 16, 37 years ago?
Self-isolation was when I started.
I taught myself with online YouTube tutorials and reading up on techniques. I practiced and found I had a feel for it.
It was weird, at 53 I was actually schooling myself — voluntarily.
Cat: Would you agree that there is a recurring theme in your work and in your philosophy of finding a "silver lining" and making something good happen during a bad situation? Do you have any advice for people who are struggling right now or going through a tough time?
Anne: Yes! Indeed, I'm one of those annoying glass half full people.
My advice such as it is is for people to know their strengths, understand their weaknesses and accept their faults.
Armed with this knowledge it will help you to be the best person you can be and if bad things are happening step back look at the situation and say how can this be turned into a positive, how can I make this work,
Understanding both the negative and the positive in any given situation gives you the head space to make the right decision.
I hope that makes sense I type as I talk, I'm an instinctive person and always go with my gut.
I've done this all my life. It helped me when I was homeless, when I got divorced, my accident and self-isolation plus many other incidents in my past.
Cat: That's truly inspirational that you were able to overcome so much and to create so much positivity! Do you have any advice for new artists especially maybe adults who want to start making art or showing their art for the first time later in life?
Anne: Thank you! I guess I would say believe in the story you want your art to convey, everyone is drawn (pardon the pun) to their own style and the strength of their belief is what should push them forward. Do what is in your heart and head and believe in yourself and your story.
Cat: You can find her work here and on Instagram.
Her Facebook pages are: "Anne Baldwin Portrait Artist" and "Anne Baldwin"
All art is by Anne Baldwin

Cat Doss is an artist/writer/filmmaker/performer living in the Los Angeles area. She was born in Huntington, West Virginia. A classically trained painter and a winner of multiple awards in various disciplines, Cat refuses to confine herself to one medium preferring to experiment with her work and investigate the workings behind the creative process. Her art can currently be found at Facebook.com/someassemblyrequired