Antaeus Theatre brings race to the stage with "Native Son"
I was born in Chicago, Illinois in 1945, just a few years after the time frame of the play Native Son but over the years I had many opportunities to observe some of the conditions and abundant de facto racism presented in this powerful work. On one occasion I went to North Carolina in the summer of 1959. When we stopped at a bus station to use its rest rooms we were shocked to find four different rest rooms, one for black women, one for white women, one for black men and one for white men. That was a wild (to us) example of legally enforced racism.
Chicago and other northern cities has long had abundant de facto racism.  In many ways Chicago is a truly great city. But one glaring example of how it was often not such a great place dramatically occurred technically not in Chicago but in its 100% white next door neighborhood of Cicero, Illinois.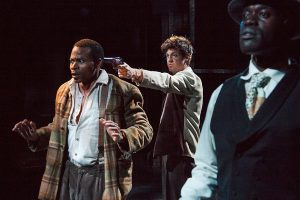 On July 11 1951 a bus driver by the name of Harvey Clark, Jr. who happened to be African American, had the unmitigated nerve to move into an apartment with his family in the city of Cicero. He was soon greeted by roughly 6000 very angry white folks who demanded that he leave which in order to keep on living he did. Nothing about that incident was legal but it was a classic example of extreme de facto racism.
Fifteen years later in 1966 Martin Luther King, Jr. participated in a march to and through the city of Cicero. Miraculously no one was killed that day but it sure got gobs of media attention. Then there arose in 1967 several racially based riots across the United States including Chicago. In response then President Lyndon B. Johnson commissioned a panel led by Illinois Governor Otto Kerner that resulted in a report entitled "Healing a Divided Society." But truth be told, little if anything has changed in Chicago and most likely other major American cities as well.
So my point in all of this is to add even more credence to the essence of the story as told in the play Native Son. The story is of a young black man Bigger Thomas and reveals how his life in the rat infested poverty of Chicago's South Side shaped him and played upon his mind, driving him in what would ultimately become his own violent death. There on the stage is presented not merely the man Bigger Thomas but also his conscience speaking to him as he experiences his life spinning steadily out of control.
The troubles amplify when Bigger takes a job as a chauffeur for a wealthy white family. The mother directs Bigger to take her daughter to school but the daughter has other plans instantly creating stress because no matter what he does he will be wrong, very wrong in at least one person's mind be it mom or daughter. So decisions are made because they must be made and consequences, horrible consequences occur largely aggravated by the undeniable presence of a racial divide perpetuated by the culture of the place and time.
Whatever Native Son may be without doubt it is powerful and thought provoking. It raises far more questions than answers but it severely provokes thought. So if having your mind stimulated and your thoughts provoked is entertaining for you than this show Native Son is a show you will not want to miss.
If, on the other hand, you prefer watching French soldiers singing while engaged in a fire fight then skip this and go see Les Miserables. Personally I would choose Native Son and hopefully my brief overview of the long history of the racial divide so deeply ingrained in the culture of Chicago will provide even greater understanding of the story being told on stage. Special kudos for a powerful performance by Jon Chaffin as Bigger Thomas.
Native Son is playing at the Antaeus Theatre Company, Kiki & David Gindler Performing Arts Center, 110 East Broadway, Glendale, California 91205 now through June 3rd. Show times are 8:00 p.m. Mondays and Wednesdays through Saturdays and 2:00 p.m. on Sundays. Reservations and ticketing are available at www.Antaeus.org or by calling 818-506-1983.
•••• •••• ••••• •••• ••••
Love to travel? Then check this out as well. http://www.ronirwin.net/EnjoyOurWorld.html.

Ron Irwin was born in Chicago, Illinois a long time ago. He served in the Marine Corps in Vietnam, became a trial lawyer, TV and radio host, CEO of a public company and once held an Emmy. He never won an Emmy he just held one. Ron has written and published twelve books. His most important book to date is "Live, Die, Live Again" in which Ron tells of his early life and his unexpected and very temporary death in 2012. That experience dramatically refocused his life and within the pages of that book Ron reveals how he achieved a much healthier life, ridding himself of Diabetes, Cancer and Heart Failure. Now Ron enjoys writing about many things including health topics, travel [he has circled the globe several times], adventure, culinary experiences and the world of performing art. Ron's motto is "Live better, live longer and live stronger because it feels great and annoys others." Contact the author.