Rams exude confidence as team starts offseason program
Despite the lack of a first-round pick, the Rams have plenty to be excited about thanks to their series of blockbuster moves made during the offseason. Not only has the organization bolstered their defense, but also strengthened their offense with the addition of highly touted wide receiver Brandin Cooks.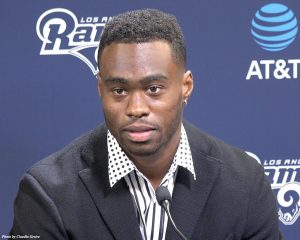 The quick and agile Cooks, who was acquired on April 3rd from the New England Patriots in exchange for their first-round draft pick (No. 23 overall), was all the Rams needed to complete a star-studded roster.
"It almost does feel like the first day of school," said Rams head coach Sean McVay during last week's offseason program press conference. "I think as much as you enjoy watching tape and evaluating your scheme, what you realize and you appreciate so much — and I know I speak for all of our coaches when I say this — is the interaction with the players. Being around them, getting to teach, talk through different things, and talk about how we can be better than we were last year and that's with [taking things] one day at a time."
McVay, who displayed genuine enthusiasm towards the Rams' offseason acquisitions, explained the team's focus and their eagerness to build chemistry between coaches and teammates.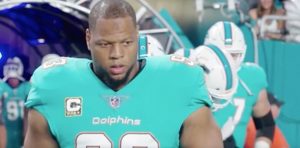 "I think we're excited to get to know these guys; the guys that we don't know. We're excited to build on the relationships we've already established," said McVay. "We're excited to get to know Ndamukong Suh, we're excited to get to know Marcus Peters and Aqib Talib and how they fit, Brandin Cooks and our offense.
"And then you end up adding a player like Sam Shields who had a really productive career in Green Bay and when he's been available he's been extremely good," added McVay.
"Then you look at Ramik Wilson, so we've added six players in this offseason that we're excited to get to know them and seeing how they fit with our players. I know our core leaders and veteran guys that have been in that locker room will do a great job kind of welcoming them with open arms."
Defensive tackle Aaron Donald was the only player absent during last Monday's workout, however Coach McVay remained optimistic, noting that the organization "feels good" about the dialogue that has been shared between the two parties.
Donald could skip the next two weeks of practice, albeit the final part of the offseason, a three-day minicamp, is mandatory.
While the Rams won't make their first draft pick until late in the third round, the organization did make additional moves this week as they picked up the fifth-year options on the rookie contracts of cornerback Marcus Peters and running back Todd Gurley.
No matter the outcome of the draft, one thing is clear — the Rams are making all the right moves to give them the best chance to hoist a Lombardi Trophy at the end of the season.
Rams Host Chiefs in Mexico City for MNF
The Los Angeles Rams will host the Kansas City Chiefs for a Monday Night showdown on November 19 at Estadio Azteca in Mexico City. The international game is set for 5:15 p.m. PT on ESPN as part of the NFL's International Series.
The league and the Mexico Ministry of Tourism currently have a deal to play regular season games at Estadio Azteca through 2021. The Rams, who agreed to host one international game per season until completion of their new stadium in Inglewood set for 2020, requested this season's game in Mexico City in an effort to minimize the fatigue that comes with travel. The trip to Mexico City marks the first for the Rams who have played home games in London the last two years.
"It is great to be participating in the NFL's international games again and working with the league to grow the game abroad," said Rams owner Stan Kroenke in a statement. "Mexico has one of the largest NFL fan bases in the world and we are excited to bring Rams football to the millions of fans there."
The Rams will open up their season on the road against the Oakland Raiders on Monday, September 10 at 7:20 p.m. PT.
Photos by Claudia Gestro unless otherwise noted.
Top photo: Rams head coach Sean McVay
An avid sports fan, Brenda grew up rooting for the Los Angeles Dodgers, Lakers and Kings. In her spare time she enjoys wandering through LA in search of the best burger in town, frequenting concerts, running 5K's, dominating in Super Shot Basketball, and spending time with her four brothers. Raised in the Inland Empire, Brenda has previously written for The Press-Enterprise, in addition to their Spanish sister publication, La Prensa. She holds Bachelor of Arts degrees in both Communications and Spanish from Cal State San Bernardino.