Babe Ruth Still Belts Them Out of the Park
During his legendary major league baseball career, Babe Ruth, aka George Herman "Babe" Ruth, one of Baltimore's greatest sons, hit 714 home runs. Well, he just hit another one out of the ballpark in the form of a new photo book entitled: The Great Bambino: Babe Ruth's Life in Pictures, a first-class effort in every way. The book totals 191 pages and sells for only $19.99 in the U.S. The author is Sam Chase. I'm giving his tome — five stars!
The Babe's story is well known. He had a rough childhood. He was born and reared, until age seven, in Southwest Baltimore, and baptized at St. Peter the Apostle RC Church, (now closed).
(St. Peter's was also the home parish of my dear political friend — the late Mary Avara. Trust me, there is no way if Avara was still alive that the Roman Catholic Archdiocese of Baltimore would have ever dared to shut down St. Peter's.)
Babe's mom was an alcoholic and his father, a tavern owner who had emotionally abandoned him. He spent his formative years, from age 7 to 19, at St. Mary's Industrial School for Boys, (where Cardinal Gibbons High School is located today), under the mentorship of the wise and caring Brother Matthias of the Xaverian Order. (Bless Brother Matthias' memory).
There is a museum to Babe located at 216 Emory Street in the rowhouse where he was born. It is located about three blocks away from Oriole Park at Camden Yard. It was opened in 1973 and visiting it can be a real treat for kids, and adults, too.
Baseball was the Babe's way out of his personal hell. After a stint with the minor league Baltimore Orioles, Babe launched his major league career; first, with the Boston Red Sox; and then with the New York Yankees. He played from 1914-35 in the big leagues.
When the Babe arrived on the major league baseball scene, it was still recovering from the "Black Sox Scandal." It was also an era of the "dead ball," where home runs were few and far between.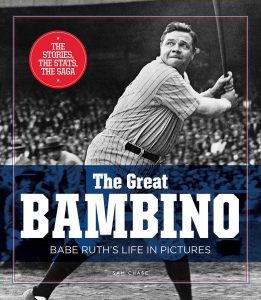 The Babe's mighty swing for the fences would transform the sport and bring millions of new fans into the seats at ballparks across the country. One of Babe's nicknames was "The King of Swat." Other monikers he picked up over his long and successful career were: "The Titan of Terror" and "The Great Bambino."
Mr. Chase's illustrated book covers the waterfront. The early days of Ruth's youth and difficult childhood are posted, along with his most competitive baseball moments both on the mound as a left-handed pitcher, and later as a slugger, who played the outfield.
One photo I just love shows the Babe (p. 13) behind his father's bar with his dad. Even after he became a huge baseball star the Babe would stop back to Baltimore in the off-season to help his dad out. The Ruth clan was of German ancestry.
There is also another classic photo, (p. 15) taken in 1912. It shows Ruth, then age 17, in the back row of classmates at St. Mary's all dressed up in their donated baseball uniforms. Some fans will be shocked to learn that Babe started his major league career as a pitcher for the Boston Red Sox, (1914-1919). One year, he even won 23 games, with nine shutouts, and also starred in the World Series for the Red Sox in three different years.
At page 59, photos start showing up with Ruth in a Yankee uniform. He looks great in them. In 1921, a photo shows a smiling-ear-to-ear Ruth celebrating a banner year where he had socked 59 home runs. WW I was over and Ruth, seated in an expensive sports car convertible, was at the top of his game.
Another outstanding photo appears on pages 66-67. It shows Ruth in the middle of a large gathering of his youngest fans. They loved him alright and Ruth not only enjoyed their company, he loved them right back.
There are plenty more vintage photos to see and enjoy in this gem of a book. For example, there are plenty of photos of Ruth with celebrities, including presidents; with his loving wife, Helen, and daughter, Dorothy; and with his second wife, Claire and family friends.
From page 96 to the end of the book. the selection is restricted to mostly photos of Ruth in his Yankee uniform. Some of them show him at the plate, running the bases and sliding into home. That section is appropriately entitled: "A Baseball Dynasty."
Chase's book ends with a salute to some of the other great baseball sluggers, such as Ted Williams, Lou Gehrig, Barry Bonds, Rickey Henderson, Hank Aaron, Roger Maris, and Mickey Mantle.
Chase's book, "The Great Bambino," belongs in the library of all fans of the one, the only, the inestimable – George Herman "Babe" Ruth.

Bill Hughes is a native of Baltimore. He's an attorney, author, professional actor and hobbyist photographer. In his salad days, he worked on the docks as a longshoreman. Bill also played on three championship soccer teams: sandlot with Jules Morstein; high school at Calvert Hall; and college at the University of Baltimore.