Baltimore Ravens question: Who fears them the most?
Here's a money question for you: Who fears the Baltimore Ravens the most right now?
It is defensive coordinators who have to scheme to stop Lamar Jackson, who is turning the league into his personal playground? Is it quarterbacks who have to score against a Ravens defense that's all of the sudden playing like it still has Hall of Famers Ray Lewis and Ed Reed in their prime? Or is it the entire NFL? A league whose ratings spike highest when teams from big markets are playing in its biggest games?
Yes, they all have reasons to really, really be scared of the Ravens. But they aren't at the top of the totem pole.
You know who is really having nightmares about Jackson and Co. right now? Sportsbooks and online betting sites – and it isn't even close.
Here's why: Would you really be surprised if the Ravens, who have destroyed both of last year's Super Bowl participants – the Patriots and Rams – during their seven-game win streak take home the Lombardi Trophy this year? Probably not.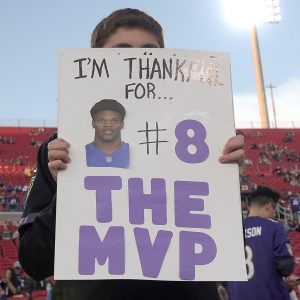 But what happened if I asked you the same question before Week 1, when Jackson was coming off a historically bad playoff debut, the defense had watched several of its best players, including Terrell Suggs, C.J. Mosley, Eric Weddle and Za'Darius Smith all leave town during the offseason? Would you have thought the Ravens, with a receiving unit that includes Willie Snead, Seth Roberts, Marquise Brown and Miles Boykin, be even good enough to have a winning record.
Don't worry. You are not alone. Sportsbooks and online betting sites thought so, too, which is why some sites had the Ravens' season-opening odds to win Super Bowl LIV at +4000.
In short, if you bet $100, you would win $4,000 of the Ravens won the Super Bowl.  By comparison, the Chiefs were favored at +500, followed by the Patriots at +600, meaning $100 bets would land you $500 and $600, respectively. To put the Ravens' odds in an even bigger picture: the Browns – yes, the Browns – were +1800 and the Vikings were +2000.
The Ravens had the same odds as the Falcons, who have never won a Super Bowl, and the 49ers, who haven't made the playoffs since 2013.
But we all know what happened next: the 49ers (10-1) and Ravens (9-2) have emerged as the season's two biggest surprises. If one wins the Super Bowl, anyone who bet on them will have made one hell of a prediction – or investment – depending on with whom you are speaking.
If you didn't jump on the Ravens or 49ers bandwagon, it's still not too late, but the reward of betting on either going all the way isn't nearly as lucrative.
Entering the teams' Week 13 meeting on Sunday at M&T Bank Stadium, the Ravens' odds, at least at some sites, have improved to league-best 3-to-1, meaning you will get $3 for every $1 you bet, so if you bet $100 now, you get $300, which wouldn't even cover the cost of your Super Bowl ticket. The Patriots have the next-highest odds at (7-to-2), are followed by Saints (4/1) and 49ers (7/1).
Think of it as buying stock. When would you have rather bought Amazon? Today, when a share is worth $1,818 or in 1997, when a share was $18?
Timing, whether it's in the fickle stock market or the NFL playing field, is everything.
OK, so maybe you missed out and betting on the Ravens, which at +4000 at season's outset is comparable to Leicester City's run to the 2016 Premier League title when the small-market club opened at +5000.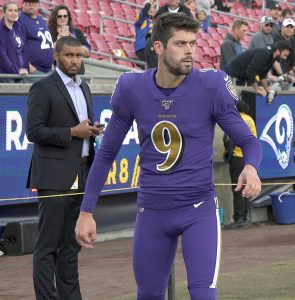 When was the last time the NFL saw this kind of a long shot? Maybe the Ravens in 2000 when they were coming off an 8-8 season?  Or maybe the St. Louis Rams the year before, when their odds plummeted after Trent Green got hurt and Dick Vermeil was forced to name a grocery store bagboy making $5.50 an hour named Kurt Warner as the starting quarterback?
But that doesn't mean there's money to be made this season. You just have to bet smart.
Is this the Ravens' year? If you think so, the longer you wait, the lower the odds will get, meaning you will make less money on your bet.
You also have to be calculating. What happens if you put $100 on the Patriots, 49ers and Saints to win all. You would be guaranteed to win money if any of those three win the title, but there's no guarantee any will even make the Super Bowl. What happens if Jackson, Tom Brady, Drew Brees or Jimmy Garoppolo suffers a season-ending injury?
Their fan bases will be sad, but probably not as devastated as those who have money riding on their teams winning Super Bowl LIV.
But you know who might not shed a tear? Those who bet on Kansas City (10/1), Minnesota (12/1), Seattle (12/1), Green Bay (18/1), Dallas (18/1) or Houston (40/1), which at their current odds are bargains should one of the league's elite teams suffer injury to key players.
All of a sudden, betting slips that looked destined for the garbage are looking like they may be framed and displayed proudly.
But until anything changes, it's Jackson's NFL. He may very well be the league's No. 1 player, but in the eyes of sportsbooks, he very well is being seen as their Public Enemy No. 1.
Photos by Claudia Gestro
Top photo: Ravens QB Lamar Jackson

Jon Gallo is an award-winning journalist and editor with 18 years experience, including stints as a staff writer at The Washington Post and sports editor at The Baltimore Examiner. He's also an editor for CBSSports.com. He's crossing his fingers the only baseball team in Baltimore that will contend for a title this summer won't be his fantasy squad, the Catonsville Cartel. He also believes the government should declare federal holidays in honor of the following: the Round of 64 of the NCAA men's basketball tournament; the Friday of the Sweet 16; the Monday after the Super Bowl; and of course, the day after the release of the latest Madden NFL video game.