With Blake Griffin gone, what now?
Twenty-four hours after five-time All Star Blake Griffin was sent packing to the Detroit Pistons, shattering hearts across Clipper Nation, many are left to wonder — why?
The message is pretty simple. The Clippers are tired. Tired of injury plagued seasons. Tired of being a first round exit team — a route they're seem destined for this season as well.
In trading away their star player, the front office knew that the quickest solution was taking a short term loss for a long term win. The Clippers have never been to the Western Conference Finals and in order to get there, drastic changes need to be made.
Clippers President of Basketball Operations Lawrence Frank explained the reasons behind the trade on Tuesday, alluding to the pursuit of free agents. "The question is, why did you make the trade?" Frank said. "Clearly, we targeted three strategic objectives. Does it allow us to maintain our competitiveness? Can we increase our ability to add young, emerging talent and draft picks? Can we increase our flexibility?"
As the February 8 deadline approaches, the Clippers are highly likely to trade other players, most notably, All Star center DeAndre Jordan and super-scorer Lou Williams, per ESPN's Adrian Wojnarowski, citing sources who said the team is looking for young players and draft picks in return.
With no contract extension talks in sight for Jordan, and Williams on the cusp of free agency, this is the remedy the Clippers need to stay in the playoff hunt while also rebuilding quickly. Los Angeles needs to collect as many assets possible in order to become real contenders in free agency.
Aside from trading away the face of the franchise, the Clippers also bid adieu to forward Brice Johnson and center Willie Reed in exchange for Pistons forward Tobias Harris, guard Avery Bradley, center Boban Marjanovic and a first and second round draft pick for the sole purpose of roster reconstruction.
The midseason additions will only bolster the roster, adding depth to filling the holes of an injury-stricken team. Harris, who averaged a career-high 18.1 points through 48 games for the Pistons, is a starting forward in his prime who can score from all over the court. In Bradley, the Clippers have a veteran who is a solid defender, can play at both guard spots and average 15 points per game.
Additionally, thanks to the blockbuster trade, the Clippers front office now has five years and $171 million off their ledgers, creating more cap flexibility and the chance to go after prominent free agents, Paul George and LeBron James, should they choose to do so this offseason.
But that's not all.
If the Clippers trade Jordan rather than offer him a contract extension, they'll clear significant space in their salary books for Summer 2019 when Klay Thompson, Kawhi Leonard, Kevin Love and Jimmy Butler are all free agents. It simply makes sense to trade Jordan and Williams in for assets. In doing so, Los Angeles will be in a position to make all sorts of moves and keep them a team to watch.
Sure, the absence of Griffin will be felt by the team, but it's safe to assume that his departure won't dramatically impact the team's postseason contention. While Griffin is the best player in this trade, the Detroit acquisitions add balance and with forward Danilo Gallinari's return, the team will regain the scoring and rebounded they relied on so heavily from Griffin.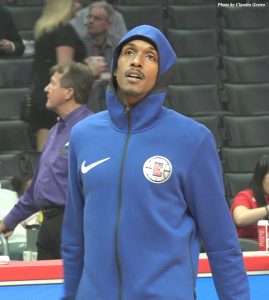 Taking the trade into consideration, the Clippers are the clear winners in the release of Griffin's gargantuan contract and the possibility that his injury history could have given Los Angeles the short end of the stick in the long run.
With Griffin, Los Angeles was 17-16 this season. Without him, they were a staggering, 8-8. As talented as Griffin is, the All Star has been prone to injury at the most inopportune moments and not an MVP-caliber player this season. At the end of the day, Griffin's offseason contract extension was a risk — one the Clippers should not have taken in the first place.
As of Sunday, they were one game out of the eighth and final spot in the Western Conference standings and one game above .500 at 25-24. The eighth seed, however, means a date with defending Champions, Golden State Warriors in the first round of playoffs.
The Clippers right now are a borderline playoff team and in order to contend against the likes of NBA elites Golden State, Cleveland and Houston, they must do whatever it takes to land talent.
Photos by Claudia Gestro
An avid sports fan, Brenda grew up rooting for the Los Angeles Dodgers, Lakers and Kings. In her spare time she enjoys wandering through LA in search of the best burger in town, frequenting concerts, running 5K's, dominating in Super Shot Basketball, and spending time with her four brothers. Raised in the Inland Empire, Brenda has previously written for The Press-Enterprise, in addition to their Spanish sister publication, La Prensa. She holds Bachelor of Arts degrees in both Communications and Spanish from Cal State San Bernardino.