Canada by Rail: From Toronto to Vancouver
We took a plane ride on Air Canada, from Baltimore's BWI to Toronto, early Tuesday morning, July 25, 2017. Would you believe, it only took sixty-five minutes?
We got into Toronto early enough to check out some of the sites in and around its Union Station, located in the city center. Their major league baseball park, home of the Toronto Blue Jays, was just around the corner.
The venerable railway hub was the starting point for our journey, entitled: "VIA Rail Canada," westward across five provinces of Canada, a huge stretch of the country. Try about 2,100 miles.
After Ontario, we would travel through Manitoba, Saskatchewan, and Alberta provinces, ending up on the west coast, in British Columbia, and the city of Vancouver. More about this jewel of a city later.
When passing through Manitoba, you will see a lot of flat lands — prairies. Very green — kind of like Kansas and Nebraska, and even parts of Missouri in the summertime.
On our trip, after three days riding, we had a two-night stay in the charming town of Jasper, in Alberta province. It is located in the fabled Canadian Rockies. Jasper reminded me a lot of our America's Wild West. Think Virginia City, Montana, once Mark Twain's fave hangout.
Getting back to Toronto. It's the capital of Ontario province, and it is big. It has a population of 2.7 million. Its Union Station has, appropriately, been designated as a National Historic site.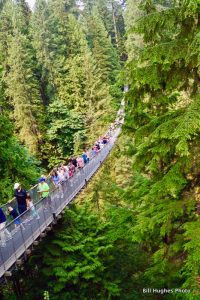 Our neighbor to the north is currently celebrating its 150th anniversary. An express train took us from the Toronto airport, Pearson International, to Union station. It was only a short hop away.
We boarded our train, "VIA Rail," around 9 p.m. Our accommodations in a sleeper car were cozy and comfortable, with a double bunk. There was a wash basin and reading lights in our private room. A shower facility was located at that end of our car. I didn't have any problem sleeping on the train. When you come from a family a nine, you can sleep anywhere.
There was an observation car found just passed the dining car, only a car or two from our sleeper. It had large windows with terrific views of the expansive countryside, the winding rivers and lovely lakes, the tunnels, and in some cases, the cities we were passing through, such as Edmonton and Winnipeg.
Our "VIA Rail," when it got underway, had three engines, hauling 29 cars with about 450 passengers. In Canada, the freight trains have the right of way so, there was some "waiting time" for our passenger train. Don't get upset about it, it comes with the territory. Just roll with the punch is my advice.
The freight trains were carrying thousands of shipping containers ready to be trans-loaded onto a vessel or a truck. They were also plenty of tank cars carrying fuel and chemicals of all descriptions.
I need to mention that the city of Edmonton, in Alberta province, had the largest train yard I have ever seen! It just went on and on. It was much larger than the train yards I have passed through in Washington, D.C. and even in New York City.
Keep in mind, I was raised on Locust Point in South Baltimore, once one of the busiest marine terminals for freight carriers of the Baltimore & Ohio Railroad, now part of the CSX Network. But, Edmonton, Canada, takes the prize for the biggest rail yard in my opinion.
The dining car set four guests to a table for a meal. The service was first-rate and the cuisine was, too. There were three meals a day and you usually had a choice of four types of food to select from. Alcoholic beverages were available, too, at an extra charge.
Just about everyone we met on our train journey was friendly and interesting. There were travelers from the UK, France, Germany, India, Australia, Canada, of course, and the U.S. We had different dining partners for every meal. When they found out we were Americans, the first question to us was often: "What do you think of Donald Trump?" That made for a lively discussion.
It wasn't until the last day of our rail trip that we finally met a couple who not only knew all about Baltimore, but also were rabid fans of John Waters. They just loved Divine, and were glad to hear that Waters was continuing to recreate himself as a comedian on the international lecture circuit.
Jasper, as I mentioned up front, is an old railroad town and was a lot of fun. We spent two nights in that area. Jasper is a small town and its train station sits on its main street in the middle of Jasper National Park. It's surrounded by a protected forest and the gorgeous Canadian Rocky Mountains.
We checked out some of the beautiful waterfalls that surround the town and took a ride on the Jasper Sky Tram. You can see six different mountain ranges from it. Its upper alpine station rises to 7,500 feet. It's a seven-minute ride to the top with a great view below of Jasper and the Athabasca River, and also of the snow-capped Whistlers Mountain on which the tram is located. The latter stands at 8,100 feet.
When we left Jasper, we boarded another "VIA Rail" train, for our 17 hour, overnight trip, to Vancouver. On this part of our journey, there was musical entertainment, which was simply delightful, presented by Michele Ackerman (flute) and Kevin Ackerman (nylon string guitar). One of the tunes they performed was – "Mr. Bojangles."
I am giving our VIA Rail experience in Canada, which ended for us on July 31st, the highest recommendation. Put it on your bucket list!
We stayed three nights in charming Vancouver, only blocks from the beach. While there, we took in Stanley Park, the Aquarium, Vancouver Lookout, a harbor cruise on the "MPV Constitution," and a walk on the Capilano Suspension Bridge.
As the fates would have it, there was a fireworks display at Vancouver harbor on our last night in Canada. You couldn't ask for a better send-off for such a memorial, truly special vacation trip.
More of my photos can be found on my Facebook site.
All photos by Bill Hughes

Bill Hughes is a native of Baltimore. He's an attorney, author, professional actor and hobbyist photographer. In his salad days, he worked on the docks as a longshoreman. Bill also played on three championship soccer teams: sandlot with Jules Morstein; high school at Calvert Hall; and college at the University of Baltimore.