Chargers Defeat the Giants in Sunday Night Game
Top photo by Claudia Gestro
This week the Los Angeles Chargers have a chance to improve in the standings. They face the New York Giants who have had a very difficult season, but the coaches and players in Los Angeles know the Giants have a defense that slow down and even stop the Chargers offense.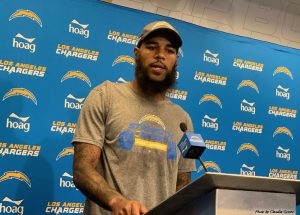 So Los Angeles prepared for New York the same way they prepare for every team: as if their opponents are the best team in the league. With Keenan Allen out, the Chargers offense needed to step up and fill the void. Mike Williams was active. He had performed well with quarterback Justin Herbert so the coaches, along with Chargers fans, were expecting a good game from him.
If the Giants played well it would be the Los Angeles defense that would decide the game for the Chargers. They needed to play at an elite level for this team to win.
As it turns out, people that didn't see the game will look at the score and think it was an easier win for the Los Angeles Chargers. But any of the coaches or players will tell you there was no quit in the Giants on defense or offense and their special teams were very good.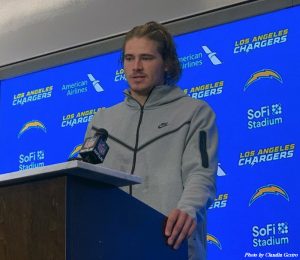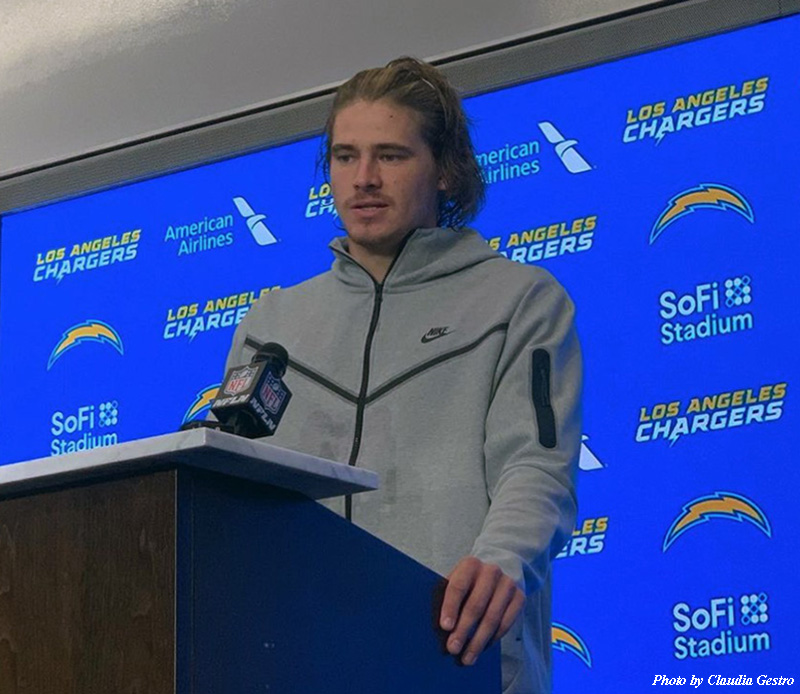 Giants quarterback Mike Glennon threw for 191 yards and two touchdown passes, but his fumble and one interception proved to be costly. New York running backs Saquon Barkley and Devontae Booker combined for 120 yards rushing, but neither one found the end zone with their carries. Nor did they have  any explosive plays. Barkley's longest run was 13 yards.
Barkley did catch a touchdown pass, as did receiver Elijhaa Penny on the only pass Glennon threw to him.
Stilll, the Chargers came out hot and just started building the lead from the first quarter on. Justin Herbert threw 3 touchdown passes, one of them being 59 yards. to Jalen Guyton.
After the game Coach Staley said, "What was encouraging for us today was the variety of people that touched the football. I think when you have your young receivers, when you have Josh [Palmer] and Jalen [Guyton] play like that, it gives you a lot of confidence because we have established products with Mike [Williams] and Keenan [Allen], you have an established product with [TE] Jared Cook, Austin Ekeler. Those guys are proven commodities in this league." Staley added,  "For those two young guys to catch the football, then [TE] Donald Parham is coming, [TE] Stephen Anderson. Then, a couple of our backs touched the ball. That's how you want to play, offensively. Then, in the running attack, I felt like we had three guys tote the rock for us today. It was good distribution for me today."
Los Angeles needed a big win today and they got very good efforts from both the offense and defense, but they will look at improving their special teams.
This was a good win for coach Brandon Staley and his team. On Thursday they will face the division-leading Kansas City Chiefs, so Sunday's win is a great confidence boost of for their next game.

Claudia is of Peruvian and Italian descent, having been born in a small town, in the North of Peru, South America. She was raised by her grandmother from an early age, living in poverty until Claudia's mother brought her to America. She landed in Miami, FL and started her new life, playing high school basketball and eventually becoming a United States citizen. Claudia completed her education at Florida International University with a BA in Broadcast Journalism and became a model to supplement her income. Since graduating from FIU Claudia has worked with many of the Spanish Language broadcasting companies, including Telemundo, Univision and most recently Spanish Language channels on SiriusXM satellite radio and PasTV Deportes in Venezuela.She encourages you to follow her on Twitter and Facebook. Her content appears here under a shared content agreement with her Spanish television clients.