Chargers DT Corey Liuget suspended for first 4 games of season
The Los Angeles Chargers's defensive tackle Corey Liuget has been suspended from the first four games of the season, due to a violation of the NFL's substance abuse policies. In his statement Liuget says he took the substance accidentally, as a result of trusting a third party helping him with his off-season training.  Below are the statements from the NFL, Corey Liuget and the Chargers.
STATEMENT BY AN NFL SPOKESPERSON:
Corey Liuget of the Los Angeles Chargers has been suspended without pay for the first four games of the 2018 regular season for violating the NFL policy on performance-enhancing substances.
Liuget is eligible to participate in all offseason and preseason practices and games.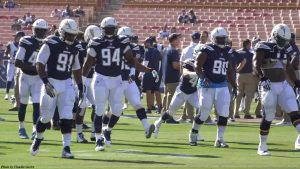 [Note: The NFL policy on performance-enhancing substances is posted on nflcommunications.com. After logging in, click on "About NFL" from the homepage and then "NFL Policies."]
Statement from Corey Liuget:
"I made a mistake and take full responsibility. As part of my training program, I placed my trust in someone who, in hindsight, was not well-versed in the NFL's policy on banned substances.  As players, we're told time and again that the NFL holds you responsible for anything in your body.  Even if you take it accidentally, it's on you.  Pretty cut and dry.  You hear it and think, 'That won't be me, that can't possibly happen to me.'  Yet here I am, suspended four games.  And that's my fault.  I apologize to our fans, my family and the entire Chargers organization. I hate that I won't be able to be there for my teammates to start the season, but I will turn this into a positive. When my number is called, you can count on me being ready to answer that call."
Statement from Los Angeles Chargers General Manager Tom Telesco:
"Even though Corey's mistake was unintentional, he understands how disappointing this is for everyone in the organization. I'm pleased he has accepted responsibility on the matter, and we respect and support the League's decision. We also support Corey. Few people have a bigger heart and have done more for the community. While nobody feels worse than Corey himself right now, we know he will bounce back from this."
Photos by Claudia Gestro
Top photo: Corey Liuget (L) with Brandon Mebane

We are not the typical news website – nor do we wish to be. We will be offering more than news and blogs, but an opportunity for fiction writers, poets, comedians and musicians to showcase their talent and skills. Much like when the Beatles formed Apple Corps Ltd, they opened the door to all kinds of inspiring talent that never really got a shot. From that came the likes of James Taylor and others. We hope by providing a similar approach we can shine the light on some tremendous undiscovered talent and at the same time offer some familiar voices who live in Los Angeles and beyond.