Chargers training camp got a lift with a joint practice with the Rams
At the end of their first week of training camp, the Los Angeles Chargers held a joint work out with the other L.A. Team, the Rams. Last season both teams made the playoffs and the Rams went on to the Super Bowl, which they lost to the New England Patriots.
With Anthony Lynn as head coach, the Chargers look good to make the postseason once again. The Bolts added some depth to their defense with the 2019 draft; their first pick was defensive tackle Jerry Tillery out of Notre Dame and in the second round the chose safety Nasir Adderley out of Delaware.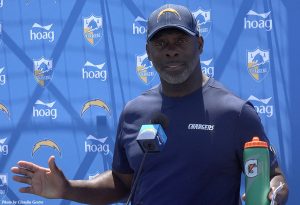 After Thursday's workout with the Rams, Coach Lynn spoke with the media. He was pleased with how it went for his team, starting with the fact there were no brawls. "I thought was a good professional practice today. There was no fighting — three claps. We talked about what we wanted to get done today. We were going up against a good football team. Those guys came over and played hard. There was a lot of energy on the field. I feel like we got better today. They play at a faster tempo than what we're used to seeing in practice. That's going to get us right for games. That showed up a little bit, the conditioning. It was a good, clean practice. There were a lot of plays, back-and-forth. There are some things that we need to correct, some penalties in end-of-game situations. Those are the kind of things — I believe, you put them in those situations right now in practice that young players will learn from that and help us down the road. It was a good practice today."
Our reporter Claudia Gestro asked the coach about the team's #1 pick. [Lynn replied, "Tillery, he is going through our individual [drills] right now. We're bringing him along slowly. He will get more full-speed reps next week. I can't wait to see him out there full-speed."
The glaring absence at camp this year is running back Melvin Gordon III. He is holding out and like many have said about the situation: this is the NFL and sometimes the business side of it gets put in front of the playing side. Lynn spoke about Gordon's hold out and the rumors that he was seeking a trade, "Melvin and I, I think we talked last week. This is the first I've heard of Melvin asking for a trade."
They do have some excellent backs in camp. Austin Ekeler is returning as well as Justin Jackson. "Well today, we have five other running backs working today. They're working hard. JJ [Justin Jackson] is doing a good job. Austin [Ekeler] had a couple of nice runs today. Jeremy [Cox] is coming along well being a rookie and all. He's playing both positions — [running back and fullback]. I'm really happy with the development with some of those young guys right now."
Ekeler spoke with the media on Thursday. He feels much more comfortable in this, his second season. He told the media, "It's night-and-day different, man. I've been helping out these rookies because I know what they are going through, but what's helped a lot is that we have the same offensive coordinator and head coach. The culture has stayed the same and offense has stayed the same.
"Being in the offense and around Whiz [Offensive Coordinator Ken] Whisenhunt], you start to create a relationship, get that trust factor so it helps you and it helps him understand what you can do and what you can't do. For these young guys coming in, I'm looking at them and — my head was spinning when I was a rookie. I remember being sixth string, I've been there. I'm trying to help them just catch up and say, 'It's just a learning process and all you can do is keep studying and keep studying.' Now I feel comfortable. I'm actually the one teaching now and I'm not the rookie on the other hand who is getting taught. I'm just passing down the knowledge, trying to help these guys make the best out of their opportunity."
Quarterback Philip Rivers is starting his 16thseason with the Bolts. In seniority he out ranks all the coaches. Without question he is the leader of the team, not just the offense. Ekeler said, "It's amazing, man. It just takes a lot off your shoulders because he puts us in the right situation to succeed at our job. Even if you know what you're doing as a running back in the backfield, he'd tell you, 'Hey you got these guys and got this guy.' It's just reassuring, in my mind, like, 'Okay, I got you.' Shoot, like I said before — he's been here longer than any of the coaches, man. He knows it. He's a chief out there, he's getting everyone in the right spot making sure everyone's doing well."
On Justin Jackson, who spoke with the media as well after practice, Ekeler said, "Justin, he's a creative runner, man. He's a unique runner. There aren't many people I've seen, in general, that run like he does. Like I tell him, he's got the razzle-dazzle, some hocus-pocus — I make up all these different things. That's how he runs, that's how I'd describe his runs because you really don't know what he's going to do. I try to emulate some of his running and it's just so unique to how he's done it and his style. I think that's great for even like when [Melvin] Mel [Gordon] is here — we're all three here. There's three different styles. We all complement each other. It kind of keeps this defense on guard a little bit because we do rotate so much and get so many different looks."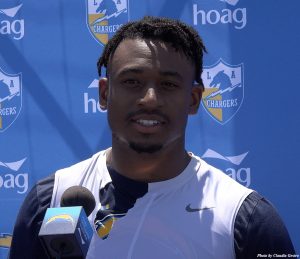 Of his fellow running back, Jackson said, " That's my dude. I mean we're out there almost every play, we're talking, giving each other advice, kind of just dissecting the play. We both love the game like that. We both study the game like that. We both really feed off of each other's energy. We're different types of backs, but we do some things similar to each other. Like I said, we're different in other ways, but I think we complement each other well.
"We just try and build off each other. We never tear each other down or anything like that. The whole running back room, we're a very tight-knit group. It's real. We have a lot of fun in the meetings. Coach Fredo [Running Backs Alfredo Roberts] keeps it light. I think that helps us to come out here and just play with freedom, play with energy and not go out there scared to make a mistake or anything. That`s something I appreciate and I know all the other guys appreciate it as well."
Playing in a Philip Rivers-led offense, Jackson needed some improvement in the passing game. He said, "It's something I've definitely focused on. I mean, I'm just trying to get all parts of my game better. Honing in on the details of route-running, reading man vs. zone [coverage] — all of that type of stuff. Just so I could come out here and make plays so that Phil [QB Philip Rivers] can trust me to be a viable option for him. I think I did a little bit of that last year, trying to build on that this year."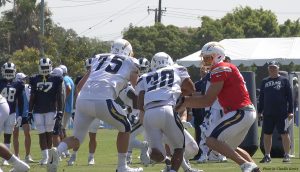 On the joint practice with the Rams, Jackson said, "It's fun, it's competitive. It's just that environment, you know. It gets us out of the monotony of going against each other all the time. It was a long practice, as you guys saw, but just having that competition brings the best out of you and your competitive spirit. It makes you go out there, want to have fun and make plays. It's a really good taste before that first preseason game, especially for the younger guys. I guess I consider myself somewhat of a veteran now. For the first-year guys, to kind of get a taste of what NFL games are going to be like because guys are coming out here and competing like it is a game."
And it wasn't as intense as two years ago when the joint practice was marked by fighting. "It didn't really get too chippy and I think everyone was really professional, just kept it between the whistles — which I think is a good thing. I wasn't here two years ago, but I heard it was much different. I think both teams have matured a little bit. We're just both focused on keeping each other healthy. No one's trying to get hurt out here or get anyone else hurt. Just play between whistles."
The Chargers first preseason game is coming up August 8 against the Cardinals, in Arizona and then they open the regular season September 8 against the Indianapolis Colts at home.
Below is the video report by Claudia Gestro from Thursday's practice.
Photos by Claudia Gestro

We are not the typical news website – nor do we wish to be. We will be offering more than news and blogs, but an opportunity for fiction writers, poets, comedians and musicians to showcase their talent and skills. Much like when the Beatles formed Apple Corps Ltd, they opened the door to all kinds of inspiring talent that never really got a shot. From that came the likes of James Taylor and others. We hope by providing a similar approach we can shine the light on some tremendous undiscovered talent and at the same time offer some familiar voices who live in Los Angeles and beyond.