Clippers Face Elimination, This Time at Home
Top photo by Claudia Gestro
The Los Angeles Clippers were not supposed to be here, and in effect, the Phoenix Suns were not supposed to be here. This NBA Western Conference Finals were supposed to be over Monday, when the Clippers, faced with mind-numbing injury problems, went up against the Suns, in Phoenix.
As basketball fans found out two nights ago, the Clippers didn't get the memo. Paul George, the extraordinary star forward, had the playoff game of his career. His stats: 41 minutes, 41 points, 13 rebounds, six assists and three steals. Although Patrick Beverley's stat line doesn't look so impressive, his defense against the All-Star back court of Devin Booker and Chris Paul was incredible.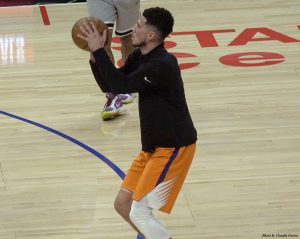 After game 2 Booker told reporters this about Beverley, "He's denying, limiting touches. He has one objective out there, and we understand that. So I feel like other things should open up, and we have to look at the film and see what's open and see what we can get."
Beverley's one objective every game is to stop or limit the scoring of his opponents. In this series that means Devin Booker and on occasion, Chris Paul. After getting called for a foul while covering Paul — and Paul hit the floor from the foul — Beverley said to the point guard, "Way to sell it.," after being called for a flagrant 1 technical. It was kind of embarrassing to see PatBev mocking the way Paul fell to the floor and that may have fueled the refs' decision to assess the flagrant foul.
Beverley isn't apologizing for playing a bruising style of defense and Clippers fans will see him doing it again in game 6. In the fourth quarter of game 5 we could see the frustration and disappointment on Booker's face. Patrick Beverley is proving to be one of the most effective defensive players in the NBA playoffs this year. Plus he talks a lot of trash. PatBev is a trash-talking juggernaut on defense.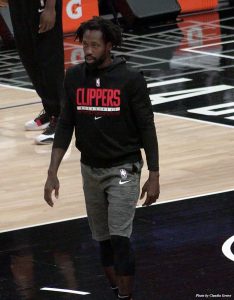 Paul George and Patrick Beverley were the two big reasons the Clippers earned their appearance at home in game 6. Also coming up big in game 5: Marcus Morris, Sr. dropped 22 and Reggie Jackson had 23. DeMarcus Cousins only played 11 minutes but scored 15.
As a team the Clippers hot 54.8% from the field and a disappointing 33.3% from beyond the 3-point arc — 10 for 30. My big complaint about Los Angeles is their lackluster rebounding, something they do miss with Zubac being out. Paul George is the only one in double digit rebounding. Only Nicolas Batum came close to 10 rebounds, grabbing eight. Cousins is a center so he should be grabbing more than two. Los Angeles only had 40 rebounds in game 5 and only two of them were on the offensive glass. With Zubac unlikely to play the rest of the team, including big men like George, Morris and Batum have to more aggressive on the glass.
In all fairness to Devin Booker, he still scored 31 points and Chris Paul had 22, with eight assists. The Clippers limited Deandre Ayton to just 10 points, but he grabbed 11 rebounds. Los Angeles fans should make no mistake, the Suns can win this one the way they won game 4, that low scoring defensive affair. Booker still scored 25 and Ayton had 19 plus 22 rebounds. CP3 had 18 points and seven assists. That's what they Clippers will — are facing tonight.
The first half is over and Phoenix is winning, 66-57. Let's hope we see them in game 7, back in Phoenix.
•••• •••• ••••• •••• ••••
UPDATE: The Phoenix Suns are now on their way to the NBA Finals after defeating the Los Angeles Clippers in game 6 of the Western Conference Finals. They were led by Chris Paul, who spent six seasons with the Clippers, all finishing in the playoffs, through great wins and heart-breaking losses, many in Staples Center.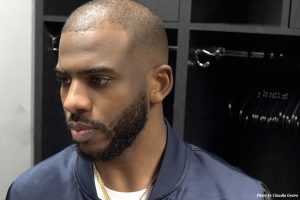 Paul's top stats in game 6: 41 points and eight assists.
Devin Booker finished with 22 points and seven rebounds and Deandre Ayton had 16 points and 17 rebounds.
Marcus Morris, Sr. was the high scorer for Los Angeles with 26 points and nine rebounds. Paul George had 21 points and nine rebounds.
The Clippers didn't have that desperation we saw in game 5. They didn't have the hustle and determination for the entire 48 minutes Wednesday night. Phoenix out-rebounded Los Angeles 47-32, ten of those rebounds on the offensive glass.
Plus, the Suns outshot the Clippers, 56.4% – 41.8% from the field, and 54.8% – 30.8% from the 3-point arc.
Congratulation to the Suns and Chris Paul, who is making his first trip to the NBA Finals in his 16-year career.

Tim Forkes started as a writer on a small alternative newspaper in Milwaukee called the Crazy Shepherd. Writing about entertainment, he had the opportunity to speak with many people in show business, from the very famous to the people struggling to find an audience. In 1992 Tim moved to San Diego, CA and pursued other interests, but remained a freelance writer. Upon arrival in Southern California he was struck by how the elected government officials and business were so intertwined, far more so than he had witnessed in Wisconsin. His interest in entertainment began to wane and the business of politics took its place. He had always been interested in politics, his mother had been a Democratic Party official in Milwaukee, WI, so he sat down to dinner with many of Wisconsin's greatest political names of the 20th Century: William Proxmire and Clem Zablocki chief among them. As a Marine Corps veteran, Tim has a great interest in veteran affairs, primarily as they relate to the men and women serving and their families. As far as Tim is concerned, the military-industrial complex has enough support. How the men and women who serve are treated is reprehensible, while in the military and especially once they become veterans. Tim would like to help change that.