Clippers find themselves in a familiar position
Top photo by Claudia Gestro
Tonight is game 4 of the Western Conference Final between the Phoenix Suns and the Los Angeles Clippers. After that gut-wrenching loss in game 2 of the series, back in Phoenix, Arizona, the Clippers came out in game 3 — at home in Los Angeles at Staples Center — and dominated from beginning to end. Phoenix never quite got on track.
Suns center Deandre Ayton was still very good, but Clippers center Ivica Zubac matched up very well against Ayton. The Suns center finished with 18 points and nine rebounds, the top score for Phoenix in game 3. Now, compare that to his game winning clutch dunk game 2 stats: 24 points and 14 rebounds.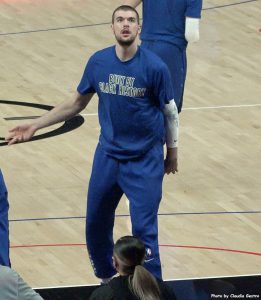 Looking at Zubac's stats, starting with game 2: 14 points and 11 rebounds, four of them offensive. He did very well, but he missed a few rebounding opportunities and could have been more aggressive going to the rim offensively. In game 3 Zubac had 15 points and 16 rebounds, six of them offensive. He picked up his game. In the process of adding more stats he played much better defense, limiting some of Ayton's ability to score and dominate the rebounding.
As a team the Clippers grabbed 51 total rebounds, compared to 39 in game 2. Restrict the other team's second chance scoring and it's a good bet, a very good bet, the Clippers will win.
They also need Patrick Beverley to play his shut down defense on Devin Booker and for Terrance Mann to get in the way of Chris Paul, who tired out in the fourth quarter. Defense, defense, defense. No matter the sport defense wins games. Plus, a team in the NBA conference finals needs to score, to use their offensive advantages.
During the regular season the Clippers were the top 3-point shooting team in the league. During the playoffs Los Angeles is shooting better than Phoenix from the arc. In game 3 the Clippers didn't shoot 3-pointers at the regular season efficiency, nor did they shoot or make as many: 12 of 34 from the arc, while Phoenix went 10 for 32. Convert more of those 3-pointers and the Suns will have a difficult time keeping up.
There is the added benefit that all that perimeter shooting opens up the paint for cutting and driving by Mann, Jackson, Marcus Morris, Jr, and of course Paul George. And with Zubac collapsing on the basket he will have more opportunities to grab some offensive rebounds and try for more second chance scoring.
The Clippers need to score in the paint and on the perimeter. Interesting stat: Paul George has had eight straight games scoring at least 27 points., He needs to do that tonight — and more.
None of it will be easy by any stretch for Los Angeles. If Devin Booker and Chris Paul catch fire that will open up the game for Ayton and their other big men. That could turn the game for Phoenix. The Clippers just have to be better than the Suns.
The Los Angeles Clippers have a chance to make more history tonight by winning game 4 after losing the first two games of a series — three times in the same postseason. There's a feeling that if the Clippers pull this off they can win the series. And once again they have to do it without Kawhi Leonard.
As for my Milwaukee Bucks, they stomped on the Atlanta Hawks in game 2 of their series in Milwaukee, 125-91. Trae Young had only 15 points in that game — he was their leading scorer.
Giannis Antetokounmpo led all scoring with 25, plus he grabbed nine rebounds and dished out six assists and nabbed two steals. The Hawks committed 19 turnovers; Young had nine of them.
Sunday's game 3 in Atlanta will be a hot ticket. Tonight's game 4 in Los Angeles is a hot ticket. Buckle up Clippers fans, this will be an emotional ride.

Tim Forkes started as a writer on a small alternative newspaper in Milwaukee called the Crazy Shepherd. Writing about entertainment, he had the opportunity to speak with many people in show business, from the very famous to the people struggling to find an audience. In 1992 Tim moved to San Diego, CA and pursued other interests, but remained a freelance writer. Upon arrival in Southern California he was struck by how the elected government officials and business were so intertwined, far more so than he had witnessed in Wisconsin. His interest in entertainment began to wane and the business of politics took its place. He had always been interested in politics, his mother had been a Democratic Party official in Milwaukee, WI, so he sat down to dinner with many of Wisconsin's greatest political names of the 20th Century: William Proxmire and Clem Zablocki chief among them. As a Marine Corps veteran, Tim has a great interest in veteran affairs, primarily as they relate to the men and women serving and their families. As far as Tim is concerned, the military-industrial complex has enough support. How the men and women who serve are treated is reprehensible, while in the military and especially once they become veterans. Tim would like to help change that.