Dodgers continue to fight for the division or at least a playoff berth
Just 24 hours after the Los Angeles Dodgers claimed the top spot in the National League West, they find themselves once again fighting for their chance to play in October. The Dodgers (82-68) fell out of first place Sunday night, following a 5-0 shutout loss against Adam Wainwright and the St. Louis Cardinals (82-68).
With only twelve games remaining in the regular season, LA is a half-game behind the Colorado Rockies (82-67) and tied with St. Louis for the second NL Wild Card spot.
The loss comes a day after the Dodgers produced a 17-run blitz against the Cardinals, winning three of the four games in St. Louis.
The Dodgers offense mustered just four hits on Sunday against right-hander Adam Wainwright (2-3) and three relievers. Ross Stripling (8-4) gave up three runs across 3 1/3 innings in his second start since coming off a 10-day disabled list. He walked none and struck out five.
Despite the shutout loss, Dodgers manager Dave Roberts remains confident his club will reach the playoffs for the sixth consecutive season.
"To win a series here against a good club over there, we did what we wanted to accomplish," Roberts told the Orange County Register.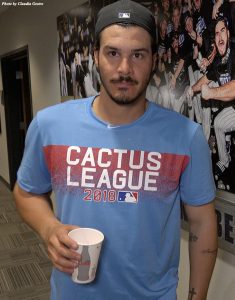 "We're a half-game back now of the Rockies. We've got those guys at home. So we're excited about that. Our 'pen is lined up. We've got Ryu, Clayton (Kershaw) and Walker (Buehler) going. So we're in good shape."
Since Aug. 24, the Dodgers have gone 15-7 thanks to an offensive surge and an explosive performance from a red hot Yasiel Puig who belted five home runs within 24 hours of each other against the Cardinals. Puig was 9-for-21 for the week with a .500 on-base percentage.
While the ballclub is optimistic, there is very little room left for error. Every game matters more than ever for a postseason berth. Puig coupled with solid pitching may be the key to LA advancing and winning in October.
The Dodgers will battle it out for first place this week against the Colorado Rockies at Dodger Stadium.
Hyun-Jin Ryu (4-3, 2.42 ERA) started on the mound for Los Angeles, facing off against right-hander Jon Gray (11-7, 4.80) for Colorado. On paper, one would think Ryu's numbers would give the Dodgers the upper hand, however, he was 3-6 with a 5.77 ERA in nine career starts against the Rockies. Gray too has struggled against LA with a 5.59 ERA in two starts previous to Monday.
After Monday, the Dodgers will close out the series with their two best pitchers — Clayton Kershaw and Walker Buehler who delivered a stellar career-best performance on the mound Friday night against the Cardinals. The rookie pitcher tossed eight scoreless innings and struck out nine.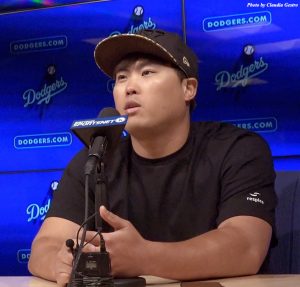 Following the three-game series versus the Rockies, the Dodgers will finish their regular home season schedule with three games against the last place San Diego Padres.
••• •••• ••••• •••• ••••
UPDATE:The Dodgers won on Monday, defeating the Rockies 8-2. Joc Pederson hit two home runs, one of which was a 2-run shot, and Max Muncy hit a 3-run homer. Manny Machado got an RBI and Muncy scored on a walk in the first inning.
Hyun-Jin Ryu threw seven scoreless innings, giving up just four hits. He didn't allow any walks.  Alex Wood pitched 2/3 and gave up two runs.
Ryu got the win and Jon Gray took the loss for the Rockies.
Photos by Claudia Gestro
An avid sports fan, Brenda grew up rooting for the Los Angeles Dodgers, Lakers and Kings. In her spare time she enjoys wandering through LA in search of the best burger in town, frequenting concerts, running 5K's, dominating in Super Shot Basketball, and spending time with her four brothers. Raised in the Inland Empire, Brenda has previously written for The Press-Enterprise, in addition to their Spanish sister publication, La Prensa. She holds Bachelor of Arts degrees in both Communications and Spanish from Cal State San Bernardino.