NFL Week 2: The Evil Nike Empire, Josh Gordon and the end of table slamming
16 Games:With a 16 game season before the playoffs, losing in both weeks one and two are the equivalent of starting a baseball season losing your first 20 games. With that in mind, the odds of any team making the playoffs after dropping their first two becomes pretty difficult. However, unlike baseball, the NFL has worked hard to create parity among teams rather than dividing the league into large markets and small markets.
We Have An Answer:Now that the nation has had a chance to absorb the attack on its freedom by the evil empire known as Nike, we know where we stand, or kneel, on the subject of their use of Colin Kaepernick in a commercial. With the corporate giant posting their highest stock market value EVER, the NFL can stand pat on their anthem policy, or non-policy, and let Donald Trump find something new to distract us from his performance in office.
Now Roger Goodell and the owners can get on with more important business like whether or not they colluded to keep Kaepernick from landing a job after his release by the 49ers. Despite Kaepernick's victory in arbitration, he is going to have a far more difficult task in proving collusion among the league owners and front office.
NFL history is filled with talented former players who were cut by teams and never signed again for a variety of reasons. The point is, Kaepernick has made it clear he sees himself as a starter and should be paid as one while teams see him as a distraction who is not worth the trouble. In that way, he is no different that Josh Gordon who will find it difficult to find employment thanks to the risks he brings.*
A much better case can be made for Kaepernick's former teammate Eric Reid who would be an upgrade at safety for quite a few teams.
Changing of the Guard:It's still too early to know for sure, but there is a sense in the league there is a changing of the guard at the top end of the AFC. Teams finally see the New England Patriots as vulnerable. The off season saw them lose more key talent than they replaced. The end result is Tom Brady has an offense that is mediocre at best based on talent. On the defensive side, they were unable to make key stops against the Jacksonville Jaguars, the team they barely beat in the AFC title game last year. It's not beyond Bill Belichick and company to shake things up and make a big trade, even signing Josh Gordon is not out of the question, but if they stand pat, the Patriots may struggle to win more than ten games this season.*
Then there is Pittsburgh — which has blown their shot to get off to a fast two-win start — still searching for their first victory. Their defense, like New England's, can't stop good offenses so it is now up to their offense to outscore opponents. Without Le'Veon Bell, controlling the ball for long stretches is difficult, which just means more time on the field for their defense.
With these two stalwarts struggling, now is the time for up and coming teams like Jacksonville, Houston, and Tennessee to strike fast. Using the early portion of the season to get ahead of traditional powers will add to the pressure placed on the Patriots and Steelers. Failing to take care of business early will only come back to haunt these teams.
Yesterday, Jacksonville took care of business and in doing so they sent a message to opponents they are ready to assume the top spot on the AFC mantel.
Table Slamming A Thing of the Past: Buffalo fans have found out the true meaning of the NFL (No Fun League). Now that the league has banned table slamming during tailgate parties, what do Bills fans have to look forward to? This was the Buffalo fans' one way of seeing what it feels like to play quarterback for them. What I want to know is if fans are being threatened with criminal prosecution for destroying a table, why isn't it a criminal act to do the same to a quarterback during a game?
For Whom The Bell Tolls:  Another week without their star holdout running back Le'Veon Bell did not help Pittsburgh any. However, unless he can play defensive back, it won't matter after Patrick Mahomes II shredded the Steeler D with six touchdown passes. If you are counting, that's just 10 touchdown passes in two games for the second year starter. Andy Reid is looking like a genius in his decision to move up last year to draft Mahomes while Ben Rothlisberger has to wonder if he will be asked to throw the ball 60 times every week while Bell sits out.
Fitzpatrick Does it Again: Tampa Bay dispatched the defending Super Bowl champions thanks to Ryan Fitzpatrick's second straight 400-yard passing game. While Patrick Mahomes II is on pace to throw 80 touchdowns in the season, Fitzpatrick is on pace to pass for over 6,400 yards. The only question left is which quarterback needy team is willing to take a chance on Jameis Winston when he returns from his suspension? It won't be the undefeated Buccaneers.
Now, not to jinx a team, but am I the only person who sees Tampa Bay dumping Winston when he comes back only to see Fitzpatrick go down to a season ending injury? This is the sort of thing that happens to snake bit teams in the NFL and Tampa Bay is right up there in that category.
Aaron Rogers Knee:The only issue with Aaron Rogers knee was it was not quite sound enough to kick a field goal to win their NFC North show down with Minnesota. Fortunately for him and the Packers, the Vikings were not interested in winning either as they blew two shots in overtime so we end up with the second tie of the season.
While the Vikings may go in search of a new kicker, both teams will wake up Monday plenty pissed off over how they had a chance to gain an upper hand over their division rival. The Packers will hate knowing they let a 13-point lead squander while Minnesota might want to rethink going with a rookie kicker.
Dead And Not Kicking:Oh, those Cleveland Browns. They continue to find ways not to win games. This week, they gave up 18 fourth quarter points to lose by three to the Saints. Of course, missing a tying field goal at the end of the game can't sit well with Browns players. Neither can missing an extra point earlier in the game.
They have officially reached that point where no matter how big a lead they have or how well they may be playing against a very good team, players are on the sideline wondering how they are going to blow it and whose turn it will be to be the goat. At least it won't be Josh Gordon's fault any more.
I'm Done: I think if I played for the Buffalo Bills, make that Buffaverylow Bills, I'd retire at half time too just like Vontae Davis did. However, I am not sure it would take me until midway through the second game of the season to reach this decision. One look at that team and I think I would retire half way through the first practice of training camp.
Editor's note:they lost to the Los Angeles Chargers 31-20.
Another Trendy Loses:Like many others out there, I thought the New York Giants were a trendy pick to challenge for the NFC East this year. After dropping their second game of the year, this one to division rival Dallas, they appear to be on the road toward another disastrous season.
Not so fast. They are vastly improved and healthier than last year and despite starting the year with two losses, they sit just a game out of first place. A happy and healthy Odell Beckham, Jr. will make it difficult for opponents to load up the box, which in turn should provide Saquon Barkley the chance to eat up yardage. Be patient Giant fans. If this bunch is two or three back in another month, then let loose with your anger. Until then, you're still very much in it.
Song of the Week:Last week, I went with an all-time favorite of mine from Bob Dylan. This time around, it is my favorite from Johnny Cash and it should be listened to by any NFL team before it signs Josh Gordon to a contract.  It's also the best cover of any song ever.
••• •••• ••••• •••• ••••
UPDATE:The Chicago Bears defeated the Seattle Seahawks on Monday Night football, 24-17. Finally Khalil Mack got some airtime on the field after the game. He actually deserves such attention.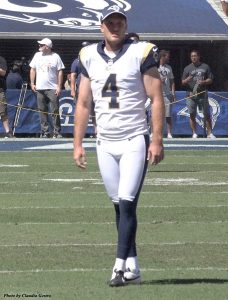 Editor's Note 2: The Los Angeles Rams had a blowout win over the Arizona Cardinals. Considering the talent in Arizona, the score — the tone of the game — was unexpected. Actually, what's unexpected is that the Rams should have had at least three more touchdowns with two-point conversions — or punter Johnny Hekker kicking field goals. Either or, both worked on Sunday after place kicker Greg Zuerlein was injured in pregame warmups. Below is Claudia Gestro's report from Sunday's game.
* The New England Patriots did sign Josh Gordon in a trade with the Cleveland Browns. The Browns will get a fifth round pick and if Gordon doesn't appear in at least 10 games this season the Browns will give the Patriots another later round pick.
Top photo is a screenshot of a man slamming a woman onto a table in Buffalo.
Apparently big, fat men body slamming much smaller women onto tables is a thing.

Jim is a life long resident of California and retired school teacher with 30 years in public education. Jim earned his BA in History from CSU Chico in 1981 and his MA in Education from Azusa Pacific University in 1994. He is also the author of Teaching The Teacher: Lessons Learned From Teaching. Jim considers himself an equal opportunity pain in the ass to any political party, group, or individual who looks to profit off of hypocrisy. When he is not pointing out the conflicting words and actions of our leaders, the NFL commissioner, or humans in general, he can be found riding his bike for hours on end while pondering his next article. Jim recently moved to Camarillo, CA after being convinced to join the witness protection program.