Resiliency isn't anything new for the Dodgers.
Just ask Max Muncy.
Muncy, the guy who didn't have a place in the baseball world last year, blasted a walk-off home run to left-center in the 18th inning to give the Dodgers a 3-2 win over the Red Sox in Game 3 of the Fall Classic early Saturday morning.
Muncy's solo shot ended a contest that lasted 7 hours, 20 minutes – setting a record as the longest playoff game in World Series history. It was also the first World Series walk-off homer for the Dodgers since Game 1 of the 1988 Fall Classic, when Kirk Gibson belted a dinger to lead the Dodgers past the Oakland A's, 5-4.
"The feeling was pure joy and excitement," said Muncy after the dramatic victory. "That's all I can think of, because it's hard to describe how good a feeling it is."
After a grueling 18 innings, the much-needed win revived a team that has been vastly outplayed by the Red Sox this Series.
For starters, Nathan Eovaldi did everything he could to stifle LA. Prior to the game, Eovaldi had been slated to start Game 4, however he stepped onto the mound in the 12th inning and unleashed a plethora of fastballs mostly in the upper 90s. Ninety-seven pitches in all — in relief.
Eovaldi had a solid performance, tossing six scoreless innings before allowing the 18th-inning shot.
Dodgers' starter Walker Buehler shut out the Red Sox for seven innings, allowing just two singles, and striking out seven without a walk before turning the ball over to closer Kenley Jansen.
The rookie starter continued to dominate as the game progressed, ending his 108-pitch performance to a standing ovation from an energetic crowd.
Both teams were tied, 1-1, in the eighth inning after a solo home run by Jackie Bradley Jr. put Boston on the board. Joc Pederson had crushed a solo shot in the third to account for the Dodgers' run.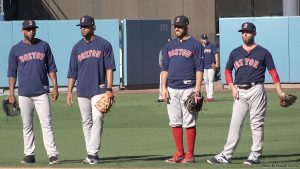 The Red Sox claimed the lead in the 13th inning and were just one out away from a 3-0 series lead when Ian Kinsler's wide throw on a two-out grounder by Yasiel Puig went into the stands, allowing the Dodgers to score the tying run.
From there the eventual 18-inning game continued as both teams recorded more strikeouts (34) than hits (18).
Like Los Angeles, Boston struggled offensively. Presumptive AL MVP Mookie Betts went hitless in seven at-bats while Xander Boegarts also had trouble at the plate.
The difference maker in all of this is the fact that the Red Sox are a clutch-hitting offensive team.
With Game 4 less than 24 hours away, the Dodgers have momentum on their side and a worn-out Red Sox pitching staff that could work in their favor … if they can figure out a way to score that is.
Photos by Claudia Gestro