Packers and Rams should provide a lights out airshow today
The Los Angeles Rams (7-0) look to continue their unbeaten streak when they return today to the Coliseum and host the Green Bay Packers (3-2-1) in an epic NFC showdown.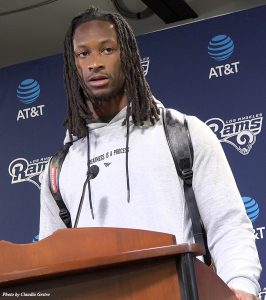 As a Super Bowl favorite, the offense-driven Rams should be able to control the majority of the game with the help of a piping-hot defense that pummeled the 49ers last week.
The matchup will also be a battle between Cal alum quarterbacks Aaron Rodgers and Jared Goff who will be on the field together for the first time.
A stout Goff is having a career-best year with 17 touchdowns through seven games and should come out on top to help the Rams maintain their perfect record.
The probable win won't be an easy one though as Rodgers will be at his healthiest coming off a Week 7 bye.
Despite playing through a knee injury, Rodgers has thrown 12 touchdowns and only one interception through six games. Prior to their bye week, Rodgers also led the Packers to a 33-30 victory over the 49ers thanks to a field-goal in the waning minutes of the game.
Rodgers will also have plenty of help from receivers Randall Cobb and Geronimo Allison who are expected to return from injuries today.
Rams' Head Coach Sean McVay is excited to face the Packers and what a probable win means for his team.
"It's cliché, but really we're going to learn a lot about our team going against the Packers this week. That's really all our focus and concentration is on."
McVay later added, "When you talk about Aaron Rodgers, he's going to present a lot of challenges that you find out a lot about your defense in particular. I know it's something our guys are excited about, but we have a lot of respect for Aaron and what he's done over the course of his career and all the different things that he can present and what he does for their offense."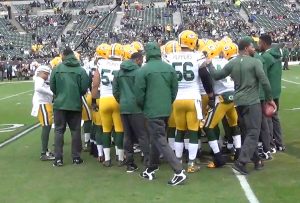 The Packers, who haven't played a regular-season game in Los Angeles since 1991, are expected to pose one of the greatest threats to the Rams' defense. Green Bay's 421 yards per game ranks fourth in the NFL, while Rodgers' 317 yards passing per game ranks third.
Goff aside, the Packers also have a difficult feat ahead of them trying to slow down Rams running back, Todd Gurley II.
The MVP frontrunner leads the league with 14 touch downs and 686 rushing yards, 144 carries and 956 yards from scrimmage, giving the Packers' run defense its toughest task so far this season.
But Green Bay possesses one of the league's best defenses – especially against the pass.
Currently, the Packers have been limiting their opponents to just 211.8 passing yards per game with veteran safety Ha Ha Clinton-Dix leading the way in the secondary with three interceptions.
Fortunately for the Rams, momentum is on their side after three big road wins against the Seahawks, Broncos and 49ers.
"We'll see how the game plays out, but this is a tough defense and we've got to be ready to go, whether it's first or second half. It's going to be a great game and they're going to be a great challenge," said McVay.
Photos by Claudia Gestro
An avid sports fan, Brenda grew up rooting for the Los Angeles Dodgers, Lakers and Kings. In her spare time she enjoys wandering through LA in search of the best burger in town, frequenting concerts, running 5K's, dominating in Super Shot Basketball, and spending time with her four brothers. Raised in the Inland Empire, Brenda has previously written for The Press-Enterprise, in addition to their Spanish sister publication, La Prensa. She holds Bachelor of Arts degrees in both Communications and Spanish from Cal State San Bernardino.