Dodgers Send Scherzer to the Mound for Game 3
Top photo of Max Scherzer by Claudia Gestro
Tonight the Los Angeles Dodgers bring the National League Division Series back to Dodger Stadium. They split the two games in San Francisco with the Giants and now have the opportunity to take a commanding lead in this best-of-five series. If the Dodgers win tonight they could close out the series Tuesday night with Game 4.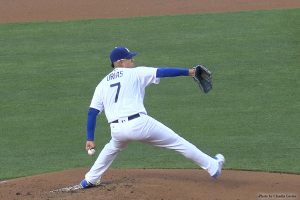 In Game 2 starting pitcher Julio Urías helped get the scoring started when he hit an RBI single in the second inning that scored Chris Taylor from third base. A.J. Pollock was on second base and advanced to third on the play, setting up an RBI single by Mookie Betts to finish the scoring for the inning.
Urías only allowed one run over five innings, throwing 72 pitches with five strike outs and one walk. Reliever Joe Kelly would give up a second run in the sixth inning, but that would be the offensive output for San Francisco.
The Dodgers would go on to score a total of nine runs, mainly from small ball; singles and doubles pushing runs across the plate, although catcher Will Smith did hammer a solo home run in the eighth inning.
During a press conference at Dodger Stadium on Sunday members from both teams, including the two managers, Gabe Kapler of the Giants and Dave Roberts of the Dodgers, spoke with the media.
Gestro asked both Game 3 starters questions during their times at the podium. She asked Alex Wood of the Giants if he felt the weight of the game, knowing one term would finish with a commanding lead in the series. He said, "It's a huge game, obviously, but it's what we play for." Wood added, "I've pitched in a lot of big games in the postseason and tomorrow's no exception. You show up and give it everything you've got. Do I look at it as a responsibility? Not to that degree. I look at it as more of an opportunity and a chance to see what I'm made of, to prove something to myself, truly. It will be a good test of myself."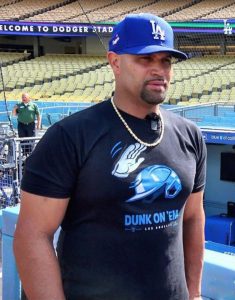 Wood played five seasons with the Dodgers and earned a ring when Los Angeles won the 2020 World Series. So most of his playoff experience has come with the team he will face tonight — and he even made the All-Star Game in 2017.
Gestro asked Max Scherzer about Urías' RBI single. The Game 3 starter said, "That's what it's going to take. It takes a total team effort to win these games, especially against a team as good as the Giants."
Albert Pujols will start at first base tonight. He's been very good against the left-handed pitchers all season and manager Dave Roberts is hoping Pujols will get some RBIs against Wood. Pujols has a way of inspiring his teammates every time he swings the bat.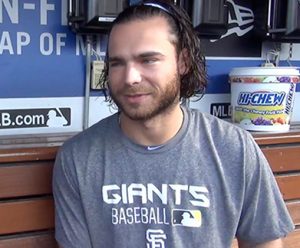 The Giants have their great players as well, starting with catcher Buster Posey, who has been with the team since 2010. He has been very consistent all season and has delivered hits in the first two games of this series. Posey has played on all three World Series-winning Giants teams since 2010 and he's doing a great job trying to get back to another World Series.
Shortstop Brandon Crawford is another long time Giant. He played on the 2012 and 2014 World Series teams. Some thought Crawford was slowing down last season, but this year Crawford has posted a .294 batting average and hammered in 24 home runs and 90 RBI. In this series Crawford has had three hits, including one home run and two RBI. On defense he has been nothing less than incredible. You can watch his 2015 conversation with Claudia Gestro here.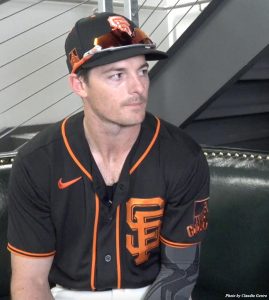 As all players will say, baseball is a team sport and the Giants have been the best team in 2021, recording 107 wins. Wilmer Flores, Tommy La Stella, Donovan Solano, Mike Yastrzemski, LaMonte Wade, Jr, Evan Longoria and the recent acquisition from the Chicago Cubs, Kris Bryant. All have made significant contributions at the plate and on defense.
San Francisco didn't get here without good pitching, both the starting rotation and the bullpen.
The first pitch tonight is scheduled for 6:37 p.m. Pacific Time.

We are not the typical news website – nor do we wish to be. We will be offering more than news and blogs, but an opportunity for fiction writers, poets, comedians and musicians to showcase their talent and skills. Much like when the Beatles formed Apple Corps Ltd, they opened the door to all kinds of inspiring talent that never really got a shot. From that came the likes of James Taylor and others. We hope by providing a similar approach we can shine the light on some tremendous undiscovered talent and at the same time offer some familiar voices who live in Los Angeles and beyond.