Dodgers Face the Giants at Oracle Park in the NLDS
Top photo of Dodgers OF/UP Chris Taylor by Claudia Gestro
For the first time in eight seasons the Los Angeles Dodgers did not win the National League West Division. As a result they had to win a nail-biter of a Wild Card Game against the visiting St. Louis Cardinals. The L.A. Basin felt the earth shake when Chris Taylor, who did not start the game, delivered a two-run homer in the ninth inning to break the tie and win the game.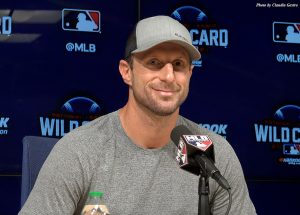 Starting pitcher Max Scherzer, who didn't throw his best game Wednesday, said he predicted Taylor would hit a walk off home run to win the game. Others thought it might have been Albert Pujols who entered the game to pinch hit in the ninth and hit a long ball deep into center field that, had it gone to either corner Pujols might have had a walk-off home run against the team that drafted him in 1999 and called him up for the 2001 season.
Scherzer wasn't having his best outing and was pulled in the fifth inning by manager Dave Roberts. Mad Max threw 94 pitches in 4.1 innings, with three walks and only four strike outs. Only one run scored and that was on a wild pitch, not the result of a hit, sacrifice or walk. If that is Max Scherzer not at his best, that's not really very bad. The Dodgers' bullpen kept St. Louis from scoring another run. Starting with Joe Kelly, Brusdar Graterol, Blake Treinen, Corey Knebel and Kenley Jansen, who three 16 pitches to close out the ninth.
Winning the Wild Card Game gave the Dodgers the privilege of traveling north to play the Division Champion San Francisco Giants in Oracle Park, their rivals for more than 100 years. This is a rivalry that started when both teams were still in New York and moved west when they came to California.
The Dodgers have dominated the West Division since 2013, winning the 2020 World Series.
Now they begin the defense of that title on the road against a division rival, an odd predicament, but not unlikely in the division era when two teams in each league compete in wild card games.
Starting on the mound for the Giants will be 24-year-old Logan Webb, who has an 11-3 record and an ERA of 3.03. His top pitches are the sinker (93 MPH), curve (82 MPH), change up (86 MPH) and the four-seam fastball (93 MPH). He was first called up in 2019 and now finds himself starting his team's run in the postseason. During the 2020 Spring Training Webb spoke with our reporter Claudia Gestro. You can watch his interview here.
Starting for Los Angeles is Walker Buehler, who is one of the pitchers being considered the for National League Cy Young Award. Buehler has a record of 16-4 and an ERA of 2.47. His top pitches: four-seam fastball (95 MPH), cutter (92 MPH), slider (85 MPH) and the sinker (95 MPH). he rarely throws a changeup.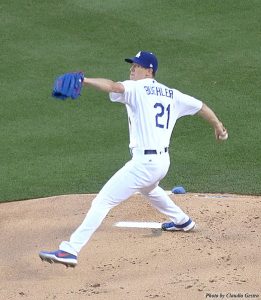 This isn't Buehler's first time in the postseason. Last year Buehler got the win for Game 3 of the World Series. He is ready for this moment and like Dodger fans everywhere, is waiting to see his teammates take the field in San Francisco and plant some balls in McCovey Cove. You can watch the interviews Claudia Gestro has done with Buehler here and here.
Giants fans are expecting something different. We will get to see all the action tonight in Game 1 of the National League Division Series., at Oracle Park, San Francisco, CA. Game time is 6:37 p.m. (Pacific). The series comes to Dodger Stadium Monday, October 11, 2021.
Claudia spoke with third base coach Dino Ebel and you can watch that here.

We are not the typical news website – nor do we wish to be. We will be offering more than news and blogs, but an opportunity for fiction writers, poets, comedians and musicians to showcase their talent and skills. Much like when the Beatles formed Apple Corps Ltd, they opened the door to all kinds of inspiring talent that never really got a shot. From that came the likes of James Taylor and others. We hope by providing a similar approach we can shine the light on some tremendous undiscovered talent and at the same time offer some familiar voices who live in Los Angeles and beyond.