'Dungeons & Dragons' Is Worth Rolling the Dice
2.5 out of 4 stars
For Hollywood, turning a board game into a successful movie has been like rolling dice.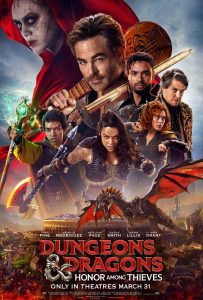 "Battleship" and "Oija" weren't good, and "Clue" wasn't much better. Let's not even discuss the original "Dungeons & Dragons," a 2000 film that tanked at the box office, grossing around $33 million against a $45 million budget.
But that didn't stop Paramount Pictures from trying to do what New Line Cinema couldn't do: create a Dungeons & Dragons movie that appeals to the masses, not just a niche audience familiar with the role-playing game known for its 20-sided dice and fantasy monsters.
What makes the latest version of "Dungeons & Dragons: Honor Among Thieves" succeed where so many of its board-game-turned-into-a-movie counterparts failed is Co-writer/directors Jonathan Goldstein and John Francis Daley and co-writer Michael Gilio simply made a fun movie.
It doesn't matter if you don't know the difference between a barbarian and a bard or a rogue from a ranger – or if you don't even know the difference between "Dungeon & Dragons" and "Pokemon."
"Dungeon & Dragons" offers an escape into fantasy land where fire-breathing monsters a brought to life in an engaging story that's easy for everyone to follow.
Chris Pine plays Edgin Darvis, a former member of a clan known as the Harpers. After his wife is killed by the sinister Red Wizards, his mission is clear: steal the one item that can bring her back to life.
But it's not that easy. After he gets himself imprisoned with his best friend Holga Kilgore – played very well by Michelle Rodriguez – the two bust out of prison and learn that Darvis' daughter Kira (Chole Coleman) has been taken by a former friend, Forge Fitzwilliam (Hugh Grant).
Darvis and Kilgore now have a laundry list of tasks they need to accomplish without being gored by monsters or burned to a crisp by dragons.
They have to save Kira, punish Forge, kill monsters and stop the Red Wizards from spreading their tyranny.
What makes "Dungeon & Dragons" succeed where so many of its predecessors failed is Darvis and Kilgore become very, very likeable through their witty dialogue and unmistakable chemistry.
The duo certainly has help along the way, just like in the board game where players form alliances to accomplish their missions. Darvis and Kilgore meet Simon, a wizard played by Justice Smith; Doric, a shapeshifting druid played by Sophia Lillis; and a knight named Xenk (Rege-Jean Page).
Just like in "Dungeons & Dragons" each character possess different skills the group needs to succeed, just like in the movie in "Jumanji: Welcome to the Junge," where Dwayne Johnson needed Kevin Hart just as much as Hart needed Johnson.
"Dungeon & Dragons" features action scenes that are CGI on steroids, whether it's the when the heroes are battling an army of the undead, dragons or other fierce creatures.
While the movie is two hours and 20 minutes, it moves quickly, maybe too fast for its own good, which prevents characters from being fully developed.
Still "Dungeons & Dragons" accomplishes what it sets out to be – a fun film that delivers on its expectations.

Jon Gallo is an award-winning journalist and editor with 18 years experience, including stints as a staff writer at The Washington Post and sports editor at The Baltimore Examiner. He's also an editor for CBSSports.com. He's crossing his fingers the only baseball team in Baltimore that will contend for a title this summer won't be his fantasy squad, the Catonsville Cartel. He also believes the government should declare federal holidays in honor of the following: the Round of 64 of the NCAA men's basketball tournament; the Friday of the Sweet 16; the Monday after the Super Bowl; and of course, the day after the release of the latest Madden NFL video game.