Five dead, seven wounded in Dallas
In a scene we might have thought was a Hollywood action movie, Dallas police officers descended upon the business district of the Big D during a rally and protest after shots were fired, hitting at 12 police officers and civilians, five of whom died. Dallas, which had become known for many things, like champion football and basketball teams, also has a section of town that has become a tourist destination: Dealy Plaza, where President John F. Kennedy was shot November 22, 1963; this city will now have another painful event to mark its place in U.S. history.
On Thursday, after meeting with police, including those with the Dallas Area Rapid Transit (DART) to coordinate where the event would take place, local religious leaders and activists staged a rally and protest after two black men were gunned down in quick succession by police officers; one in Baton Rouge, LA and the other in Falcon Heights, MN.
The marchers in Dallas, who numbered about 800, were more than BLM members, as ministers put it Friday morning, the march was a picture of America, with blacks, white, Latinos and others marching peacefully to protest police brutality, especially towards young men of color.
On Thursday an unarmed young white man was shot and killed by Fresno, CA police and some added that victim to the list of unarmed people killed by police.
The relationship between the march organizers and police in Dallas was so congenial none of the officers were wearing body armor, riot gear or other accouterments of war. Many officers marched with the protesters, some even pausing to take photos with "Black Lives Matter" signs. In all respects the march was peaceful, something everyone involved wanted to achieve and maintain.
The march continued until about 8:30 p.m. Central Time and was about to end, according to march organizers. Shortly before 9 p.m. people in the area heard shots being fired. The immediate reaction from some of the protesters and others in the area was that they were hearing firecrackers, but when they saw police officers falling to the ground the crowd began to run in all directions as the shooter — or shooters — continued the rampage.
Witnesses told police they saw someone in camouflage clothing walk quickly to a black Mercedes-Benz car and "throw" a bag in the back and then drive off very quickly. Police stopped the vehicle and took two occupants into custody. They also detained a woman. Police say none of the three are cooperating with authorities.
The gunman who was firing on police officers was finally cornered in a parking garage at the El Centro College, which is part of the Dallas County Community College District. Police were communicating with him for several hours, trying to negotiate a peaceful end to the incident. But he kept telling the police he wanted to shoot white people, especially white police officers. He claimed to have homemade bombs planted all over the area and would not hesitate to use them.
Finally, at about 2:30 a.m. Friday morning, the police sent a bomb up to the shooter's location, strapped to remote-controlled robot and killed the shooter with the explosion.
The police are still investigating and the city of Dallas, which has become one of the country's most vibrant and cosmopolitan communities, is still in shock, reeling from the tragedy.
The gunman was described to have moved around as if he had tactical training of some kind. After he was killed, the gunman was identified and records show that he was an U.S. Army veteran who had served in Afghanistan.
The shooter said he was upset by the killings of black men at the hands of the police. He "wanted to kill white people, especially white officers," according to Dallas Police Chief David Brown.
He and Mayor Rawlings held a press conference Friday morning and the police chief told the assembled press, "We're hurting," describing the mood of the local law enforcement community. He said, "We are heart broken. There are no words to describe the atrocity that occurred, to our city. All I know is this must stop, this divisiveness, between our police and our citizens."
Chief Brown told the press the shooter stated he was not affiliated with any groups and that he had acted alone. Nevertheless, there are three people in custody that authorities believe acted with the gunman. Authorities also said the shooter is not connected to any terrorist groups, foreign or domestic.
Reactions from political leaders were mostly conciliatory to the police departments and citizens of Dallas. Both presidential candidates, Hillary Clinton and Donald Trump, postponed campaign appearances today. In a statement Trump said, "We must restore law and order. We must restore the confidence of our people to be safe and secure in their homes and on the street," and spoke of the "senseless, tragic deaths of two motorists in Louisiana and Minnesota."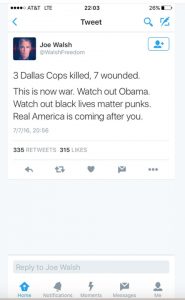 Secretary Clinton tweeted, "I mourn for the officers shot while doing their sacred duty to protect peaceful protesters, for their families & all who serve with them. –H"
U.S. Attorney General Loretta Lynch said the answers to injustice "… must not be violence." In her statement Lynch said, ""Americans across our country are feeling a sense of helplessness, of uncertainty, and of fear. The answer must not be violence. The answer is never violence."
She also said, "To all Americans, I ask you — I implore you — do not let this week precipitate a new normal in this country. I ask you to turn to each other, not against each other."
Former Illinois Congressman Joe Walsh, who is known for his violent rhetoric and crazy views on the world, took a different tack, tweeting, "3 Dallas Cops killed, 7 wounded. This is now war. Watch out Obama. Watch out black lives matter punks. Real America is coming after you."
Walsh eventually deleted the tweet, but not after many people saved it to other media.
There is a portion of the American populace that responds to that kind of message and it adds even more uncertainty and fear to an already tense nation that believe the racial animus growing.
The investigation is ongoing so we can expect more information to be revealed. The one DART police officer that was killed has been identified: Brent Thompson, who was 43 years old and had just married another DART police officer in June. He is the first DART officer to be killed in the line of duty.
Family members and friends identified one of the Dallas police officers killed, through social media: Patrick Zamarripa, a father of two.
The names of the other three killed by the sniper have not yet been released.
Not going to print the name of the deceased killer, or post his photos.
All photos via YouTube videos, unless otherwise noted.

Tim Forkes started as a writer on a small alternative newspaper in Milwaukee called the Crazy Shepherd. Writing about entertainment, he had the opportunity to speak with many people in show business, from the very famous to the people struggling to find an audience. In 1992 Tim moved to San Diego, CA and pursued other interests, but remained a freelance writer. Upon arrival in Southern California he was struck by how the elected government officials and business were so intertwined, far more so than he had witnessed in Wisconsin. His interest in entertainment began to wane and the business of politics took its place. He had always been interested in politics, his mother had been a Democratic Party official in Milwaukee, WI, so he sat down to dinner with many of Wisconsin's greatest political names of the 20th Century: William Proxmire and Clem Zablocki chief among them. As a Marine Corps veteran, Tim has a great interest in veteran affairs, primarily as they relate to the men and women serving and their families. As far as Tim is concerned, the military-industrial complex has enough support. How the men and women who serve are treated is reprehensible, while in the military and especially once they become veterans. Tim would like to help change that.