Santa Barbara: Our perfect day in paradise
Few would deny that Southern California is usually as close to perfect in climate as can be found on mortal earth. But there are those days when temperatures soar and relief is sought and usually found as you approach the magnificent California coast. So after a couple of sweltering days it was time to pack the family in the car and head out for the day away from the triple digit heat of the San Fernando Valley for something more pleasant, at least for the day. My first target was the wine country of Santa Maria.
The trip from our home to the Presqu'ile Winery was 155 miles and took about 2.5 hours. We passed through the rolling hills of Thousand Oaks before sliding down the seaward side of a ridge line and into Camarillo.
We turned northwest and as we passed through Ventura we were right at the shoreline before reaching Santa Barbara. Next we drove through the Los Padres National Forest eventually passing the lovely town of Solvang and enjoying the vision of more and more vineyards coming into view.
The entire trip was utterly spectacular as was our first vision of the beautiful Presqu'ile Winery sitting atop a valley of lush vineyards in Santa Maria, California. We had visited other wineries on previous trips; Cambria and Cottonwood Canyon and others, each sensational in their own special way, but Presqu'ile was simply extraordinary from the moment it first came into view.
But what about their wine?
First things first, I ordered a cheese plate and a couple of French sandwiches for my by then very hungry family and myself. With the family now happy I tasted a couple of wines. The first two were white wines and very pleasant but generally I tend to prefer more full bodied red wines and so I asked for a recommendation. I was presented with a bottle of Presqu'ile 2013 Pinot Noir Santa Maria Valley and a small sample was poured. I sipped and my mouth instantly exploded with a rich luscious taste. I am not a true wine aficionado so don't ask me about fruits and hints of this and that, but I do know fantastic when I taste it and that wine clearly qualified, so much so that I instantly bought three bottles.
It was time to move on to our second planned stop of the day: Santa Barbara and a more complete dining opportunity.
Our destination was Stearns Wharf, one of Santa Barbara's top tourist destinations since its completion in 1872. It offers an abundant selection of dining establishments, souvenir shops and even a small sea life museum where you can pet a shark. Also at the wharf there is the lovely Azure Seas yacht where for not much money you can take a pleasant hour and a half long cruise up and down the California coast enjoying occasional glimpses of amazing sea life such as dolphins, sea lions and sometimes sharks and whales. We thoroughly enjoyed our mini cruise but we were now really ready for a great meal and so we headed over to the Santa Barbara Shellfish Company.
Getting a table on a weekend day can be a bit challenging but it proved to be well worth the wait. We enjoyed lobster, crab and clams – all local and very fresh. Also once we were seated the service was excellent and what better atmosphere for succulent sea food than literal atop the sea it came from?
By now we were completely relaxed, satiated and over all extremely happy. It had been a very beautiful and utterly enjoyable day. But alas it was time to return home. For the perfect ending to a perfect day, by the time we arrived home the heat waved had passed.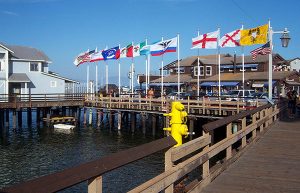 I highly recommend both a visit to the wineries of Santa Maria and to Santa Barbara in general and Stearn's Wharf in particular. The experience will be pure joy no matter whether you come from down the street or around the world. You can plan your very own visit by simply searching for Santa Maria wineries and Stearns Wharf on the internet.
If you wish to spend a night or two there are also several hotels ranging from plush to budget, again all easily available with a quick internet search. And now with a glass of refreshing wine from my delicious bottle of Pinot Noir – cheers!
All photos by Ron Irwin

Ron Irwin was born in Chicago, Illinois a long time ago. He served in the Marine Corps in Vietnam, became a trial lawyer, TV and radio host, CEO of a public company and once held an Emmy. He never won an Emmy he just held one. Ron has written and published twelve books. His most important book to date is "Live, Die, Live Again" in which Ron tells of his early life and his unexpected and very temporary death in 2012. That experience dramatically refocused his life and within the pages of that book Ron reveals how he achieved a much healthier life, ridding himself of Diabetes, Cancer and Heart Failure. Now Ron enjoys writing about many things including health topics, travel [he has circled the globe several times], adventure, culinary experiences and the world of performing art. Ron's motto is "Live better, live longer and live stronger because it feels great and annoys others." Contact the author.