Fremont Street New Year's Bash Promises to Be Spectacular
Anticipation is rising in Las Vegas as New Year's Eve approaches. Fireworks are poised and people are putting on their party clothes for a night of fun in downtown Vegas on Fremont Street. Celebrating at Fremont Street is a fantasy come true complete with live music, casinos, showgirls and buskers (Las Vegas' own brand of street performer) where you can have your picture taken with beautiful women, Prince, Spiderman and watch as magicians perform their tricks.
The seven-block-long entertainment area is the new embodiment of the old downtown where Vegas started. True to the spirit of Las Vegas, it is where innovation meets the inner desires of every man and woman. It is neutral territory where you can let loose and live in a technological dream world. Fremont Street is a visual, auditory paradise, and it's yours for the taking.
Fremont Street has free entertainment on its three stages that are offered all year long, and the famous Viva Vision overhead has been redeveloped since its inception. The sneak preview we saw more than dazzled with its 3D graphics and amazing visuals after a cost of $32 million.
The Fremont Street Experience features entertainment, dining from more than 70 restaurants, gaming and shopping. However, unlike the Strip, on Fremont, visitors can see free entertainment and take a ride on SlotZilla, the 850-foot zipline that sends visitors soaring down the street over everyone's heads. If they are feeling lucky, they can take the Zoomline, 1,750-feet long. It launches its riders from a platform 12 stories high and, of course, is shaped like a slot machine. Fremont Street is enough to tempt even the most jaded of thrill and entertainment seekers to the city.
Potential visitors may wonder what's so special about Viva Vision. Besides being1,375 feet long and 90 feet wide, it is suspended 90 feet above the pedestrian area and combines cutting-edge technology by Watchfire Signs along with amazing graphics by Contend to entertain those on the ground below. So you think you're familiar with LED lighting? You've never seen 49.3 million of these lights combined with a 600,000 watt sound system.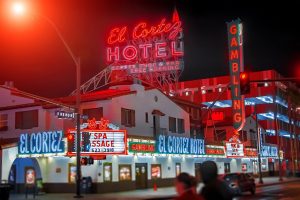 The new multi-sensory show that starts on New Year's Eve is called "MIXology." The overhead canopy is ramped up to more than 16 million pixels. While a regular display requires 1,000 Nits to represent daytime sunlight, this one has 5,000 Nits. This means the resolution is four times better and the screen seven times brighter. Something as simple as walking down Fremont Street will be an otherworldly experience, and best of all, it's free.
Parking is cheap too ( a rarity these days in Las Vegas). Head to the Fremont Street Experience parking garage across from the 'D' Casino. You can park there for $3 an hour up to a maximum of $12. The garage is large, so finding your car may be time consuming. Before you leave your vehicle, whip out your cell phone and take a picture of the parking space markers. They are color coded for ease of use.
New Year's Eve is a special time on Fremont. Start the 2020s in an updated version of that devil-may-care time called the roaring 20s 100 years ago when fun was king. See ya there!
Photos by PXHere

I started to write because I developed laryngitis and needed to communicate or burst. It's true. However, once I discovered the written word, I fell in love. I edited and wrote for my college newspaper and wrote articles for various journals after that. I am still working on the great American novel but I have yet to find the one among many starts I want to finish. Above all, I am fascinated with the world and the people in it. I have a dog who sincerely believes he should write instead of me but I steadfastly refuse to show him how to use the keyboard partly because of writer neurosis and partly because I hate his style.