Jail dynamics: 'Bugaboo and the Silent One'
Bugaboo [played by award winning actress Heidi Sulzman] is a lonely loud mouth chatter box locked up in the Henderson County Jail in West Virginia. She has been alone in her cell for almost a month and a half and she has spent much of that time accepting Jesus into to her heart and mind. But she still frequently slips and uses the Lord's name in vain only by now she does pray for forgiveness. She is awaiting her final sentencing and while waiting seeking some measure of redemption. Then she gets a cellmate.
Her new cellmate is also awaiting final sentencing. At first she does not talk nor make eye contact with Bugaboo who finally simply calls her the "Silent One" [portrayed by Jacqueline Toboni].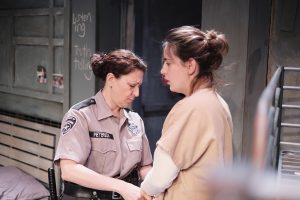 From time to time the two inmates interface with the jail guard, played by Michelle Gardner who you may have seen in Transparent, Bones, Criminal Minds and The Closer to name a few of her accomplishments. Her portrayal of a jail guard is spot on.
All three actors are excellent and each character is completely believable and each in their own way very strong and powerful. But for bringing the story to life the credit goes fully to writer/director Marja-Lewis Ryan who somehow seems to know with great vision the dynamics of a jail and the people within in its walls. Please allow me this one digression to explain that in my past life as a lawyer I had occasion to visit the Cook County Jail in Chicago a few times and the visual and dynamic I saw on stage in Bugaboo & the Silent One was a near perfect match. For that some of the credit also goes to set designer Michael Fitzgerald.
What evolves in the course of the play is the development of a sincere and deep friendship between the two inmates despite facing overwhelming negativity. First they must break the silence and then despite an abundance of good reasons not to do so they must learn to trust each other. And all of that takes place as each woman awaits the final sentencing, both facing 25 years to life in prison.
To call this a fun show would be a huge mischaracterization even though there is frequent humor coming mainly from the often amusing even funny utterances from Bugaboo. But to say that Bugaboo & the Silent One is powerful and even compelling is a very good fit. I would not recommend it for children under 14 nor to the hyper sensitive. Otherwise you will enjoy pretty much every one of the approximately 75 minutes of the show's run time.
You will find Bugaboo & the Silent One at the Lounge Theatre, 6201 Santa Monica Boulevard, Los Angeles, California 90038 now through January 27th.  Show times are 8:00 p.m. Thursday, Friday and Saturday evenings and at 2: p.m. and 7 p.m. on Sundays. Reservations and ticketing are available at: batso.brownpapertickets.com or by calling: 800-838-3006.
•••• •••• ••••• •••• ••••
Please visit www.ronirwin.net. There is a lot there even one great way to help American military veterans.
Photos by Billy Baque
Top photo: Heidi Sulzman and Jacqueline Toboni

Ron Irwin was born in Chicago, Illinois a long time ago. He served in the Marine Corps in Vietnam, became a trial lawyer, TV and radio host, CEO of a public company and once held an Emmy. He never won an Emmy he just held one. Ron has written and published twelve books. His most important book to date is "Live, Die, Live Again" in which Ron tells of his early life and his unexpected and very temporary death in 2012. That experience dramatically refocused his life and within the pages of that book Ron reveals how he achieved a much healthier life, ridding himself of Diabetes, Cancer and Heart Failure. Now Ron enjoys writing about many things including health topics, travel [he has circled the globe several times], adventure, culinary experiences and the world of performing art. Ron's motto is "Live better, live longer and live stronger because it feels great and annoys others." Contact the author.