LAFC clinches playoffs but still has three games to improve seeding
With their 3-0 win over the Colorado Rapids on Saturday, the Los Angeles Football Club secured their spot in the 2018 MLS Playoffs. LAFC is only the 4th team in MLS history to reach the playoffs in their inaugural season.
With just three more games left in the regular season — two of them at Banc of California Stadium (Oct. 12, Houston Dynamo, October 21, Vancouver Whitecaps) — LAFC can now start looking at preparations for their first matches in the postseason. The playoff begin October 31.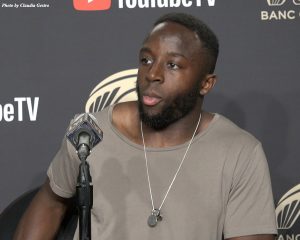 To clinch, LAFC had to defeat the Colorado Rapids on the road. Defender Walker Zimmerman scored first off a corner kick, slamming a low header through the legs of Rapids goalie Tim Howard. Adama Diomandé would score in the 42nd minute and then again just minutes after the second half got started.
That was it for the scoring and the L.A. Football Club shut out Colorado, 3-0.
Dio is now tied with Carlos Vela for most goals on the team, with 11. After the game coach Bob Bradley said he was glad to see Dio back on the score sheet, but he also had great praise for Aaron Kovar. After the game Kovar echoed the sentiments of his team, saying it  isn't easy to win in Colorado. He had been out for a while due to a knee injury and he addressed it. "Obviously it was frustrating being out for a little whole with the knee injury, but it was a good way to get 60-plus minutes under my belt and hopefully build on it."
Dio had missed a lot of games due to injury. He told the media, "It's feeling good to be back and scoring goals. … The last months been struggling with injury. It's always good to have a good training week and coming back to do a great job for the team and a good team performance."
Bradley told the media, "Important step: qualify for the playoffs; still three games left, nine points to still shoot for, but I'm happy for the guys tonight."
If there is one of their three remaining games to worry about it is their road trip to Missouri to face Sporting Kansas City. KC won here at Banc of California Stadium, 2-0, the only other time these two teams met. With the Houston Dynamo, LAFC has played to a draw twice and the last time, with their August 8 match giving Houston a win on penalty kicks, 7-6.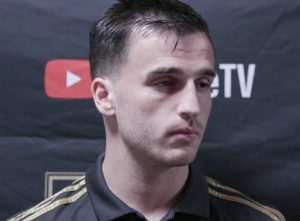 The only other time LAFC met the Vancouver Whitecaps was on the road and the Los Angeles squad won, 2-0.
But as Bradley said, there are nine points to be had so LAFC can't take any of these teams for granted. They are tied in points to Kansas City, but in third place because of KC's win. Plus, they are four points behind conference leaders, FC Dallas.
As of now LA Galaxy is one point out of the playoffs, but with wins in their final two matches they could find themselves in the postseason as well. Could the L.A. Derby make its way into the playoffs? Los Angeles fans would love to see that happen.
Top photo is a YoTube screenshot of Walker Zimmerman's goal.

We are not the typical news website – nor do we wish to be. We will be offering more than news and blogs, but an opportunity for fiction writers, poets, comedians and musicians to showcase their talent and skills. Much like when the Beatles formed Apple Corps Ltd, they opened the door to all kinds of inspiring talent that never really got a shot. From that came the likes of James Taylor and others. We hope by providing a similar approach we can shine the light on some tremendous undiscovered talent and at the same time offer some familiar voices who live in Los Angeles and beyond.