Leslie Zemeckis Tells the Tale of Mabel Stark in her new film 'Mabel, Mabel, Tiger Trainer'
This March, and coinciding with Women's History Month, Leslie Zemeckis and Cinema Libre Studios preview "Mabel, Mabel, Tiger Trainer," the true tale of the world's first female tiger trainer. The feature-length, award-winning documentary reveals the fascinating story of Mabel Stark, an outcast who was rejected by her family and who ran away from her abusive home in rural Kentucky to ultimately find her true passion in the steel arena.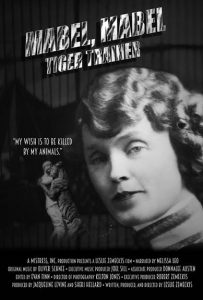 Leslie is joined by executive producer Robert Zemeckis, producers Jacqueline Levine and Sheri Hellard, associate producer Donnalee Austin, and the film's narrator, Oscar-winning actress Melissa Leo, and carefully portrays the fascinating life of the once, small town girl. From performing dangerous stunts for actress Mae West and other Hollywood stars, to dancing her way in the circus, Mabel was determined to make it on her own and defy the gender limitations of her time. But it was when she first encountered a 400-lb tiger that she knew she wanted to train the big cats – a talent reserved only for men, and something she was told no woman could ever do.
It wasn't long before Mabel became a circus superstar. Her rise to stardom came with sacrifices, and multiple failed marriages. But she increasingly took solace in the company of her cats, using only positive reinforcement, unlike most of her male counterparts. For 30 years she continued training the big cats, working her way up to 21 tigers in the ring. And during her career at Jungleland in Thousand Oaks, she transformed the suburban theme park into a world-famous Southern California attraction
"Mabel, Mabel, Tiger Trainer" continues Leslie's career-long exploration of influential but lesser-known women of history.
Visit www.mabelstarkmovie.com for more information on the Los Angeles screening.
(UPDATE: After publication, this release was rewritten by the submitting organization and has not been edited by the Los Angeles Post-Examiner.)