NFL Off Week: It's time to shut up and move on
With this being the off week between the conference championships and the Super Bowl, I thought I would use it to comment on a few things circulating the news cycle regarding the NFL. Just know if there are any gross mistakes regarding spelling, grammar, or facts, they are not open to review until the Los Angeles Post-Examinermakes rule changes.
Kickoff: Let's begin where the league left off and look at the end result of the two games that resulted in our Super Bowl opponents.
For once, the Patriots are the team that won fair and square. There were no deflated footballs, patches of snow scooped up, non-fumbles, or two-headed coins tossed at the start of overtime. New England deserves to be in the Super Bowl after beating the Chiefs in Arrowhead Stadium. Any team that does this is capable of beating any team it faces in any type of environment.
Tom Brady continued his recent outstanding play and has indicated he still plans to play next year. It is believed his play dropped off a bit this year and age was catching up until he turned things around in December. Now it is being reported he was dealing with a knee injury, but somehow was not being listed on the team's injury report? Were the Pats cheating again?
Teams are supposed to list all injuries and their severity each week. Did they fail to comply with the league rule? Most likely, no. However, what is likely to have happened is Brady tweaked his knee, never reported it to the team, and then sought treatment for it somewhere other than with the team. The team can't report what it does not know about, or it does not have to report what it can claim it does not know about. That should keep the conspiracy clowns going.
As for the Rams; are they deserving of a trip or were they given a gift? The answer to both is yes. You can't penalize a team for an error made by officials. The missed pass interference call changed the game's ending, but we do not know what the outcome would have been had the penalty been called.
Maybe the Saints bleed the clock to a final few seconds and miss a game winning field goal. Maybe Alvin Kamara fumbles on first and goal from the Rams five. Maybe Drew Brees tosses a pick or gets sacked and fumbles away the ball. There just is no way of knowing how the game unfolds after a missed call.
Consequently, you can't penalize a team who won a game within the framework of the rules. All the league can do is address the matter when the Rules Committee meets in the off-season and decides whether or not they want to change what is and is not a reviewable call or how the league goes about reviewing plays.
First Down: The wrong people are talking. By this, I mean the Saints players, especially those who are demanding the end of the game be replayed. Seriously, do these guys really think our over worked court system needs to examine whether or not a lawsuit filed by the players over the game's outcome is necessary? Any player who does this needs their head examined for CTE.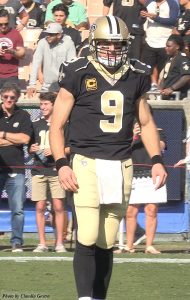 If you have ever played sports at any level, you know the feeling of being on the receiving end of poor officiating. My suggestion is for complainers to sign up and try officiating their local recreation leagues. Losers rarely have anything nice to say about officials. See what it is like to ref a middle school 8-man flag football game and then think about what it must be like to officiate 22 monsters playing professional football.
A call was blown and people want officials fired. Consider what the pressure would feel like if you made a bonehead mistake at your job and everyone demanded you be fired. Think about what it must feel like knowing millions of people are watching what you do and second guessing it the next morning. Try demanding the same excellence you expect from officials over the way you work or how you parent and see how sudden life seems a lot less easier to live.
As I recall, Todd Gurley pretty much sucked in the NFC Championship game. He dropped two easy passes and his running was so poor the Rams had no choice but to go with C.J. Anderson at the end of the game. Maybe Gurley should be fired for his horrendous day.
Demanding officials' heads is not a solution. It will just lead to fewer people wanting to ref. Remember, the NFL picks the top graded crews to officiate their post season games. What would a lesser crew do in a big game?
Saints Players need to shut up and move on with their business which right now involves readying themselves for next year.
Second Down: Okay, perhaps there is one exception to what I just said. Ben Watson, the Saints tight end who missed the game due to an emergency appendectomy, expressed some excellent thoughts on the ending of the game. He admitted to the human error that exists within the frame work of sports, but just wants to know why Commissioner Goodell has remained silent on it.
.@nflcommish pic.twitter.com/a0pIFnboMP

— Benjamin Watson (@BenjaminSWatson) January 24, 2019
It's fair to point this out. Why is the man who is in charge of the league remaining quiet on the matter?
My guess is, and this is just a guess, every time Goodell goes public with something, he ends up making matters worse.  It has been no secret Goodell has remained quiet pretty much all season long and the end result has been fewer controversies and larger ratings.  This adds up to greater league profits which is the primary duty he has.
Last year, I wrote the mistake the league and networks made over the flag issue was to turn it into an issue for clowns like our president to profit off of. Had the league remained silent on the matter or had networks chose not to televise the National Anthem and report on who did or did not take a knee, the issue would have died a quiet death. They didn't and as a result it didn't.
This year, the league took the Silence Is Golden approach to the flag and just about everything else and guess what?  Americans are back to loving football again.
The best work leaders do is more often than not done behind closed doors and away from the public. It's better to be talking about the games and their outcomes than it is about player protests, player safety, or player arrests. As football fans, we love the game we see on TV. It's okay to argue over the results. It just makes fans dig in and support their teams more while also hating the teams that got lucky or who screwed us out of a big win.
Third Down: Another matter of concern that has been reported, but fans are not yapping over, is the lack of minority coaches in the league. The league is not just lacking in black head coaches, they are lacking in black assistant coaches, especially when you consider 70 percent of the players are black. There will be only one black head coach hired this year. The league has just two black coaches serving as offensive coordinators. Considering owners and GMs turn to guys with experience as a head coach or who are viewed as the brainchild behind a potent offense, it is not likely we will see many blacks hired as head coaches a year from now.
In the 1970's, the belief in the NFL was blacks were not cut out to play quarterback. While the NFL has managed to realize how ignorant that kind of thinking was, there appears to be the same thought process going on when it comes to hiring blacks as head coaches. Just as it took time for NFL coaches who grew up in a segregated America to accept the idea of black quarterbacks, it appears the old white owners of NFL franchises need a wake up call to realize the way they contribute to the perception many black athletes have about white America.
Fourth Down: The NFL Pro Bowl has been moved up recently to fill the Sunday void between the conference championships and Super Bowl. Why?
I have said it before and will continue saying it, this is the worst excuse of a sporting event that exists (I do not include WWE Summer Slam because unless you are under 40, you know WWE is not a sport).
NFL players want to earn Pro Bowl recognition primarily because their contracts contain bonuses if they do and NFL players need all the money they can get for their post football life and the ensuing declining health and inevitable feeling of irrelevance they feel when no longer in the limelight. That said, they want nothing to do with playing a game so meaningless it makes their preseason opener seem like the Super Bowl.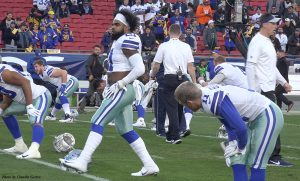 Once a player earns Pro Bowl honors, they do all they can to get excused from the game. Their coaches remind them the importance of NOT playing so they DO NOT get injured. Back issues or hamstring issues are always a good way to get out of this game because they are the easiest injuries for a player to fake and a team doctor to feel good about signing off on. If that doesn't work, I suggest players have the nail of a big toe removed. I have had this done before and was surprised at how painless the procedure was and how the next day I was able to go for a run without any discomfort. It works to get kids excused from PE for a week so it has to work for the Pro Bowl.
The NFL does not need the PR the game brings when they play it in Hawaii. It's pointless bringing it state side. Perhaps if they held the game in Europe or some other market the league wants to expand to, bringing the league's top players to mingle with the locals and play a glorified game of touch football in pads makes sense. However, as it currently is set up, just let the game die and let the players get on with their off seasons.
Overtime: Okay, I managed to fill up a few pages with league stuff just to build the hype to my Super Bowl prediction. Before providing it, and just to add to the drama, let me preface it by saying I have not consulted anyone about my pick. I also haven't checked what any other writers, athletes, coaches, commentators, sports talk hosts, or ground hogs predict. I don't even have my old electric football set anymore to play the game in advance to base my prediction on. This is coming straight from the vast wealth of football knowledge I have gained over the course of life.
As I mentioned last week, this is a generational game for the NFL. While the 1958 title clash between the Colts and Giants ushered football into the American family room, this game will represent who takes the league into its next great era.
Since generational games are about change, I am picking the Rams to win. Victory won't come easy for them, and if they win, we will have to listen to Saints fan gripe about how this should have been their time in the limelight. Still, the Rams will emerge in any of a number of ways with their first Super Bowl title as an L.A. franchise (St. Louis is not in southern California folks).
Having said this, I have to admit I have no idea who wins. There are arguments to be made for both of these teams. The Patriots have been described as a proud prize fighter who now takes a beating, but in the process relies on grit and wisdom to win. The Rams are seen as a force that cannot be stopped by anyone other than their own inexperience.
The Patriots are so well coached and experienced it is easy to see why they might win, but at the same time this could be the time it all crashes in on them and they get blown out.
Los Angeles is deep in weapons on offense, tough up front on defense, and tricky and potent on special teams. Will they rise to the occasion and show the world their full super powers or do they get too caught up in the magnificence of this game and forget to show up? My thinking is they have a coach who will make sure they show up well prepared.
In the end, it will be a tight affair in which the Rams take over in the fourth quarter and pull away, winning in a final score of Rams 33 Patriots 26.
Song Dedication: This week's song is dedicated to all the Rams and Patriot fans who can't wait for next week's Super Bowl. It also goes out to anyone who is a fan of catsup, ketchup, or catch up. Listen here.
Photos by Claudia Gestro

Jim is a life long resident of California and retired school teacher with 30 years in public education. Jim earned his BA in History from CSU Chico in 1981 and his MA in Education from Azusa Pacific University in 1994. He is also the author of Teaching The Teacher: Lessons Learned From Teaching. Jim considers himself an equal opportunity pain in the ass to any political party, group, or individual who looks to profit off of hypocrisy. When he is not pointing out the conflicting words and actions of our leaders, the NFL commissioner, or humans in general, he can be found riding his bike for hours on end while pondering his next article. Jim recently moved to Camarillo, CA after being convinced to join the witness protection program.