NFL Pro Bowl: Call it practice viewing for the Big Game
Orlando, Florida, the second home of the Mouse and all the theme park imitators that followed, played host to the NFL Pro Bowl. Cold and rainy Orlando … Who watched this game? Hard to say. Football fanatics for sure, maybe the whole population of the Great Lakes States and the Eastern Seaboard that is now experiencing sub-zero temperatures. No point going outside right now, just stay in and watch it rain in Orlando, or maybe watch the Farmers Insurance Golf Tournament from Torrey Pines, in La Jolla, CA. There (here) it is sunny and in the 70s. Don't be hatin'. No one forces you to live in Minneapolis or Milwaukee, or Baltimore — or Orlando.
Call Pro Bowl viewing practice for the Super Bowl parties a week from today.
The players we saw today are the best in the league — who are not playing next Sunday. Call it the consolation prize. Seven Chargers were there, like defensive end Melvin Ingram and running back Melvin Gordon III. The best quarterbacks will play, like Philip Rivers (Chargers) and Patrick Mahomes of the Kansas City Chiefs. Packers QB Aaron Rodgers and one of his favorite targets, Davante Adams.
The Cowboys have eight players in the Pro Bowl, beginning with running back Ezekiel Elliott, QB Dak Prescott and wide receiver Amari Cooper. I have friends who are Cowboy fanatics, one in particular. Here's to you and your team Mandy! The Ravens had three: Eric Weddle, Brandon Williams and C.J. Mosley. No surprise they's all defensive players. The Ravens tend to be a defensive powerhouse every season.
Some say Giants running back Saquan Barkley is better than Elliott. Both had great seasons so both are in Orlando.
It was the AFC against the NFC, not like that … thing… they tried a few years back with two former great players picking players for their sides. That idea was roundly rejected by football fandom.
So, for those of us that plan our year around the NFL season, we will accept the Pro Bowl as a suitable alternative for a serious game of professional football. In other terms, we wait for the Big Game, entertained by such distractions as the Pro Bowl. After all, we love seeing these players do their thing on the field.
Remember the good old days when the Pro Bowl was in Hawaii and played under sunny skies without rain?
Or we can also binge on Game of Thrones, from the very first episode. We like sports and fantasy TV to be bloody.
Since the Conference Championship games the players and coaches from the Patriots and Rams have been speaking to the media about everything, whether it has to do with the game to come or the many distractions like the ending of the NFC championship game. Yes, it was clearly pass interference, clearly a penalty should have been called. Like the obvious face mask pulled on Rams QB Jared Goff. But neither penalty was called, the regulation game ended in a tie and the Saints and Rams had to play in overtime. A tie that was engineered by Goff and that magnificent Los Angeles offense and then the incredibly reliable Greg Zuerlein who kicked the game-winning field goal.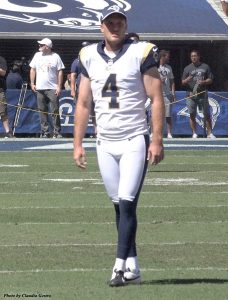 Let's be frank: in the OT both teams had a chance to win the game and New Orleans won the coin toss. In overtime the advantage goes to the team that wins the toss and elects to receive the ball and put their offense on the field first. The Saints clearly had the advantage, in their home dome with the deafening roar disrupting the Los Angeles offense throughout the game.
On their third play of the OT Drew Brees threw an interception. That allowed the Rams to push deep enough into New Orleans territory for Zuerlein to kick a 57-yard field goal to win the game.
The Saints had their chance to right the wrong, as only a team can do within the rules of the game — and they lost. Instead of wondering about the pass interference, Brees will be pondering that drive in overtime and how he could have done better. Or, why the NOLA defense couldn't do the same to LA, what the Rams defense did in that OT. Rams defensive back Nickell Robey-Coleman, the offending player in that "No-Call" drama, has paid a fine for the hit. It should be the end of the story, but butt-hurt fans and players are going to complain until the cows come home and the cows are pretty happy where they are.
Just for the record, I'm not a Rams fan, I'm a Packers fan … still butt hurt over the effin' Bears winning the North and beating the Pack on December 16 … effin' Packers, effin' Bears … It just ain't right.
Now the Rams have to face the hated — dreaded — Bill Belichick and the New England Patriots. All season Tom Brady was called the GOAT, now some wonder if he's over-rated. Not Rams defensive coordinator Wade Phillips. Last week he told the media, "A quarterback – certainly, I think, the greatest playoff quarterback in history. He's got four MVPs. It's a tremendous challenge to play this offensive team that they have and their whole team, but especially their offense. It's a challenge, but we've started our process. We try to give them a game plan, but it's a real challenge to fool a quarterback. I've said that about Brady the same way. You're not going to really fool those guys, you've got to play tremendous technique and play really well in what you do."
Head coach Sean McVay feels the same way. "I think because of that experience, when those guys are so great at what they do and then they have that inventory that they have to draw on is so broad because of that experience. Tom (Brady) has seen so many different things and he's been able to adjust. He's got such a great feel for understanding how to manipulate, move coverage, handle certain situations where he might have to redirect a protection or throw quick-element throws if he is hot.
"Then, the same thing with (Patriots Head) Coach (Bill) Belichick. I can't imagine that there's really a scheme that he hasn't seen or hasn't had to defend, because really, all the stuff that we're running is some form of another play that we had already seen. I know none of these are plays that I've made up. That certainly is the case for both those guys without a doubt."
As for the GOAT himself (Brady), he said, "I just love the competition and I love trying to improve and I think that's what it comes down to. Every year has its challenges. It's very different from my first year to now, things change obviously with yourself, team, personal situations, professional situations. I love competing, I love playing football. I think loving the game and trying to improve and be the best I can be for the team is great motivation for me and I've just always spoke about winning and that's what I love to do. That's why I'm here, that's why this team has done such a great job. I think everyone here is just committed to winning and really doing whatever it takes to win whether that's Julian [Edelman] moving from quarterback to receiver, whether that's Mike Vrabel playing tight end for us or defensive players lead-blocking on the goal line or Troy Brown or Julian playing DB at different times – everyone just kind of does whatever it takes and that's a great place to be."
Yeah it is Tom. I would be hesitant to bet against Brady and the Patriots. On the other hand, I would be hesitant to bet against the Rams and Jared Goff. Brady has a healthy respect for the Los Angeles defense. He got a lot of protection in Kansas City during the AFC championship game, so much so he posted a video on Instagram that featured his clean jersey after the game.
View this post on Instagram
He has a great offensive line, but now he faces a D-line with Aaron Donald and Ndamukong Suh. He told the media, "That was just an incredible effort last week and we're going to need it again because this group is obviously exceptional at that position. The d-line is certainly a great strength of theirs. We'll be challenged. All those guys will be challenged. We'll need those guys to play a great game."
This should be a good-to-great game. Two great offenses, a new and exciting quarterback against the oldest (41) to start in a Super Bowl, a head coach who is so old and been the head coach so long there have been four presidents since he joined the Patriots organization in January 2000, against a head coach who just celebrated his 33 birthday and is in his second season as the HMFIC. It helps that his defensive coordinator, Wade Philips, has been in coaching since before McVay was born. He spoke about Phillips in the past week, saying, "…just the way that he goes about his daily business, how much he enjoys this. Sometimes I can have a tendency to forget how much fun and what a blessing it is to be doing this. Seeing the way that Wade handles himself is a great representation of what it looks like to enjoy what a blessing it is to be coaching in this league and to make sure you maximize every day."
Well, this week we will see how much both teams maximize every day, avoiding to some extent all the distractions of Super Bowl Week. Starting with Opening Night (which used to be Media Day), and then all the press conferences, answering the same questions day-after-day, all the … fan adulation of the carnal variety … free drinks, free limos, free everything to party hearty with this group, that radio station morning crew or some other fan-fueled entity looking to put their name on the sports map. And then all the time needed for family and friends who are in Atlanta.
McVay put it best, when he spoke about getting his players ready for next Sunday. "Enjoy this opportunity, be smart, but let's not forget that we're here to try to win a football game. We want to have great focus and concentration when we are in those football things. Don't allow other things to take away from your focus. But, you do want to enjoy it. This is something that's special. When your family and friends get out there, we allocate some time for that. But, when we're dealing with football, we're focused and we're putting ourselves in a position to be at our best on Sunday. I think that's the expectation that these guys have. They know that. I think the ownership that our players have is what makes this team special because they kind of know, really, without us having to say, how we want to handle ourselves this week."
The old sports betting axiom, or maybe I'm just making it up (I'm not sure) is, ªWhen in doubt go with experience." That would be Belichick, Brady and the Patriots. They have the edge in every online sportsbook, but only by 2.5 points. The over/under is 56. It's going to be a close game, a fun game to watch. I may stay home and skip the parties just so I can enjoy this one.
Stay tuned.
Photos by Claudia Gestro unless otherwise noted
Top photo: SBLIII starting QBs Tom Brady and Jared Goff

Tim Forkes started as a writer on a small alternative newspaper in Milwaukee called the Crazy Shepherd. Writing about entertainment, he had the opportunity to speak with many people in show business, from the very famous to the people struggling to find an audience. In 1992 Tim moved to San Diego, CA and pursued other interests, but remained a freelance writer. Upon arrival in Southern California he was struck by how the elected government officials and business were so intertwined, far more so than he had witnessed in Wisconsin. His interest in entertainment began to wane and the business of politics took its place. He had always been interested in politics, his mother had been a Democratic Party official in Milwaukee, WI, so he sat down to dinner with many of Wisconsin's greatest political names of the 20th Century: William Proxmire and Clem Zablocki chief among them. As a Marine Corps veteran, Tim has a great interest in veteran affairs, primarily as they relate to the men and women serving and their families. As far as Tim is concerned, the military-industrial complex has enough support. How the men and women who serve are treated is reprehensible, while in the military and especially once they become veterans. Tim would like to help change that.