NFL Playoffs Week 1: Which is more important, kickers or quarterbacks?
The first week of the postseason came and went and we are now down to the final four teams in each conference. As far as regular season's go, I have always felt the college game is more compelling because one loss can end a team's hope for a national title. In the NFL, a loss is not the end of the world. However, because of the nature of the NFL's more expanded playoff, their postseason is far more interesting and will remain so as long as Nick Saban and Dabo Swinney remain in their current jobs.
I thought I would lead off this week with my thoughts on each of the wild-card games before moving onto other topics. After all, it is my postseason as well and I need to shake things up a bit to keep others guessing, right?
First Down:
Indianapolis 21 Houston 7: Andrew Luck led his team to a first half 21-point lead and from that point on it was just a matter of time before the clock ran out on Houston. The Texans defense did well to hold the Colts to just three touchdowns, however, Houston lacked the offensive power to be the complete team Indy is.
If there is a team left with enough of a combination of offense and defense to beat the Kansas City Chiefs, or any other team left in the AFC, it is this team. It's just a matter of whether or not the grind of a long season and no playoff bye week gets to this team.
As for Houston, expect their staff to scour the college ranks for guys who can open up holes to run through while keeping Deshaun Watson from getting killed on a weekly basis.
Dallas 24 Seattle 22: Bill Parcells would have loved to coach this Cowboys team. When they are playing well, they are able to rely on Ezekiel Elliott to wear down a defense with punishing runs while getting enough smart play from a quarterback who is just good enough to keep you in a tight game.
Seattle's surprising season came to an end in large part because their kicker, Sebastian Janikowski, got injured and could not kick. This was the type  of injury a coach can never plan on and yet is a nightmare because it requires a team to adjust what they might normally do in a close game.
For Dallas, can they sustain their success going on the road next week and stop a team with a high flying offense? Meanwhile, it will be interesting to see if Seattle can build on this year's success and be a real threat next season?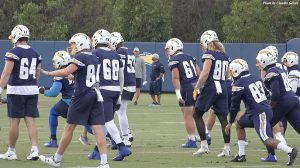 LA Chargers 23 Baltimore 17:While the Seahawks showed what can happen to a team when their kicker goes down in a playoff game, the Chargers showed how handy it is to have one who makes all five of his attempts against the always tough to score on Baltimore Ravens defense. Baltimore learned what it is like to have a young quarterback with suspect passing skills to rely on to make a fourth quarter comeback while a veteran with playoff experience sits on the bench.
The Chargers move on to play New England next week while the Ravens have to decide what to do at quarterback. If they trade or release Joe Flacco in the off season, they are going to go all in with Lamar Jackson and learn just how fast the rest of the league catches on to his limitations.
Philadelphia 16 Chicago 15:Another game in which a kicker determined the outcome and this time it was a painful one for the home team Bears. What should really disappoint Bear fans is their offense's inability to score more than 15 points against a banged up Eagles defense. Nick Foles continues to show football fans why as long as the game is close and he is playing, the Eagles' odds of winning are always more than good.
The Bears off season will need to focus on a way to score more points. Mitch Trubisky is still young and may some day be a decent quarterback, but if next year goes like this one, Bears fan may wish their team chased after Foles this coming off season with a fat contract offer.
Second Down:The Pittsburgh Steelers have been in the news a lot lately. It seems all is not right in Steel Town after missing out on the postseason. Besides having to deal with the dark cloud of Le'Veon Bell sitting out the season, reports surfaced of star receiver Antonio Brown being disciplined and suspended from the team's final regular season game.
Brown is regarded as one of the league's top wide outs and sitting him out in a do-or-die game for something other than an injury leads one to question what happened? Apparently, Brown was less than thrilled about not being selected as the team's MVP by his teammates. Worse, he was not happy the winner was their other starting wide receiver, JuJu Smith-Shuster.
In short, Brown went bat shit crazy over the snub to the point he was told to get lost. Exactly what happened is not known for certain and probably won't be, but now the Steelers are facing an off-season where they are not only likely to see Bell depart, they are now going to have to decide whether or not Brown is worth the headache (receivers are called divas, but in reality, they are just pain in the ass brats).
The Steelers will never receive equal value in a trade, so it is in their best interest to see if they can placate him in some form or other and hope he gets over his anger (I suggest giving him a case of Cracker Jacks with little prizes in them and a "I'm Sorry" note from each of his teammates).
They need him as much as he needs the Steelers and Ben Roethlisbergerthrowing him the ball. Great receivers have a tendency to become ordinary when their quarterback is not so good. How long does Brown remain great if he has Jameis Winston or Ryan Tannenhill throwing him the ball?
Expect changes in Pittsburgh, primarily on the coaching front. There will be new assistant coaches hired and there is still a need to for them to improve defensively as well as find their next quarterback in case Big Ben hangs it up.
Third Down: The NFL narrowed down their choices for the final 15 Hall of Fame candidates. Here is where it begins to get tricky. The game has changed quite a bit the last 20 years. Skill players are achieving stat lines that make hall members from previous eras seen like a joke. There was a time a receiver who had 400 receptions over a career was considered worthy of hall consideration. Now, players are catching that many in a four or five-year period.
I am less of a stats guy and more of a guy whose looks at what it should take to be elected to the Hall of Fame. It is not supposed to be for all the good players who played. Some could argue it isn't even meant for great players. Election to the Hall of Fame should be for those who either changed the way the game was played or who were so singularly dominant, you can argue they would have been a great player in any era. With that in mind, I would include the following:
Don Coryell: There is no doubt in my mind this coach deserves induction. You can argue he did not win enough as a head coach, but when you consider the era in which he was coaching against the likes of the 1970's Oakland Raiders, Pittsburgh Steelers, and Miami Dolphins, there was not a lot of room for making it into the limited post season.
However, Coryell was bold enough to realize the way you beat the more traditional power brand of football was by being bold enough to design your offense around the pass.
His San Diego Charger teams were a handful to prepare for because it required defenses to think pass first and run later. Without his way of approaching the game, we do not get the West Coast Offense made famous by Bill Walsh, The Greatest Show on Turf from the Rams, or the modern pass happy game we have today.
Tony Gonzalez: This is a no-brainer. The man only rewrote the record books for tight ends and redefined how the position is played. He was fast, sure handed, tough as nails, and a big play man in a large frame. He was Gronk before there was a Gronk and he was the ultimate in how he carried himself both on and off the field.
Tony Gonzalez helped changed the game because coaches now see tight ends as more than an extra blocker who can catch short passes in tight spaces. Now, teams scour colleges to see if they can find any power forwards on basketball teams who might want to switch sports.
Ed Reed: Maybe other than Ronnie Lott, there has never been a better player to play safety in the NFL. He hit like a runaway train, covered huge areas of space, defended the run, and not only intercepted a ton of passes, his return yardage on them was unbelievable. Add in his willingness to return punts, his leadership skills, and the universal respect he had from players both past and present, he is deserving of not just the hall, but as a starter on the All-time NFL Defensive team.
After these three, I would give serious consideration to the following and listen to the pros and cons presented by committee members before deciding.
Tony Boselli:He had a great career on a mostly mediocre team and never played a glamorous position. Unfortunately, offensive linemen get overlooked by the hall even though coaches always say games are won and lost up front. The biggest argument against Boselli in my mind is he did not change the way the game is played. However, who was the last offensive lineman to do that?
The next question that has to be asked then is would he have been great in any other era and to that I would answer, "yes."
Had he played on Lombardi's Packers, Madden's Raiders, Noll's Steelers, Landry's Cowboys, or Walsh's Niners, Boselli would be in the hall. It was not his fault he played for Jacksonville. However, if you had to go against him, you had better plan on finding another path to the quarterback because it was not going to be through him.
Ty Law/Champ Bailey:Much of their careers overlap and they played the same position, cornerback. Law was not the flashy player Bailey was, but if I was going to compare him to a player from the past, it would be Willie Brown of the Raiders. Law was a shutdown corner for the first half of his career who made the transition to zone cover guy. Law was not just tough to complete a pass on, he was also tough on the run which made playing to his side of the field challenging for opponents.
His problem is, he was neither flashy at a time when fans gravitated toward flash and he was not the self-promoting loud mouth we often see out of today's cover guys. You can also argue he was not revolutionary to the game. However, I liken him to what Tony Boselli did only Law had the fortune to do so for many years on the Patriots.
Bailey, on the other hand, was flashy, fast, and more your classic shutdown corner in the mold of a Deion Sanders. His problem is, he came along after Sanders and like most shutdown corners, once he lost his speed, he became an easier target. However, his career was long and his success rate makes him worth comparing to others in the hall who are less talented.
As for the others, they should be happy if they are inducted into their team's ring of honor and know they had solid, but not great careers.
Fourth Down:Let's look at the next round of AFC games and see who I think wins them.
Indianapolis vs Kansas City: Let me preface this with a reminder: I am the idiot who earlier in the season suggested the Colts trade Andrew Luck for draft picks because they were so horrible and had too many holes to fill. Isn't I a genius?
That said, I will still pick the Chiefs primarily because I think they will bring more energy to the game. Indianapolis has to be feeling the effects of being in must win mode for almost two months now. However, if the Colts win, it won't be a major upset. The Chiefs defense is suspect at best, they have injuries on the offensive side of the ball, and they have a coach with a reputation of offering up post season duds. The only question that remains is whether or not it is a shootout or defensive affair. I am going with a final score of Kansas City 38 Indianapolis 30.
Los Angeles Chargers vs. New England Patriots:The Patriots will benefit more than any other team from having a bye week. They were in desperate need of a break so they could regroup and do what Bill Belichick loves doing — planning. He will have his team prepared for the Chargers and I think Los Angeles will be hurt if Melvin Gordon is unable to play or has to play hurt. The Patriots will score points and their defense will bend, but I do not see it breaking. New England 31 Los Angeles 23.
Overtime:  We also have two games to analyze from the NFC.
LA Rams vs Dallas Cowboys:  I am not afraid to look like an idiot again so here goes. The Rams will destroy the Cowboys in methodical fashion. I especially think the Rams defensive front has a field day with the Cowboys offensive line and creates a very long afternoon for Dak Prescott and Ezekiel Elliott. Running will be a challenge and dropping back to pass may be downright painful for Dallas.
Meanwhile, I have no doubt on the offensive side, the Rams will make one big play after another. Dallas is going to find out they have a ways to go before they can stop a rested, deep, and dangerous team. Los Angeles Rams 41 Dallas Cowboys 17.
Philadelphia vs New Orleans:It's only fitting the path to this year's Super Bowls requires the Saints to get past the defending champions. That path will involve a tight first half, but in the second half, the rested Saints will impose their will on what has to be a very tired Eagles team.
The champs will need more than the magic of Nick Foles and a missed last second field goal to play for another week and I just do not see it happening. The Saints win going away.  New Orleans 37 Philadelphia 26.
Sudden Death:Quick NCAA prediction based on nothing other than this; Alabama will make Clemson pay the price for losing their best defensive player, Dexter Lawrence, to a drug suspension. Dabo Swinney will bitch to the press about how unfair it is to punish an entire team for what was an honest mistake by a great kid and then step away from the postgame podium and tell Dexter he can walk back to Clemson from California. Alabama 41 Clemson 28.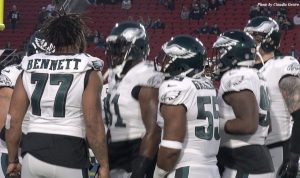 Song Dedication: Okay, so maybe this song was about tennis and maybe it was performed by a guy who knows football as the English sport he grew up with. It's still worthy of dedicating to the defending champs who refuse to die.
••• •••• ••••• •••• ••••
Editor's Note: Jim's CFP championship prediction is looking to be off the mark. At the time of this going onto the website Clemson was leading 31-16. Apparently Dexter Lawrence isn't such a big loss for Clemson.
Photos by Claudia Gestro unless otherwise noted
Top photo: Eagles QB Nick Foles

Jim is a life long resident of California and retired school teacher with 30 years in public education. Jim earned his BA in History from CSU Chico in 1981 and his MA in Education from Azusa Pacific University in 1994. He is also the author of Teaching The Teacher: Lessons Learned From Teaching. Jim considers himself an equal opportunity pain in the ass to any political party, group, or individual who looks to profit off of hypocrisy. When he is not pointing out the conflicting words and actions of our leaders, the NFL commissioner, or humans in general, he can be found riding his bike for hours on end while pondering his next article. Jim recently moved to Camarillo, CA after being convinced to join the witness protection program.