NFL Week 7: Jonny can't read
The Lead: Sports fans are used to teams in the NBA and MLB tanking. After all, the more games your teams play in a season, there becomes less of a reason to hang on to players who serve no purpose to an already bad team. In both sports, player contracts are guaranteed so why should an owner hang onto a player who costs tens of millions of dollars a year when you can grab a guy from your farm system or the D-league to suck for a small fraction of the price while dumping a contract onto a contender?
However, the NFL has always been different. The general sense has been if a player has become available in a trade, there is a good reason for it. He is usually an under performer, hiding an injury that prevents him from being the player he once was, or determined to leave for free agency at the end of the season. Rather than waiting for a compensatory pick for losing him to free agency as was once the norm, teams now look to trade the guy mid-year.
As a result, the NFL has a wonderful mid-season stretch where teams gamble more than ever on players from teams like the Raiders or Giants who are simply waiting for the off season to arrive. Can a player like Amari Cooper, whose career got off to a hot start but has fizzled the last two seasons, revive himself playing on a team like the Cowboys who always seem to be in a win now mode? Is he worth parting with a first round pick, especially if he leaves at the end of the season for free agency? Is Eli Manning worth trading for if you are the Jacksonville Jaguars and you have finally lost faith in Blake Bortles?
Good teams can find good players to fill holes as they enter the home stretch and drive for a playoff run while horrible teams can free up cap money and gain additional draft picks as they move to rebuild as fast as possible.
Unfortunately, if you own season tickets for a team like the Raiders, you have to feel pissed off seeing what is happening there. No matter what spin the organization puts on things, there is no denying a team that was 12 and 4 two years ago is being ripped apart by a coach hell bent on building a new one to his liking. No one, even their starting quarterback, is safe from being traded. Every player on that team knows they are simply auditioning for the other 31 teams in the league because Jon Gruden wants to put his stamp on the entire team.
Gruden, not the players, is the one who is tanking. His history shows he has little regard for player development and yet he is stock piling draft picks like Russians stock piling nukes during the Cold War. And like Russian nukes, his picks are liable to amount to nothing much because Gruden lacks the patience to stick with any player who struggles to transition from college ball to the NFL.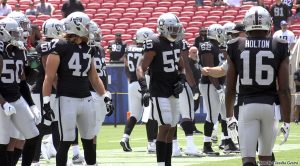 Gruden prides himself on having the most complicated playbook to learn, thinking it makes him look like a genius. Gruden is not a genius. If he were, he would know how to break things down into simpler terminology so any player can pick up his system and show off whatever level of talent he has. Instead, his system relies on too much thinking which just gets in the way of players playing naturally.
A genius is a guy like Bill Belichick who identifies each player's strength and devises ways for him to maximize it without having to fill his head with a bunch of useless information. This allows his assistants to coach players and for players to show whether or not they have enough talent to offer the Patriots something worth investing in.
I have said it before, and I will say it again, Jon Gruden is an expensive mistake. Oakland/Las Vegas will regret his ten-year contract and larger than life ego and will soon hope it is him getting his walking papers at mid-season and not one of their talented players.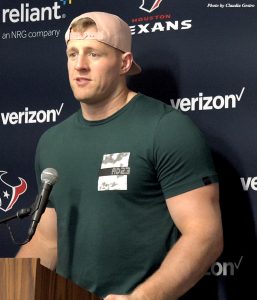 Five in a Row: Houston started the NFL week winning their fifth straight game and suddenly looks like they may begin reaching their potential. However, until they start beating some of the better teams in the league and not the likes of the Miami Dolphins, questions will remain as to just how good this team is. However, for now, they are good enough to win the AFC South, but then that's not saying much.
Jax Asses: Jacksonville appears to be in disarray. After their hot start this season which came on the heels of a deep playoff run last year, they now appear to have fallen apart both on and off the field. Blake Bortles will always be an easy target to blame for an underachieving offense, but he is not to blame for four players trying to skip out on a $64,000.00 nightclub tab the before a game. It's also no way for a team to endear themselves with potential fans in London, when it is your team rumored to be relocating there in a couple of years. At any rate, the odds of any of the four numb nuts, Blake Bortles, and the coaching staff being part of the team when it does move are about the same as me hitting a Powerball jackpot.
Bucs Aren't Worth A Buck: Tampa Bay has shown us enough to know they are not going anywhere as long as they have a quarterback problem that pits Jameis Winston against Ryan Fitzpatrick. After tossing four picks, Winston was pulled for Fitzpatrick. All he did was lead a fourth quarter comeback that resulted in the Bucs erasing an 18-point deficit only to see their defense give up a field goal as the game ended in another Tampa Bay loss. I have to think Colin Kaepernick would have been a huge upgrade for them this season. Instead, next year their fans will see a new coaching staff tasked with developing the next quarterback of the future. It''s a system they have down pat since they won a Super Bowl back in the dark ages.
Carolina Proves Baltimore Is No Threat: Much has been said about the Ravens defense this year. However, as long as their offense struggles on a consistent basis, teams like the Carolina Panthers will prove Baltimore is not ready for elite status. The Ravens pretty much have to have everything go their way to win games and when it doesn't, they lack the fire power to keep up with any team that has a powerful offense. Look for the Ravens to do a slow fade over the last half of the season while Carolina will fight it out to the end with New Orleans for the NFC South.
Steelers In Control: Pittsburgh is the team to beat in the AFC North. After a rocky first month, they have managed to right their ship and should be ready for another deep playoff run. The only question that remains is when will disgruntled running back Le'Veon Bell return and when he does, will he improve their already solid offense? They may not have enough defense to top the likes of Kansas City or New England, but their short comings are not enough to fend off any challengers within their division.
Boy Was I Wrong: Half way through the season and the Washington Redskins sit atop the NFC East. Not only did I have them picked to finish last in their division, I made a point of saying Adrien Petersen was finished. After a 149 yard rushing effort, Petersen seems to have found the fountain of youth. Still, I will not be surprised to see both him and his team tail off over the final half. Whatever happens, there is no doubt which of the two Grudens has done the better job of coaching this year.
Packers Urgency Showed: Going into their game against the undefeated Los Angeles Rams, there was a sense of urgency for the Packers. At 3-2-1, they could ill afford to drop to .500 while losing to arguably the NFL's best team. On the other hand, the Rams have pretty much sewn up their division and if they can make it through the next month, they stand to own the best record and home field advantage for the playoffs.
So when the Rams pulled off a close 29-27 victory, it was Green Bay left with a bad taste in their mouth while the Rams are half way to an undefeated season.
However, in the NFL, the initials often stand for Not For Long. The Rams have a brutal stretch ahead of them on the road and there is no telling where they may sit by Thanksgiving. At the same time, winter will soon arrive in Green Bay which often results in frigid wins for the Pack.
Still, my guess is a Packer winning streak is less likely than a Rams losing streak. Expect to see Green Bay struggle to make it to the playoffs while the Rams go on cruise control and are able to rest up for a march to the Super Bowl.
Quick Thoughts: Mitch Trubisky tapped into his inner Mike Ditka and the Bears D shut down the Jets, but don't be impressed. This team is only good enough to break Bears fans hearts and another year or two away from being a force.
Oakland vs Indy and SF vs. Arizona; four teams whose combined best talent could not challenge a good NFL team. There are some very bad teams in the NFL. Why would anyone think to add more teams to the league other than money? Just our luck, we get two of them, Oakland and SF, for this week's Thursday night crap fest. Anyone want a double header with Buffalo and the Giants in the opener?
Cleveland has made great strides this season and is no longer the embarrassment it once was. In fact, it has been replaced by a number of teams, the worst of which is Oakland. However, head coach Hue Jackson felt the need to put his offensive stamp on the team because it lacked scoring punch.  This is not because offensive coordinator Todd Haley and any of his short comings nearly as much as this is what happens when you hand the offense over to a rookie. Maybe this is why management decided to part ways with Baby Huey and move on with less of an ego. However, to also can the coordinator who created the offense for your rookie quarterback seems odd. A smart organization would have waited until the season was over.
Smart and unselfish move by Todd Gurley II at the end of the game.  I bet L.A. fans are happy one of their own took a knee for a greater cause than for himself.
The NFC North has four teams who apparently do not want to win the division.  Each have had a chance to pull away from the others and each have blown their chances. The division seems filled with mediocre teams.
Give a coach two weeks to prepare for a bad opponent who has to travel to play you and you should expect a gift of a victory. However, when that coach is Jon Gruden and all he did was take phone calls for potential trades, you get a team that quits on you. Nice work, Jon.
Song Dedication: Since I did a good job this week bashing Jon Gruden, I figured I would get penalized for piling on by bashing him a little more with my song dedication. Thank you Don Henley, a true musical genius, for this week's song.
•••• •••• ••••• •••• ••••
Editor's Note: Todd Gurley II and Aaron Donald were named the NFL players of the month.
Did you watch the Monday Night Football game? The fact that the Buffalo Bills was one of the teams meant there would be little of interest in this game. The New England Patriots could have relied exclusively on their second and third strings and still won this game. But Tom Brady is regarded as the GOAT — the Greatest Of All Time — so he still needs to add to his already great legacy.
Unfortunately Tom didn't add much to his legacy. He threw for 324 yards, but no TD's.  No INT's either, so that was a good thing.
Julian Edelman proved he was back, catching 104 of those yards on 9 receptions. Interesting note: their offense and defense both scored TD's.
From the Bills they do have a QB and his name is Derek Anderson. We've never heard of him either, but he three 290 yards with only 1 INT.
They managed two field goals. Stephen Hauschka might be the Bills' one bright light this season. Both of his field goals were long distance.
Photos by Claudia Gestro unless otherwise noted
Top photo: Oakland Raiders head coach Jon Gruden

Jim is a life long resident of California and retired school teacher with 30 years in public education. Jim earned his BA in History from CSU Chico in 1981 and his MA in Education from Azusa Pacific University in 1994. He is also the author of Teaching The Teacher: Lessons Learned From Teaching. Jim considers himself an equal opportunity pain in the ass to any political party, group, or individual who looks to profit off of hypocrisy. When he is not pointing out the conflicting words and actions of our leaders, the NFL commissioner, or humans in general, he can be found riding his bike for hours on end while pondering his next article. Jim recently moved to Camarillo, CA after being convinced to join the witness protection program.