NFL Week 9: Angels on the 50 yard line and the GOAT
I would like to start this week's column off by recognizing a man who recently passed away at the age of 86, Paul Zimmerman. Known as Dr. Z, he holds a place on the Mount Rushmore of NFL writers. Filled with insight, wit, honesty, and analytics well before analytics existed, his were the must read articles at SI.com.
Felled by a series of strokes ten years ago that robbed of his writing skills and speech, Zimmerman never ceased being a football writing God by anyone who read his stuff. We all hoped and waited for the day he could return to writing. Sadly, that day never came. Thank you Paul Zimmerman for making the sport of football come alive in ways no one before you ever did.
Cheers to Cheerleaders: What? You mean those hot looking women who parade around in skimpy outfits and serve as nothing more than a pleasant visual distraction to the fan whose team is getting slaughtered?
You probably think I am writing about them just because one took a knee during the anthem last Thursday night. Well, you are wrong.
I have a love hate relationship with cheerleaders. I suppose it began when I was in seventh grade. Each morning, I delivered the Contra Costa Timesnewspaper to about 70 homes. It was my first job. With it, came the responsibility of going door to door to collect monthly bills.
One home on my route was the home where a girl grew up to become an Oakland Raiderette. The only thing I knew about Raiderettes were they were the only thing about the Raiders I enjoyed. Even better, this one created a huge controversy by actually posing nude for Playboy.
Much to my delight, one summer afternoon, I knocked on the front door of her parents' home to collect the bill. When the front door opened, to quote John Madden, "BOOM." This incredible looking woman whose pictures I saw on multiple occasions answered the door wearing a bikini. I believe it is moments like this that led to man creating cell phones with cameras. Instead, I was left with just a memory. I'm not even sure the bill was paid that month.
From then on, I didn't have much use for cheerleaders other than they were cute when I was in high school. I dated a few, made fun of too many, and eventually grew tired of their routines at our assemblies. I have no idea why, but at the end of the school year, it became a tradition to hold an assembly in which the outgoing cheerleaders crowned the new batch for the following year.
One by one their names were announced. Each stood to hug their friends before excitedly walking up to the front of the auditorium. By my senior year, I was fed up with it. So was my pal Phil Harrington, who at one point turned to me and said, "Jim, I will pay you a dollar if you pretend to be the next cheerleader called out."
One buck meant something in 1977 so I took Phil up on his offer. The name was called out, I stood up in shock and disbelief then hugged Phil. I walked down the bleachers and up toward the front of the auditorium. At mid-court, I knelt and kissed the large block "A" for my school, Acalanes High School. When I walked up to the stage, there stood a cheerleader looking at me as if I was insane. I grabbed the microphone from her and announced, "Phil Harrington, you owe me a dollar." It was one of those stunts where you either loved me for making a mockery of the assembly or you despised me for ruining someone's moment of glory.
I looked stage right and there stood Mr. Dobbins, our Vice Principal, all six feet five inches of solid muscle. He directed me to his office.
On the way there, I was trying to figure out how I was going to spin this one to my dad. I was sure he would find it funny, but he would never let on he did. I figured I would be doing a lot of volunteer hard labor as well as be made to apologize to the young cheerleader whose moment I ruined.
As I sat in Mr. Dobbins office waiting for him, I realized I had nothing in my defense. I decided I would just own up to my inability to tolerate such nonsense and take my punishment.
When Mr. Dobbins entered, you could have knocked me over with a pom-pom when he said, "Mr. Moore, it's a good thing for you I hate cheerleaders as much as you or you would be looking at a suspension."
What was that? No suspension? Did he just say I am not suspended?
He went on, "If I ever become the principal of this school, the first thing I am going to do is put an end to that assembly."
He's messing with me. I have to be in trouble for this stunt. Even by my standards, I went too far this time.
Mr. Dobbins finished by saying, "You can either donate that dollar to our memorial fund or take a suspension. Which is it?"
I pulled out my wallet and grabbed two dollars and told Mr. Dobbins one was from me and the other from Phil.
He then instructed me to remain in his office for another ten minutes. Before leaving, he joked, "Now go out and act like you are in serious trouble and don't tell anyone about this. It shouldn't be too hard for you to pull off since you were so convincing as a cheerleader."
So what does all of this have to do with the NFL? To be honest, I am not sure.What I am sure of is I would have preferred sitting through a three hour version of that high school assembly than to tune in and see a third string quarterback leading the 49ers against the Oakland Raiders. Since I couldn''t, I decided to do the next best thing and write about them.
Roger Goodell should have just instructed the two teams go with a flag football game between the Raiderettes and the Gold Diggers, or whatever the 49er cheerleaders are called? Now that's a game worth watching.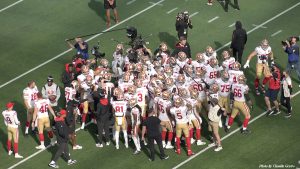 Thursday Night: So I did not get my dream game pitting cheerleaders against cheerleaders. As a Niner fan, I always enjoy it when my team beats the Silver and Bleak.
However, not even I can get excited about Nick Mullens performance which I rate right up there with Shane Falco's in The Replacements. I also won't get excited if he does it again when they play the Giants. Now if he keeps this up for the rest of the season, oh, who am I kidding, my Niners still suck for now.
GOAT vs Mr. Rogers: So much is said about who is the greatest quarterback of all time and where certain ones fit into the conversation. For me, the only criteria is winning championships and in the modern era that leaves just two: Joe Montana and Tom Brady. It's not even a case of apples vs. oranges, but more like Gaias vs. Golden Delicious. Considering his longevity, I have to give the nod to Brady. However, in their prime, in a winner take all game, Joe Cool is my guy.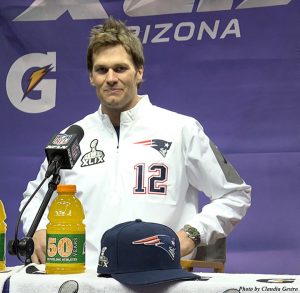 That said, where does Aaron Rogers rate? Nowhere close until he wins another three or four titles.
As for the game that placed Rogers and his struggling Packers against Brady and the Patriots, Brady and his bunch showed why they are the best team in the AFC while Green Bay appears to be on the outside looking in.
Sean of the Dead: Sean McVay vs. Sean Payton. Only one walks out alive. Sounds like the premise of a horror flick, but actually it is what we get when the Rams face off against the Saints. Don't be surprised if there is a sequel in January. However, if it means a return trip to New Orleans, the Rams may not be interested. Getting beat by the Saints means New Orleans holds the tie breaker and will host a playoff game between the two if they finish with the same record.
There is no guarantee this will happen. First, the Saints have to fend off the red hot Panthers just to win their division. Then there are the Vikings who show signs of life and talent in the form of wide receivers. I wonder if Sean McVay wishes the Rams had traded for another corner back at the deadline. What once looked to be a strength of this team now looks like its Achilles heel. Finally, there is another team out there called Philadelphia, led by some guy named Carson Wentz.
It's only November, but one thing is certain, no team in the NFC has an easy path to the Super Bowl.
The Rest of the Games:
Did any other games matter? Kansas City, Houston, the Los Angeles Chargers, and Carolina continue to roll along.Pittsburgh and Minnesota both won important divisional battles. Atlanta crushed Washington. Miami and the Jets complained about the field conditions and then turned in a performance that will make their fans turn on them. Finally, what the hell are the Bills doing playing professional football?
Song Dedication: I would be remiss if I did not go with this song by the J. Geils Band. It pretty much sums up my paper delivery days and always makes me think of one particular cheerleader centerfold.
•••• •••• ••••• •••• ••••
Editor's Note: On Monday Night Football the Dallas Cowboys were schooled by the Tennessee Titans on how to close a game The Titans scored 14 points in the second half to the Cowboys big zero. Ezekiel Elliott was held to less than 100 yards rushing, but he did have 58 receiving yards. The new wide receiver for Dallas, Amari Cooper, had 58 yards on 5 receptions.
Marcus Mariota threw for 240 yards, with TD passes and no interceptions — and a rushing TD. Dion Lewis rushed for 62 yards and had another 60 in receptions plus a TD.
Things are looking up in Tennessee.

Jim is a life long resident of California and retired school teacher with 30 years in public education. Jim earned his BA in History from CSU Chico in 1981 and his MA in Education from Azusa Pacific University in 1994. He is also the author of Teaching The Teacher: Lessons Learned From Teaching. Jim considers himself an equal opportunity pain in the ass to any political party, group, or individual who looks to profit off of hypocrisy. When he is not pointing out the conflicting words and actions of our leaders, the NFL commissioner, or humans in general, he can be found riding his bike for hours on end while pondering his next article. Jim recently moved to Camarillo, CA after being convinced to join the witness protection program.