Orange Hill Inn and the octopus
Patrick leaves lodging up to me. I've got a decent track record for finding interesting places to stay – everything from friends of friends to boats to a hostel devoted to Gram Parsons. My criteria are this: I like to stay local (no chains if I can help it), I need coffee in the morning, so a kitchenette or at least coffee maker, and location. Once I get there, copious hot water, a view, the proprietors, and the ability to open the windows or a door pretty much seal the deal. (I hate hermetically sealed rooms.) The Orange Hill Beach Inn on New Providence Island offered all of that and a wild octopus.
When we started to plan the Bahamas trip, I looked at airfares (frequent flier points largely cover those), car rental (ouch), and hotels with kitchenettes. Most places were outside of our price range, but one caught my eye: Orange Hill Beach Inn.
The website touted a pool, an honor bar, and there were cottages across the road from the ocean. I called and spoke to someone there about rates and availability. I also checked Trip Advisor and Google reviews. The positive reviews mentioned the beach, staff, and rooms, and the negative reviews served to reinforce our decision to book. The negative reviews mentioned bugs, stray hairs, cats, and, in my opinion, unrealistic expectations. In other words, it sounded perfect for us and like the negative reviews would deter entitled assholes.
One of my great joys in life is watching Patrick's reaction once we reach our destination. We walked in the front door and he said, "How do you find these places?!" The room was octagonal, with French doors leading to a small balcony that overlooked the ocean across the street. The kitchenette was perfect for our needs and we cooked most of our meals at the room. The water pressure and temperature were damned near perfect. It was a relief to have only a few TV channels, and the wifi was stronger than expected.
We opened and closed the balcony doors with the rhythm of the day. In the morning, it was nice to have them open and listen to the bird song. Mid-day, when the sun was blazing and we needed a break, the AC came on. In the evening, after mosquito hour passed, we opened them again and could hear insects and frogs signing.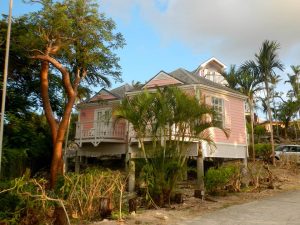 Tree frogs, anoles, a young green heron, and cicadas surrounded us, as did smooth-billed anis. I noticed ants outside, but few inside; once I spotted the house geckos I knew why. I also spotted a brown racer on the property. If you are a traveler afraid of the natural world these things might freak you out. I have no doubt that the hotels on Paradise Island go through copious amounts of bug spray and noxious cleaning agents. However, I would point out that chemical pesticides are far more dangerous than wee lizards and a few bugs. I was on a tropical island; I expected (hoped) native wildlife to be part of the experience.
We largely kept to ourselves the first few days, keen to adventure around the island. Our next-to-last night, we ventured over to the pool, where a family from Texas, a family from the UK, and two of the hotel staff were engaged in a trivia game. Before we knew what happened, we too were shouting out answers. "Are You Being Served?" is always a good answer.
The next night, our last night, was Patrick's birthday. We had planned to head back to the pool, but it was a stormy afternoon and we ended up hanging out with one of the hotel employees, Dave, as well as the owner's son (who is Garnet's age), and another kid who was visiting him. We enjoyed Watling's rum while they built a water balloon cannon out of PVC pipe and a bicycle pump.
At some point, Dave asked if I had seen the octopus yet. My response was almost cartoonish. Seeing an octopus in the wild has been a perpetual goal for well over a decade.
Dave directed me to the third rock from the left, just offshore in front of the hotel. Look for the large red sea urchin, and then look up to spot the octopus's hole. He also said to look for crab detritus, that they are messy housekeepers. While these directions seemed vague and distinctly Bahamian, by that point in our trip, I knew exactly where he meant. We had spent hours swimming and snorkeling across the street at Orange Hill Beach. I remembered seeing the small patch reef area of three rocks.
Orange Hill Beach was even better than the pictures on the hotel website. The sunsets were lovely and most of the time the beach was empty. It also offered decent beachcombing. The water was warm and the visibility was great. Most of what I saw snorkeling were young fish, starfish, lobsters, corals, and sea urchins. I could see a reef line farther out from shore, but I didn't want to risk being so far out and getting run over by a jet ski.
On our final morning, we walked over and I went straight for the three rocks. I was so hopeful that I would finally get to see an octopus in the wild, but also realistic enough to know that I had been looking for one for well over a decade. I found the third rock. I found the sea urchin. And then I found the octopus. I was so excited I started making honking noises with my snorkel. I spent about 15-20 minutes circling the octopus rock. He watched me and I watched him. I could see why I didn't notice him before. He camouflaged himself perfectly and added some rocks near his entrance that looked just like him. I was giddy.
I would have given Orange Hill Beach Inn a five-star rating based on my own quirky criteria, but with the octopus factored in, they now rank in my top 10 of lodgings.

Next Exit Travel is a travel blog by William P. Tandy and Davida G. Breier. WPT and DGB met in 1999 and efficiently took their honeymoon before they started dating. After 12 days on the road, they shacked up and have continued traveling together since. They enjoy unusual lodgings, fine scotch, and fried potato products.