Raiders get win over Ravens in final seconds
Here at the Oakland County Coliseum, the Raiders Nation was coming in to see their beloved Raiders take on the Baltimore Ravens. Baltimore is an elite team in the NFL, the Raiders haven't been elite for a long time. If you ask anyone not wearing the silver and black of the Raiders Nation, Baltimore should have gone home with a win.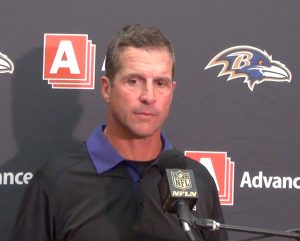 The two teams couldn't be any more different, but coming into this game both teams were still looking for their first win of the season.
It was a close game from beginning to end, but in the final moments Raiders quarterback Derek Carr connected with Seth Roberts for Roberts' first touchdown pass of his career.
The Raiders cornerback Neiko Thorpe intercepted a pass from Joe Flacco and the game ended with Oakland's first win of the season: 37-33.
Ravens quarterback Joe Flacco had 384 yards passing with two touchdowns and one interception. Derek Carr of the Raiders had 351 yards passing with three touchdowns and one interception.
The Ravens had more rushing yards, totally 109. Justin Forsett was their top runner with 15 carries and 68 yards.
Latavius Murray led the Raiders in rushing with 65 yards on 15 carries. Oakland had a total of 97 yards rushing.
Baltimore only had one receiver with a hundred yards our more during the game: Steve Smith, Sr. with 150 yards and 10 catches. For Oakland, Michael Crabtree had nine receptions with 111 yards and Amari Cooper had seven catches for 109 yards.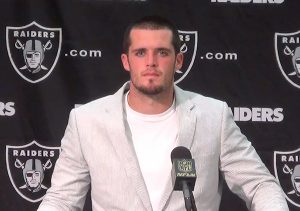 Kamar Aiken of the Ravens fumbled the ball once and Curtis Lofton recovered it. The Raiders didn't have any fumbles.
Both defenses were only able to get one sack each.
For more, please watch my video below and subscribe to our YouTube channel
(Photos by Claudia Gestro, L.A. Post-Examiner Staff contributed to this story)

Claudia is of Peruvian and Italian descent, having been born in a small town, in the North of Peru, South America. She was raised by her grandmother from an early age, living in poverty until Claudia's mother brought her to America. She landed in Miami, FL and started her new life, playing high school basketball and eventually becoming a United States citizen. Claudia completed her education at Florida International University with a BA in Broadcast Journalism and became a model to supplement her income. Since graduating from FIU Claudia has worked with many of the Spanish Language broadcasting companies, including Telemundo, Univision and most recently Spanish Language channels on SiriusXM satellite radio and PasTV Deportes in Venezuela.She encourages you to follow her on Twitter and Facebook. Her content appears here under a shared content agreement with her Spanish television clients.