I can still hear it …
It was a tight game, with a lot on the line. And they came at him.
Maybe they just picked that play, or maybe they decided to test the kid who had sat out more than half of last season as a result of a knee injury.
Either way, he was ready — he broke up the play, and they didn't score. He survived the test, at a crucial moment.
Jubilation everywhere. A game-changing moment … with another about to happen.
He leapt in the air, chest-bumping in exaltation with a teammate. Then, he landed wrong. Really wrong. Right knee injury. Season-ending. Again.
You've probably seen SportsCenter highlights or read about professional athletes who injure themselves in the most unusual, and usually, dumbest ways while celebrating. A broken leg from pouncing on home plate after a grand-slam home run. A defensive lineman celebrating a quarterback-sack in a game in which his team is being badly beaten. A soccer player doing a back flip after a goal, and landing on his head. A player who stumbles while jumping over a railing to race onto the field to celebrate. A golfer who leaps into a pond after winning a golf tournament — and breaks his shin.
When we hear these things, many of us have the same reaction. We laugh, and we scoff. "What an idiot! What a jerk! Serves him right!"
If you look it up on Google, you only have to type in 'Sports Cele …' and Google will finish it, filling in "Sports Celebration Injuries." The second thing on that list is a You Tube channel called "Hilarious Sports Injuries," where you can see them. Hilarious.
But there was something different about this injury, and it wasn't hilarious at all. As luck would have it — the luck of the Irish — this was a nationally televised Notre Dame college football game this past Saturday. And the injury happened right in front of a cameraman, and his open microphone.
And as this sophomore grabbed his knee, he all-too-clearly cried out. Loudly. He howled in pain, in fear, in shock, in remorse … and we heard it. We heard the blood-curdling cry of pain.
It's a couple of days later now, and I can still hear it. It struck me.
Watching from my couch, my eyes filled with tears, instantly. As did his. This 6'2, 225-pound sophomore from Fort Wayne, IN was no longer a college athlete. To me, he was somebody's son, and he was crying on national television.
And as his tears showed through his helmet as they helped him off the field, I was instantly transported back to a hockey rink six months ago. A different kid, but the same cry. It was the moment my son went down.
At 16, he was tough — and he loved to play sports — all sports. He'd played football, baseball, basketball, volleyball and lacrosse, and he played them full-speed. Every bump, bruise, scrape, sprain or other moderately painful injury was met with the same reaction: It's ok. Tape it, splint it, I'll walk it off. Let me play.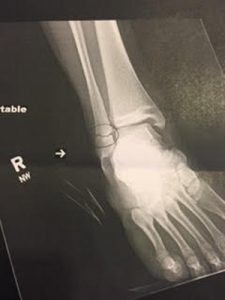 He'd also played three years of hockey — a new collection of bumps, bruises, soreness — and oh god did he smell. Hockey equipment is the stinkiest sports equipment there is. Great sport … but get an open air trailer to tow behind your car to let the gear ride home.
Anyway, on this day, he was having a regular game, skating, passing, taking a break, shooting. He skated toward the net with the puck, and tried to split two defenders before passing off. And as he was passing between them, their skates got caught. And his ankle turned further than physics allows. And it broke.
There's no walking off a break. He went down, and he wailed. It was a sound I'd never heard from him before. It was shock, and disappointment, and anger, and pain. And a cry for help. And I can still hear it.
It was a cry just like that college football player's on Saturday. Except this was MY boy. A boy who never lets on that he's hurt. And he was wailing, before he reached the ground.
Somehow, it took me only two steps to go the 100 feet from the outside of the rink to where he lay. I think I was there before the ref stopped the game. His teammates circled around, his coaches too. We knew.
He gathered himself quickly. The body sometimes does that with the shock of an injury — there's pain, but it's more bearable than it probably should be. He was trying to tough it out. He joked and asked if they had at least called a penalty.
The days of carrying my baby boy are long gone. Three of us lifted him, and got him off the ice.
The ambulance came. The paramedics said it was probably a bad bruise. I trust those guys 100 percent, but I knew they were wrong. We went to the ER. And for the first time in a while, my 16-year old was 8 or 10 again. He was tough, but he was scared. He needed help, and comforting.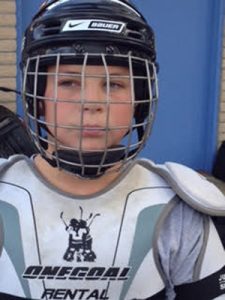 Yep, it was broken. He was in a "soft" cast for two weeks, a walking cast for about four more. He did Physical Therapy after. He knew he had to take it easy for a while, so he took up golf. Now, he's ready to start thinking about hockey again.
But that night, it was all new to him. When we finally got home from the ER, and he worked crutches for the first time to get in the elevator and go to the second floor, he let me help him get settled in with ice, and elevating his foot, and giving him some food, and making him comfortable.
He was upset, and depressed. The kid loves to play, and he was going to be out a while. Plus, he had literally gotten his drivers license two days earlier. And yes, it was his right foot. He was not a happy kid.
I got him whatever he wanted. I tried to cheer him up. I reminded him he'd be better before he knew it. I sat with him for a few minutes in his room and watched SportsCenter with him.
And as the pain medications kicked in, and he started to doze off, I made sure he was comfortable, and I covered him with a blanket, and kissed his forehead.
And as I walked out, and was about to close his door, he shifted a bit. And looked up and said, "Thanks Dad."
I can still hear it.
(Top photo: Goalie Andrei Vasilevskiy of the Tampa Bay Lightening stretching before Game 4 of the NHL Stanley Cup Final between the Chicago Blackhawks and the Tampa Bay Lightening. Vasilevskiy started the game after Ben Bishop was scratched due to a nagging injury. Photo by Claudia Gestro)

Mike Brennan has been a Pulitzer Prize-nominated newspaper reporter, a magazine writer, an investigative journalist, a nationally touring stand-up comedian, a joke writer for the Tonight Show with Jay Leno, a morning radio host, a professional auctioneer for numerous charities, an editor, and a film and TV script consultant. He is currently working on a romantic comedy screenplay, and a humorous book on being a father, called The Tooth Fairy Doesn't Pay for Yellow Teeth. He has lived in the Valley for 19 years, and has two teenage sons. Contact the author.