Rams will finish season against 49ers as NFC West division champs
With the Rams' win over the Tennessee Titans on Sunday, they clinched the NFC West Division for the first time in 14 years. As a result, their first playoff game will be at home, in the L.A. Memorial Coliseum. The date hasn't been announced yet, but it will be either Saturday January 6 or Sunday January 7. The ticket availability for that wild card game is this:
Rams Running Back Todd Gurley (Claudia Gestro)

The Los Angeles Rams today announced the process for fans to purchase tickets to their home Wild Card Playoff game at the Los Angeles Memorial Coliseum scheduled for either Saturday, January 6 or Sunday, January 7, 2018.  The date and time of the game will be announced by the National Football League during Week 17.

Starting Tuesday, December 26 at 1:00 PM PT, Rams 2017 Season Ticket Members have the opportunity to buy two additional seats beyond their regular season allotment.

Beginning Thursday, December 28 at 10 AM PT, Rams 2018 Season Ticket Deposit Holders and 2017 Flex Plan Holders will have the opportunity to purchase four tickets per account.  Fans must join the 2018 Season Ticket Deposit list by Tuesday, December 26 at 5 PM PT to be part of this presale.

Starting Thursday, December 28 at 1 PM PT, fans on the Rams Deposit List for the New LA Stadium will have the opportunity to purchase four tickets per account.

On Friday, December 29 at 10 AM PT, the Rams will make a limited number of tickets available to the general public at therams.com/playoffs.

Fans may visit www.therams.com/playoffs for more information.  For questions regarding the ticket process, fans may contact the Rams Ticket Office at 818-338-0011 or info@rams.nfl.com.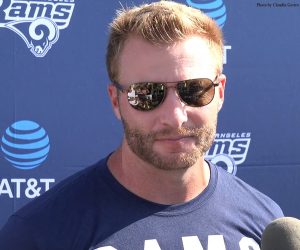 Head coach Sean McVay is the big reason the Rams have turned around this season. His offensive philosophy fits the Rams' running and passing game. Running back Todd Gurley II has 1,305 rushing yards and 788 receiving yards. He leads all running backs in the NFL and has 19 total touchdowns; 13 rushing and six receiving. The big question is: Will he be the NFC MVP?
Quarterback Jared Goff ranks #5 on the list of most successful QBs in the league, right behind Carson Wentz at #4. Alex Smith of Kansas City, Tom Brady of New England and Drew Brees of New Orleans are1 through 3, in that order.
Goff has passed for 3,804 yards and 28 touchdowns. He has so many reliable receivers to choose from, defenses are stretching themselves to try and cover it all. One of the best additions to the Rams offense has been wide receiver Sammy Watkins. It took a few games for Watkins to fit into the system. He has scored a TD in four of his last five games.
The Rams defense ranks #16 in the NFL, allowing 331.4 yards per game. Their weakness is the run defense, which allows 119.2 yards per game.
The Special Teams still shines, with placekicker Greg Zuerlein and punter Johnny Hekker. But Zuerlein was put on injured reserve and they have brought in Sam Fickens, who had a rough start to his first NFL game. John Fassel is still the best special teams coordinator. His special teams rank #2 in the league.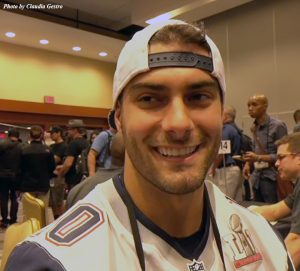 Their final game of the season will be Sunday, in the coliseum, against the San Francisco 49ers. McVay is planning on resting his starters, so we can expect to see Sean Mannion under center Austin Blythe, who will be replacing John Sullivan in the game. Todd Gurley II will sit out the game with Malcolm Brown and Lance Dunbar taking his place in the backfield.
Many of the defensive starters will sit out the game, including Aaron Donald, who could be named the Defensive Player of the Year.
The Niners have Jimmy Garoppolo at quarterback and he has turned that team around. They have won their last four games, with Garoppolo as the starter. The Rams defense will face a completely different San Francisco offense than they faced in week 3.
The coliseum will be rocking on Sunday. Rams fans will see their team heading into the playoffs. There are some tickets left for fans that want to attend the game.
Photos by Claudia Gestro

We are not the typical news website – nor do we wish to be. We will be offering more than news and blogs, but an opportunity for fiction writers, poets, comedians and musicians to showcase their talent and skills. Much like when the Beatles formed Apple Corps Ltd, they opened the door to all kinds of inspiring talent that never really got a shot. From that came the likes of James Taylor and others. We hope by providing a similar approach we can shine the light on some tremendous undiscovered talent and at the same time offer some familiar voices who live in Los Angeles and beyond.