Rick Estrin and the Nightcats are touring SoCal in October
Blues fans should be happy to hear Rick Estrin and the Nightcats have released a new recording, Groovin' in Greaseland, out on Alligator Records. They will be especially happy to hear Rick and the Nightcats are heading out on tour and will be at two locations in Southern California: Ramona and Riverside.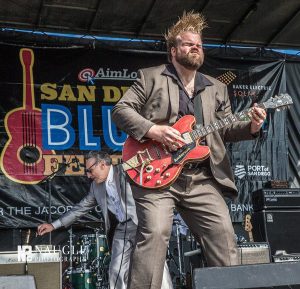 Estrin's songs are quite original, with street smart, hipster lyrics. On top of that the band members are musicians with incredible chops, honed on the anvil of the road. They've spent years entertaining audiences around the world, getting better with every gig.
The band includes harmonica master, songwriter and vocalist Rick Estrin, guitar slinger Chris "Kid" Andersen, keyboard virtuoso Lorenzo Farrell and energizing drummer Alex Pettersen, Anderson and Pettersen both contribute to the songwriting as well.
On October 5 Rick Estrin and the Nightcats will be at the Mainstage in Ramona, 626 Main St. Doors open at 7pm and tickets are $25.
Then on October 6 the band will be at the West Coast Blues Festival in Riverside's White Park, 3936 Chestnut St. Showtime is 7:50pm and ticket prices are $20-$30
Photos by Naugle Photography

We are not the typical news website – nor do we wish to be. We will be offering more than news and blogs, but an opportunity for fiction writers, poets, comedians and musicians to showcase their talent and skills. Much like when the Beatles formed Apple Corps Ltd, they opened the door to all kinds of inspiring talent that never really got a shot. From that came the likes of James Taylor and others. We hope by providing a similar approach we can shine the light on some tremendous undiscovered talent and at the same time offer some familiar voices who live in Los Angeles and beyond.