NFL Week 1: Coaching nightmares and dreams
Now that the NFL season is finally here, and the rest of the sporting world can take a break from the sports pages, I thought it would be nice to take a look each week at the state of the game. However, rather than breaking down the outcome of each game, I thought it would be nice to share my thoughts on the people, news stories, and state of the league. So here goes with week one.
The Opener:It has become a new tradition for the defending Super Bowl champs to open their season with the first game of the year which is played on a Thursday night because let's face it, after this game is played, no one cares about the rest of the Thursday night slate.
This game will prove to be an important one when the playoffs role around.  The Atlanta Falcons were seen by many as just one of a slew of NFC teams who were on a par with the defending Super Bowl champion Eagles.  With half a year to prepare for this game, you can figure to see two teams throw everything they have to gain an early season edge and home field tie breaker advantage.
In the end, we got pretty much the same as last year.  The Eagles proved they still know how to win tight games and the Falcons showed they still know how to lose them.  This has to hurt Atlanta who has yet to prove they should be taken seriously by others in the NFC, especially the Saints, Rams, Vikings, and Packers.
As for the NFC East, and the rest of the NFL, Philly looks ready to defend their crown.
A Waste of Time:  Okay, maybe if you are not a Browns fan, but to begin the season with a 21 to 21 tie, I can't help but think of the great reply of  Bo Schembechler after he shook hands with an opposing coach who made mention of what a great game their two teams just played after a tie, "What a waste of time." Ties should be worn around the neck and even then I still do not like them.
The Aints Live On:  It may have just been the opening week of the season, but another of the elite teams of the NFC was suppose to be The New Orleans Saints. So much for trendy picks. When Ryan Fitzpatrick shreds your defense and you open the year giving up 48 points at home, you might understand if your fans show up next time with paper sacks over their heads.  Three more games like this and the Buccaneers can rid themselves of Jameis Winston. Maybe he can be Jon Gruden's next reclamation project.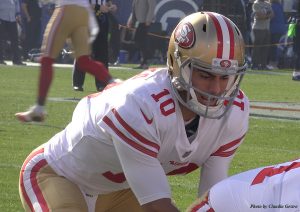 A Coaching Nightmare: The NFL prides itself on the philosophy of Next Man Up. However, what happens when their isn't a guy to replace someone who goes down with a season ending injury? What happens when that guy goes down a week before the opener and you have only spent your entire off season scheming ways to use that player to march to the playoffs? Well, you call yourselves the San Francisco 49ers. Unfortunately, there is no time for coach Shanahan to cry over spilled milk, or a shredded ACL to running back Jerick McKinnon. After a loss to the Vikings, you have just a week to right your ship before it sinks this season.
Coaches Dream:  Along the same lines, the Redskins looked to be screwed when they lost their rooking running back for the season to an ACL injury. Then they decided to give Adrian Peterson a test drive. The end result was 28 touches and 166 yards of total offense. However, it's a long season and Peterson has a lot of miles on his body. If the team, or Peterson, thinks this will be the recipe they can count on for an entire season, they may want to look back to last year when Peterson began going the same thing for the Cardinals. By season's end, his legs were MIA. Sunday was just a dream.
Buffalo is Still Buffalo:  When your starting quarterback, Nathan Peterman, plays more like Mr. Peterman from Seinfeld, it is never a good thing. When he wins the starting job despite having lost it the year before after a five interception performance, it's worse. When he beats out a free agent you signed in the off season and then trade to Oakland and your first round quarterback of the future, well, all I can say is at least this year all of this was done by Buffalo. Otherwise we would be saying it looks like another normal year in Cleveland.
A Rivalry Returns:  Chciago gave Green Bay all they could handle and proved they are going to become the Monsters of the Midway very soon. Ex Raider, Khalil Mack made an immediate impact for the Bears, but as long as Aaron Rogers can stand in the pocket, Green Bay will remain a thorn in the Bears side.
Dark Cloud:  There is a dark cloud hanging over the NFL this year and it is not about player safety or the flag.  If the league's collective bargaining agree were up today, there would be a player strike. Not only that, I believe the players are pissed off enough to make it a deep and lasting strike, one that might even wipe out an entire season.  Players are tired of how they lag behind baseball and basketball in earning power, especially when you consider the popularity of the NFL.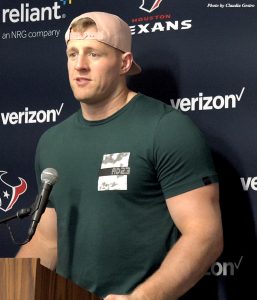 Like any negotiation, there has to be some give and take on both sides.  The owners will essentially care more about their profit margin which might mean players get a break on things like testing for marijuana (why does the league care when the rest of the nation doesn't?), and tackling (players hate the new tackling rules so get rid of them), and free agency (why is a first round pick under contract for five years and all others under four?).
Owners are getting hit hard with lawsuits over brain damage from player who played back in the day. The solution is to create a CBA where today's players sign off any future lawsuits over brain damage now that they know how dangerous the game is.  This allows owners to settle past suits and not worry about future ones.
All draft picks should be signed to the same length contracts and teams should only be allowed to franchise tag a player once. In return, players have to accept percentage caps that essentially limit how much of a team's salary cap anyone can take up (so what if quarterbacks hate this rule).
The flag? There is not much anyone can really do about it other than going back to playing the National Anthem while teams are in the locker room.  Otherwise, there is no solution that will end the controversy (unless you consider voting Trump out of office).
Player discipline is a joke.  If a neutral committee can be formed to handle all cases individually, great. Otherwise, count on this being a sore point from the players end.
Roger Goodell has his work cut out and since this is likely to be his final CBA he hammers out, his legacy is on the line and it is his final shot at restoring his once popular reputation.
Song Dedication: I thought it would be nice to end each week with a song and dedicate it to some deserving bunch.  Since 15 of the league's 32 teams lost their opener, I figured why not cheer them up with one of my all time favorite songs. It may not be dark just yet, but a loss next week and your season is pretty much dead folks. Enjoy some Bob Dylan.
••• •••• ••••• •••• ••••
Editor's Note:The New York Jets went to Detroit and blew out the Lions 48-17. The Los Angeles Rams went to Oakland and eventually wore down the Raiders behind the running of Todd Gurley II. Derek Carr's three interceptions had a big impact on the game as well. The final score was 33-13.
Top photo is a YouTube screenshot of Aaron Rodgers passing to Geronimo Allison

Jim is a life long resident of California and retired school teacher with 30 years in public education. Jim earned his BA in History from CSU Chico in 1981 and his MA in Education from Azusa Pacific University in 1994. He is also the author of Teaching The Teacher: Lessons Learned From Teaching. Jim considers himself an equal opportunity pain in the ass to any political party, group, or individual who looks to profit off of hypocrisy. When he is not pointing out the conflicting words and actions of our leaders, the NFL commissioner, or humans in general, he can be found riding his bike for hours on end while pondering his next article. Jim recently moved to Camarillo, CA after being convinced to join the witness protection program.