Sage Fire gets close to L.A. County
The Los Angeles County Fire Department is tweeting news about the Sage Fire that started near Santa Clarita and has now burned 800 acres. Over 2,000 people have been evacuated, although no structures have been damaged.
Ground and air crews are fighting the fire, which has been creeping close to Los Angeles County all day. The fire was first reported about noon and some witnesses claim it was started by a car that went over an embankment. Authorities have not confirmed that. Three firefighters have minor injuries.
The temperature had been as high as 88°f during the day and the winds and terrain have hampered the efforts.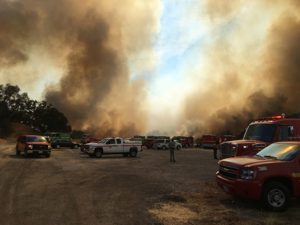 Morning Mist Community is under evacuation and 700 homes have been evacuated. Additional evacuation areas are:
Old Stone Way and Old Creek Way to Southern Oaks drive
Morning Mist Drive
Southern Oaks Drive between Greenbrier and Meadow Lane
Autumn Place
Shady Glen CT
Magnolia Lane West of Oak Ridge Road
Hazel Crest Lane
Bracken Lane
Laurel Crest Lane
Sage Crest to Smokewood Way
Summer Hill Lane
South Wind Court
Jasmine Lane
There is an evacuation center at West Ranch High School, 26255 W Valencia Blvd, Stevenson Ranch, 91381 for those displaced by the fire. Right now the fire is 15 percent contained.
Photos from LACoFD PIO at the Command Post

We are not the typical news website – nor do we wish to be. We will be offering more than news and blogs, but an opportunity for fiction writers, poets, comedians and musicians to showcase their talent and skills. Much like when the Beatles formed Apple Corps Ltd, they opened the door to all kinds of inspiring talent that never really got a shot. From that came the likes of James Taylor and others. We hope by providing a similar approach we can shine the light on some tremendous undiscovered talent and at the same time offer some familiar voices who live in Los Angeles and beyond.