Sebastian Cruz Couture on How to Invest in Statement Pieces
An essential outfit, even if it consists of the basic pants, shirt, and jacket, can become statement pieces if chosen wisely. Statement pieces are about style, meaning that they are more timeless than fashion. Many people make the mistake of trying to put together a look from an overflowing wardrobe made up of random pieces, often buying "fashion" bargains that are never worn.
Putting together a look from a closet with a core of high-quality pieces that are carefully chosen, is so much easier. People often think that investing in statement pieces will take up too much time out of their busy schedule, but it can be done.
Sebastian Cruz Couture, the men's clothing specialist, offers men the ultimate shopping experience with its stunning selection of stand-out pieces. Behind the logo that tells the company's unique story, Sebastian Cruz Couture's clothing range has the go-to items worn by fashion-savvy celebrities including Russell Wilson, Rami Malek, Marcus Scribner, and Nick Cannon.
Sebastian Cruz Couture – The Story
In just over 8 years, Sebastian Cruz Couture has managed to make an impressive mark in the fashion industry. The idea behind the fashion house started when the couple, Cesar and Natasha Cruz, took advantage of a gap they saw in the men's accessory market. Their idea, to design a revolutionary pocket square that stood imposingly, instead of just being there, took off immediately.
With a pending patent, these pocket squares are created from linen with a hand-crocheted border that grips the jacket fabric. Soon they turned their attention to handmade jackets in gorgeous fabrics, colors, and patterns.
Initially, the brand started their company by franchising to entrepreneurs, but the unscrupulous practices of some franchisees prompted them to rethink their business plan. As sole proprietors, they expanded their business concept, soon taking their bold fashion range to their online store and Instagram. Here their clients can see the whole collection before putting their ideal look together in a few easy steps.
The couple both have design experience, but Cesar Cruz also has a long history of entrepreneurship and brand development, making it easier for the range to transition to an eCommerce setting.  
"For us, Sebastian Cruz Couture fashion is about more than just selling a product," says Natasha Cruz. "Our lifestyle brand was inspired to help people invest in beautiful statement pieces that give the opportunity to stand out and show who they are."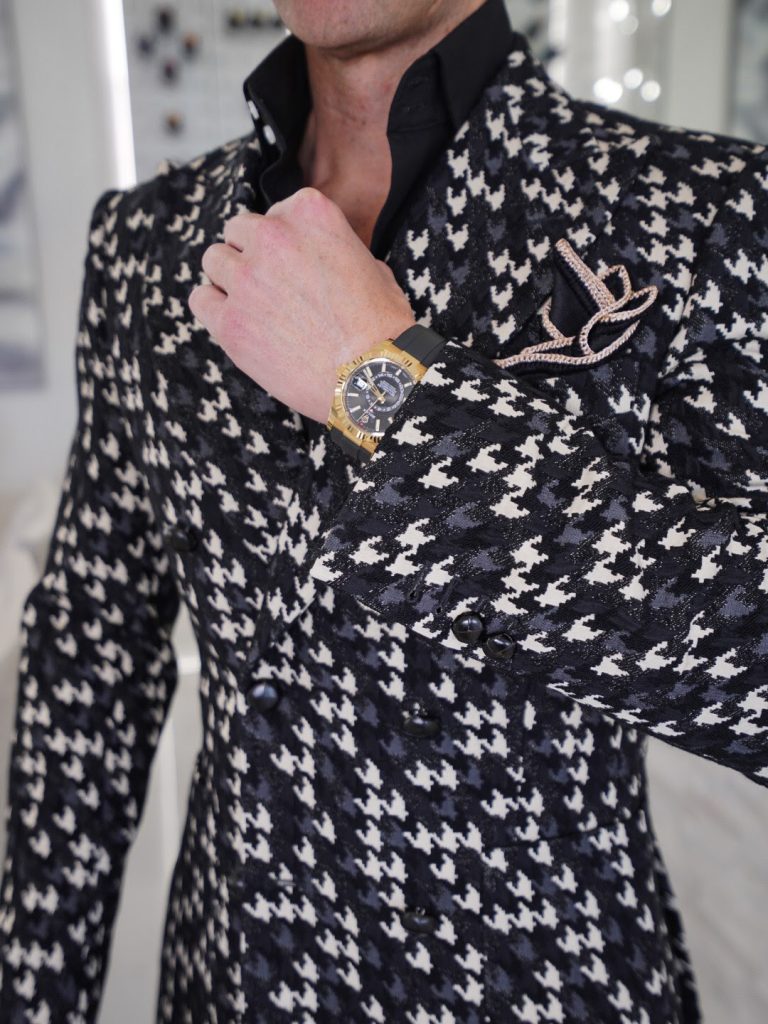 Every item in the clothing range is either based on a completely new concept or is a play of something successful from a previous collection. Moreover, they are not just in the business of supplying high-end fashion clothes but are determined to inspire each of their clients.
Their social media and website are designed to educate, empower and inspire. Through them, clients around the globe have access to a digital stylist, helping them put together their ideal looks.
Sebastian Cruz Couture Inspired Commitment and Loyalty
Creating a dynamic fashion brand and challenging the norms is what Sebastian Cruz Couture stands for. Their fearless use of fabrics and design concepts proves that they are going to continue being trailblazers in the world of men's fashion statements. Every item in the collection is more than just a statement piece but created with the function to fit into a stylish look.
The company's new logo bears a resemblance to the infinity sign and stems from a desire to show commitment to building strong relationships. For the owners of Sebastian Cruz Couture, the logo symbolizes the fashion company's commitment and loyalty to their work and clients.
Cesar Cruz, in agreement with his wife and business partner, expands on her statement about their commitment to providing stylish pieces, "Our customer loyalty proves that we have earned the trust of thousands of clients. This inspires us to continue giving them pleasure by creating unique pieces that match their lifestyles."  
Final Take
It has been proven over and over again, when it comes to fashion, quality definitely beats quantity. Compromises, especially with essential basics, are unquestionably the wrong approach. Having the right pieces in your wardrobe makes it easier to prepare your look for every occasion, whether it's a day in the office or a glamorous event. With Sebastian Cruz Couture, everyone has access to a stylist who can help them invest in a wardrobe of timeless statement pieces.