'The Upside' is the feel-good story of a billionaire and his new friend
2.5 out of 4 stars
It really doesn't matter that The Upside is based on a true story or is a remake of the 2012 French film "The Intouchables."
What does matter is what The Upside, a half-drama, half comedy film starring Bryan Cranston and Kevin Hart, represents: a lesson on how people should treat one another.
Director Neil Berger's decision to pair Cranston as Phillip — a billionaire white quadriplegic – with the comedic Hart as Dell — a hardened, black parolee who is trying to regain his family's love – makes for a thoughtful and entertaining film.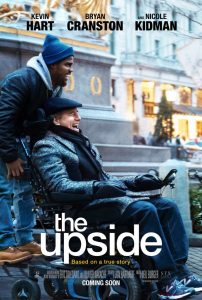 Cranston, who is widely known as the cutthroat drug kingpin he played in the hit TV show Breaking Bad, became confined to a wheelchair and in need of a caretaker after a catastrophic paragliding accident. With his wife having succumbed to cancer, he needs someone to take care of his every need.
Enter Hart, who stumbles into the position because Phillip believes he's the worst candidate for the job. Truthfully, Phillip wishes he was dead and makes it clear that at no point should Hart go to any extremes to save his life.
While there are numerous stereotypes portrayed in the odd-couple comedy, Jon Hartmere's script has many funny moments and offers plenty of awkward moments – none bigger than ones involving catheters and colon hygiene.
Dell and  Phillip's relationship goes from business tot personal, as Phillip uses Dell to feel as close to normal as he can, while Dell uses Phillip – and the outrageous salary he earns working as his caretaker – to help him get back into his son's and baby momma's good graces.
While Phillip is white and Dell is black, they find common ground in sharing joints, the opera, listening to Mozart and Aretha Franklin and pulling pranks on police, in addition to indulging in Phillip's luxurious lifestyle that includes a fleet of sports cars that could rival any collection seen on MTV's Cribs. The other star is Nicole Kidman, who creates a much-needed dynamic ass Phillip's business manager who wishes she never met Dell and can't wait to fire him.
The chemistry between Cranston and Hart is good, but far from great. It detracts from The Upside, but not enough to really hurt a film that is being released to close the holiday season, which is a perfect time for a feel-good film to hit the theaters.

Jon Gallo is an award-winning journalist and editor with 18 years experience, including stints as a staff writer at The Washington Post and sports editor at The Baltimore Examiner. He's also an editor for CBSSports.com. He's crossing his fingers the only baseball team in Baltimore that will contend for a title this summer won't be his fantasy squad, the Catonsville Cartel. He also believes the government should declare federal holidays in honor of the following: the Round of 64 of the NCAA men's basketball tournament; the Friday of the Sweet 16; the Monday after the Super Bowl; and of course, the day after the release of the latest Madden NFL video game.