This Restaurant Has Attracted Food Connoisseurs From All Over The World – Learn More About Beit El Zaytoun
There is no restaurant in London like Beit El Zaytoun. Founded in 2016 by Lebanese entrepreneur Ayman Assi – it is located in Park Royale. Beit El Zaytoun literally translates to "House of Olives". This name is a nod to the Mediterranean culture and symbolizes peace and friendship, which is the bread and butter of the Mediterranean culture.
The culture behind the House of Olives represents the true Mediterranean way of doing things: community-driven, raw and real, and around the dinner table! Assi stated that the reason why it is called that is that the moment you arrive at their doorstep, you will feel home! The restaurant serves a wide variety of Lebanese cuisine, and also has options like Beef Burgers for picky eaters.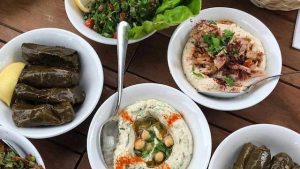 Beit El Zaytoun is not just like any other restaurant to dine in or take away, it is an experience for the customers to come and enjoy. The canal view and greenery all over the place are just plus points to the homey and unmatched ambiance that customers experience at Beit El Zaytoun. 
When one walks through the glass doors of the restaurant they are mesmerized by the comfortable setting of the place as well as the soft Arabic music playing in the background. On the weekends, there are live sessions where a special band plays Mediterranian music as guests enjoy their food. Many celebrities and influencers like Ragheb Alama, Melhem Zein, Wael Kfoury, Nassif Zeytoun, Ayman Zbib, and  Rabih Baroud have declared Beit El Zaytoun a favorite spot in London! It also boasts a large number of frequent visitors, who claim that the food over here is a weekly fix for them. 
Being the biggest Lebanese restaurant in London it seats around three hundred people in one go!